Minneapolis Cop Shoots and Kills Australian Woman Through Door of His Car [UPDATED w/ comments from ACLU]
His and his partner's body cameras were both off.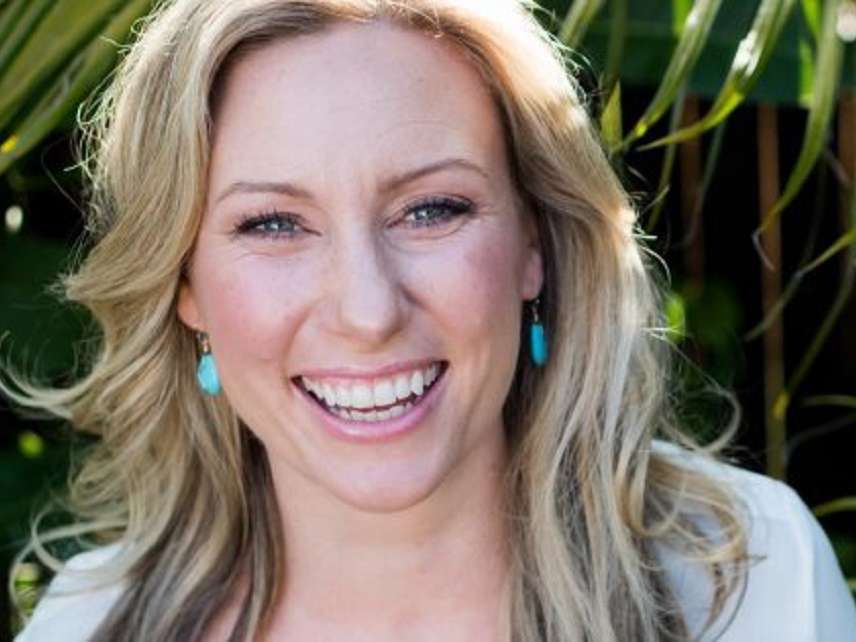 The shooting of Justine Ruszczyk has attracted international attention and outrage for reinforcing the idea that American cops look at citizens as threats rather than employers who hire them to serve and protect them.
A Minneapolis police officer reportedly shot Ruszczyk, who was dressed in pajamas, while she was talking to his partner. The officer shot the woman through the driver's side window of the squad car while in the passenger seat.
The officer who shot her was not identified but was placed on paid leave, according to the police chief, Janee Harteau. Neither officer had his body camera activated despite department policy. Because the cop shot her from inside vehicle, the incident was not caught on dash camera.
The Minnesota Department of Public Safety's Bureau of Criminal Apprehension (BCA) is investigating the shooting, and acknowledged in a press release that the officers' body cameras were off and that the dash camera didn't record the shooting. Investigators are looking for whether other video of the incident might exist.
"I am heartsick and deeply disturbed by what occurred last night. My thoughts are now with everyone affected by this tragic incident, especially the deceased woman and her family," Minneapolis Mayor Betsy Hodges said in a Facebook post. "The City will continue to provide updated information on this incident, and the BCA's investigation, as soon as we have it."
Ruszczyk, an Australian, had lived in the U.S. for three years and was set to marry Don Damond, a local businessman, whose surname she sometimes used. She had called 911 herself to report a possible assault in the alleyway outside her home.
"America sucks, these cops need to get trained differently," Ruszcyk's step-son, Zach Damond, said on a video posted online. "I'm just done, fuck the police. I'm just done. This has to stop."
The incident demonstrates the urgent need for higher employment standards at police departments across the country. Specifically, policies requiring the use of body cameras should be coupled with disciplinary measures that include termination for failure to activate body cameras as required.
And this kind of policy needs to be enforced vigorously. In that way, it can be possible to remove officers who have a habit of ignoring their body cameras before they fail to activate it during a violent incident.
Further, a national police offender's registry, if used vigorously, could keep such problematic cops from getting employment in law enforcement elsewhere.
For there to be any hope about improving police standards and reducing incidents of violence, it has to become easier to fire bad cops and harder for such cops to get jobs in other jurisdictions.
Minneapolis police were equipped with body cameras starting in early 2016, and department policy require them to be turned on during suspicious person and traffic stops, chases, and public contact that involves verbal or physical confrontation.
It also calls for disciplinary measures up to and including termination for failing to comply. It won't be known whether any disciplinary measures will be taken against these two officers for their failure to turn on the body cameras in the first place at least until their names are released to the public.
The Minneapolis police body camera policy also calls for officers to obtain consent when possible before turning on their body cameras. It remains to be seen whether this offers enough of a loophole for cops to wriggle out of trouble in police shootings such as this one.
The city apologized last year for not publicizing the department's body camera policy before rolling ou the cameras themselves.
UPDATE: The American Civil Liberties Union (ACLU) of Minnesota has called on the two officers to face penalties for violating department body cam policy. "This violation of policy thwarted the public's right to know what happened to Ms. Damond and why the police killed her," said Teresa Nelson, the interim executive director of the Minnesota ACLU, in a statement. "The two officers broke the policy not only when they didn't activate the body cameras before the incident, but also when they failed to do so after the use of force."
"These two officers should face penalties for breaking policy 4-223 and making the truth so much harder to find," she said. "Consequences should be added to the policy to ensure better compliance and accountability.
The ACLU also called for the release of audio of Damond's 911 call and any audio that may have been recorded by the dash camera.