McCain and the Trump-Russia Dossier: What Did He Know, and When?
A British spy. An Arizona senator. And one inflammatory dossier on Donald Trump. The connection between them is starting to unravel...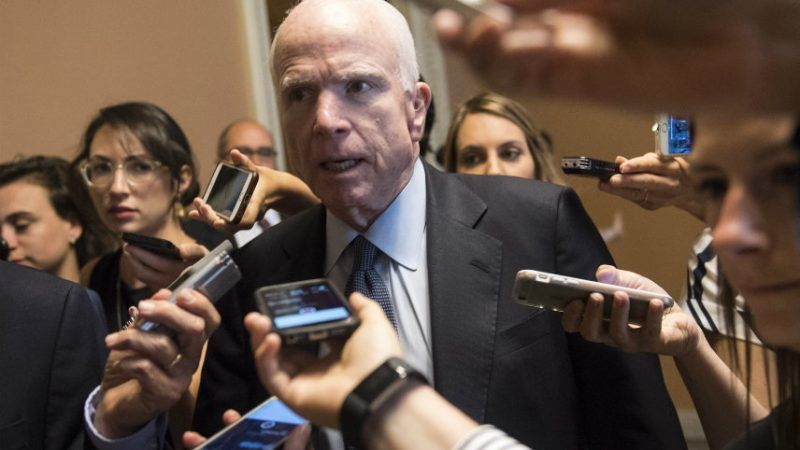 (KEVIN DIETSCH/UPI/Newscom)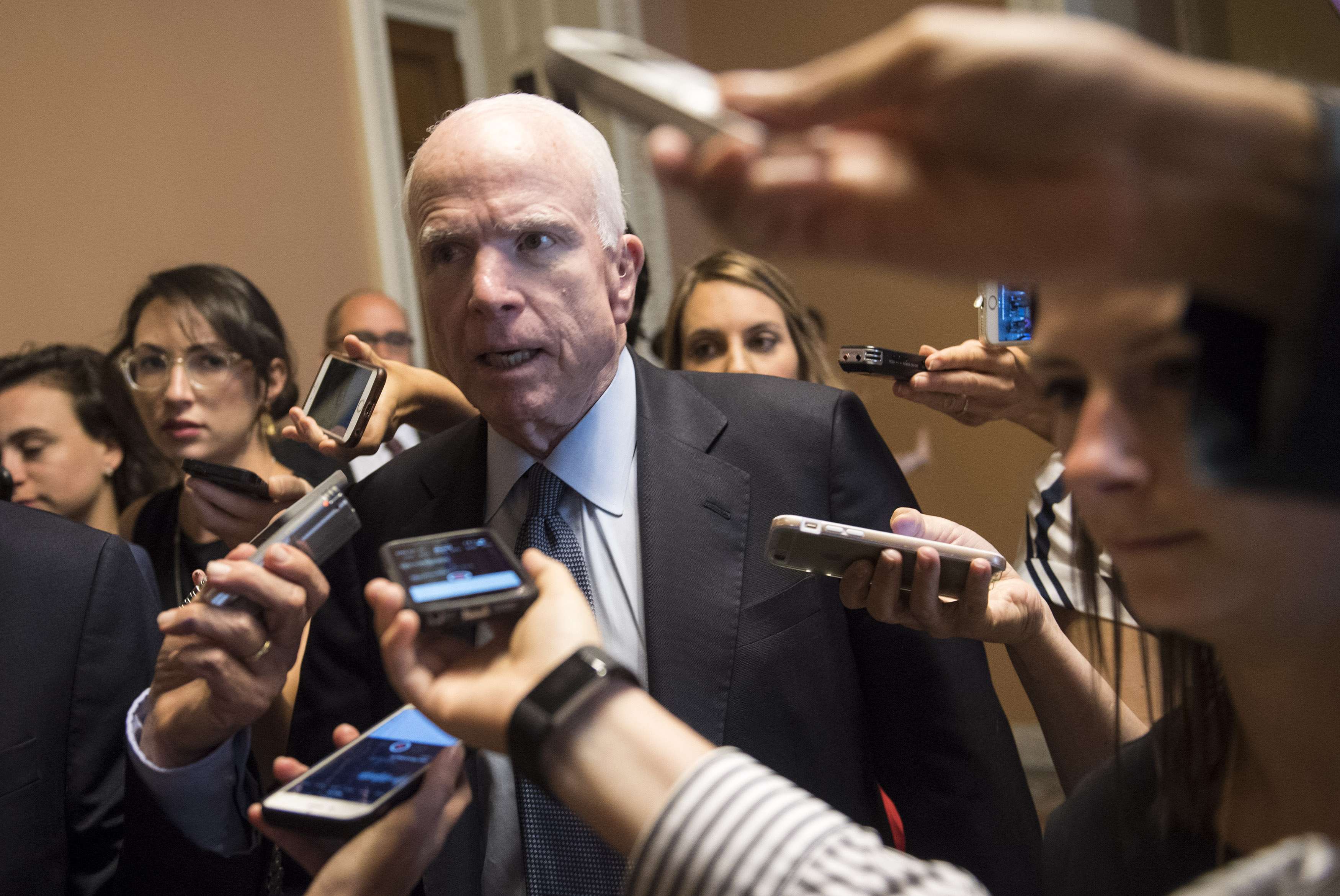 Did John McCain and a controversial D.C. lobbying group conspire to get the infamous "pee dossier" into the hands of the press?
A lawsuit making its way through court in the UK hopes to determine just what role the senator and his associates had in making the lurid dossier public.
New filings in the lawsuit, obtained by McClatchy, detail how David Kramer—employed by the nonprofit and purportedly non-political McCain Institute—acted as a representative of McCain in the Arizona senator's dealings on sensitive intelligence measures. It also reveals that McCain was one of a just few people with whom the dossier's author, ex-British spy Christopher Steele, shared a copy of his final findings. So how did they get from there to publication in Buzzfeed?
One possible—and intriguing—pathway lies with Orion Strategies, a group known for using the media and the McCain machinery to lobby on behalf of foreign governments. While the Steele suit doesn't mention Orion, a closer look at the two-man lobbying shop showcases too-close-for-comfort ties to many principal players in the dossier's leak and a long history of influencing McCain policy and press coverage when it comes to Russia-related issues.
---
By now we know the basics behind the dubious document: it was prepared by Steele in December, largely from work done between June and November 2016 for Fusion GPS, a D.C.-based political consulting firm. Fusion was paid first by anti-Trump Republicans and later by Hillary Clinton supporters to produce evidence of Trump's alleged financial and political ties to Russia.
In January 2017, a leaked copy of the dossier was published by Buzzfeed, under the editorial direction of Ben Smith. Smith said the document was obtained by reporter Ken Bensinger and vociferously defended Buzzfeed's decision to run a document it called "not just unconfirmed" but also inclusive of "clear" errors. "This was a real story about a real document that was really being passed around between the very top officials of this country," Smith said on Meet the Press.
It was McCain who gave the FBI the dossier, in December. It alleges the Trump campaign colluded with the Kremlin to "hack" the U.S. election. "The Russian regime had been behind the leak of embarrassing email messages emanating from the Democratic National Committee (DNC), to the Wikileaks platform," and as a result Trump had agreed to "sideline Russian intervention in Ukraine as a campaign issue," the dossier claimed.
It also claimed Trump had personally commissioned a "golden showers" show from Russian sex workers.
A federal investigation was reportedly underway before McCain handed over the dossier, but his copy was a more complete version than the one obtained earlier by U.S. intelligence agencies. McCain said he turned over the document out of civic duty.
"I received that information from a credible source and I thought the only thing for me to do would be to give to the FBI," he told Fox News in January. Having it and doing nothing "would be a breach of my oath of office."
Yet McCain's well-known feud with Trump, his longtime advocacy against Russia, and a possible personal beef with the firm behind the dossier—Fusion was also paid by Russia to push for the repeal of sanctions authored by McCain as part of the Magnitsky Act—provide reason to suspect altruism may not have been McCain's sole motive.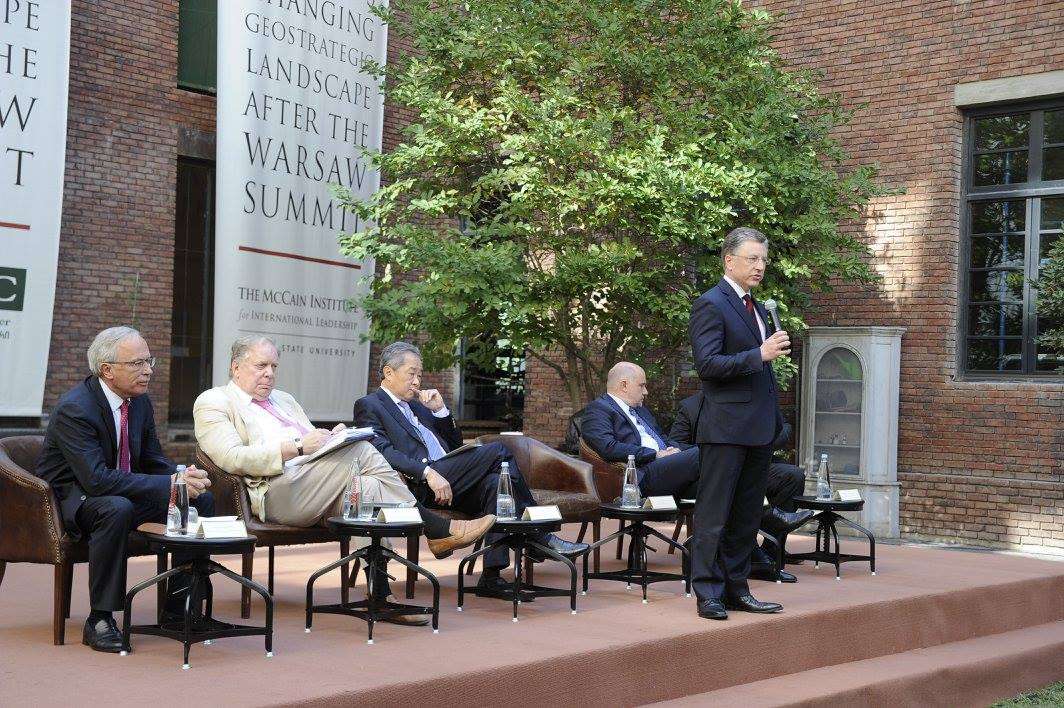 It was "late summer/August 2016" when Steele began briefing reporters on his research, according to a recent document filed by Steele and his company, Orbis Business Intelligence Limited, in response to the lawsuit Aleksei Gubarev filed against them. Gubarev, a Russian venture capitalist, claims he and his companies (Webzilla BV, Webzilla Limited, and XBT Holding S.A.) were falsely identified as part of the DNC hacking operation in the dossier authored by Steele and published by Buzzfeed.
Steele's company first began working with Fusion back in 2010, according to what he told the court. In 2016, he began work on Fusion's Trump opposition-research project, producing 16 memos for Fusion prior to the November election. Steele briefed reporters from select outlets (The New York Times, The Washington Post, CNN, The New Yorker, Yahoo, and Mother Jones) on the contents of the memos but did not "provide any of the pre-election memoranda to media organizations or journalists, [nor] authorize anyone to do so."
Steele also talked about his work with Sir Andrew Wood, a British ambassador to Russia from 1995-2000 and current fellow at the think tank Chatham House. It was Wood who tipped off McCain to the memos.
At McCain's request, Wood arranged for Steele "to meet [David] Kramer, representative for Senator McCain, in order to show him the pre-election memoranda on a confidential basis," according to court documents. Kramer is identified in them as "the Senior Director for Human Rights and Human Freedoms at Senator McCain's Institute for International Leadership."
There were "no grounds that led [Steele and Orbis] to suspect that Senator McCain and Mr. Kramer were not acting in their official capacities at any time up to or including the publication of the December memorandum to Mr. Kramer," according to Steele's court filing. Kramer was understood at all times to be an official representative of McCain.
Notably, Kramer is not a representative of McCain in McCain's capacity as a U.S. senator. And McCain is (theoretically) not a representative of the non-profit and non-partisan McCain Institute where Kramer is employed. In fact, McCain has publicly attempted to distance himself from the Institute, which accepts large donations from his former campaign fundraisers, all sorts of interests before McCain's senate committees, and foreign companies and regimes with extremely questionable human-rights records.
McCain even said last year that he has "nothing to do with" the McCain Institute, after being asked about a $1 million donation from the Saudis. And yet Kramer, the McCain Institute leader, allegedly went around brokering intelligence as an official representative of McCain the senator.
---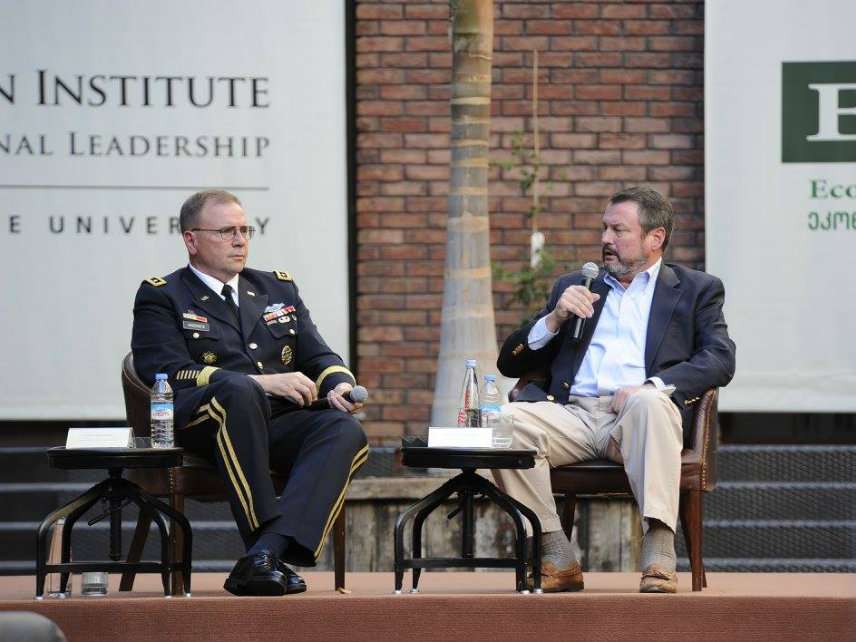 Only after the election—when Steele's contract for the work with Fusion was through—did he compile the content of the memos, along with newly gleaned intel, into the so-called "pee dossier" that wound up in the hands of McCain and later Buzzfeed.
Steele's lawyer told the court he compiled the dossier around December 13 and only shared it with his business partner Christopher Burrows, an unnamed U.K. security official, Fusion, and David Kramer, "who was acting on behalf of Senator McCain."
In an encrypted email to Fusion, Steele "explicitly stated that the memoranda were only to be provided to Mr. Kramer for the purpose of passing them on to Senator McCain," according to Steele's court filing. Steele "understood that the contents of the memoranda would be treated in the strictest confidence and would only be used by Senator McCain in his official capacity and for the sole purpose of analyzing, investigating, and verifying their contents to enable such action be taken as necessary for the purposes of protecting U.S. national security."
It's possible Fusion broke this confidentiality, though the firm's long-term business relationship (and non-disclosure agreement) with Steele and its business relationship with the Russians would seem to advise against such a move. It's also possible Steele is hiding something—he is the one facing charges related to release of the dossier—or that the British security official leaked the documents to the U.S. press through some unknown channel.
But while we're considering all possibilities, let's look at the link between Sen. McCain, the McCain Institute staff, and Buzzfeed: Randy Scheunemann and Orion Strategies. Scheunemann and Michael Mitchell, his partner in Orion, have a controversial history when it comes to their relationships with the Georgian government, other foreign entities, Sen. McCain, and the U.S. press.
Back in 2008, "while McCain's presidential campaign was gearing up, Scheunemann played dual roles, advising the candidate on foreign policy and working as a lobbyist for Georgia," as The Washington Post noted then. "Between Jan. 1, 2007, and May 15, 2008, the campaign paid Scheunemann nearly $70,000 to provide foreign policy advice. During the same period, the government of Georgia paid his firm $290,000 in lobbying fees."
Orion has also lobbied on behalf of authorities in Montenegro, Latvia, Romania, Macedonia, Taiwan, and Japan.
McCain, meanwhile, sponsored measures supporting Georgia's position on South Ossetia, supported giving Georgia a $10 million grant, and spoke in favor of Georgia's inclusion in NATO and greater American intervention in Russia-Georgia conflict. He has advocated for things like a $6 billion arms package for Taiwan and, more recently, for Montenegro to join NATO—calling Sen. Rand Paul (R-Kentucky) a Putin puppet when he objected.
In 2011, Orion's foreign-lobbying activities once again raised eyebrows after Ken Silverstein reported on the agency's close ties to Eli Lake and a few other prominent foreign-policy journalists prone to positive coverage of Orion's clients. "Orion seeks to create a media echo chamber on Georgia and Russia," wrote Silverstein.
Ben Smith—then at Politico, now editor-in-chief at Buzzfeed—rushed to Orion Strategies and Lake's defense, mentioning Silverstein's "pro-Russian source" for the story, who could have been "a Russian government employee or foreign agent paid to plant it."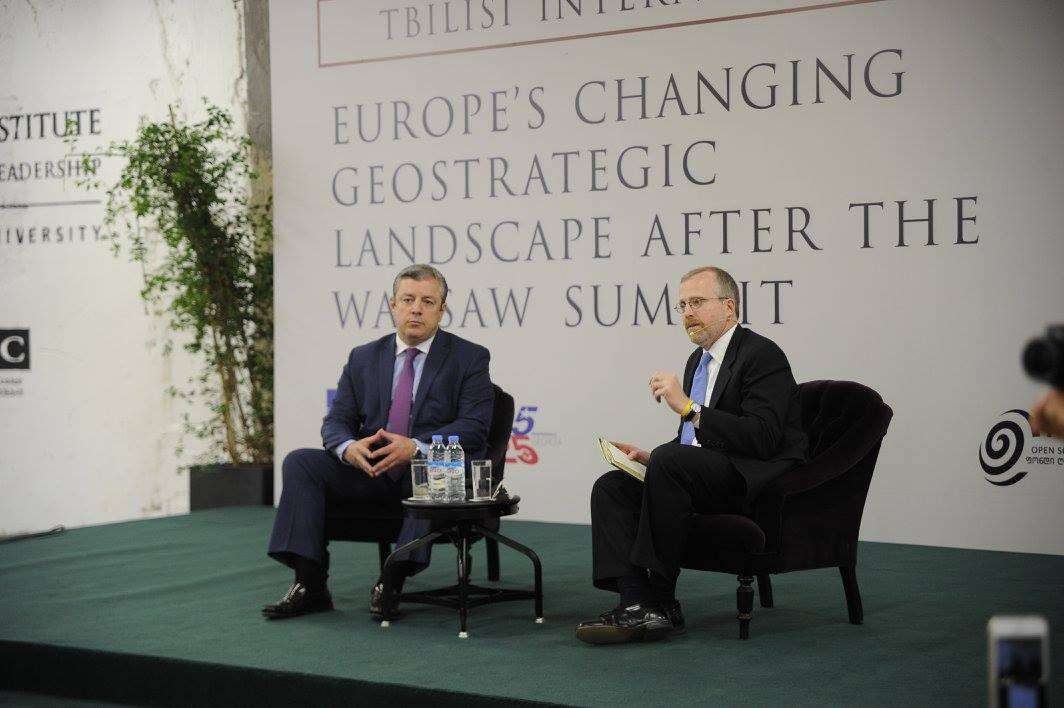 For a few years, Orion heads were in regular contact with Smith, Lake, and several other sympathetic D.C. journalists, including now-frequent McCain Institute guest Jamie Kirchick (who once wrote a whole pro-Scheunemann column without disclosing his relationship to Scheunemann). Orion took its media darlings on foreign trips, picked up bar tabs, and got them exclusive interviews with their clients, according to Orion's Foreign Action Registration Act filings.
Other frequent Orion contacts at this time included John McCain, David Kramer, and Kurt Volker—the McCain Institute executive director who was recently appointed to the State Department as an ambassador for Ukraine interests. During the first week of December 2010, for instance, Orion arranged an interview between Lake and a Georgian official, met with McCain about "Georgian defense requirements," and met with Smith about Georgia and Wikileaks.
Most of these relationships continued throughout the 2016 presidential election. From June 5 through November 13, 2016, Scheunemann was in contact with Volker at least three times and Lake more than a dozen times, according to its public disclosures. In early 2016, Volker went on a "study trip" with Orion to Japan; Lake went on a similar trip in August. In April, Volker and Kramer were guests at an Orion dinner. Sometime in this period, Scheunemann personally donated $5,200 to the Friends of John McCain.
On October 16, 2016, Orion Strategies hosted Volker, Kramer, and Lake at a small dinner in Washington. The week after the election, Scheunemann met with Kirchick. In between these Orion-initiated gatherings, Scheunemann mingled with McCain, Kramer, Volker, Kirchick, Lake, Andrew Wood, and foreign intelligence officials at the likes of the Halifax International Security Forum—where Wood said he first spoke to McCain about Steele's memos—and the McCain Institute's conference in Tbilisi, Georgia, focused on the U.S. election and "the Russian threat."
Should Kramer or McCain have wanted to get Steele's December Trump-Russia dossier to sympathetic members of the media, it wouldn't have had to look far to find them.
Asked whether Orion or Scheunemann played any role in Buzzfeed obtaining the dossier, Smith said Buzzfeed "would never comment on confidential sources in any way."
But getting hung up on whether Orion directly brokered the dossier's release to media may miss the larger picture, anyway. The close contact between a U.S. senator, leaders of an allegedly non-governmental (and tax-exempt) organization that bears his name, lobbyists for foreign governments (including Russia on Fusion's end, and Russia enemies like Georgia on Orion's end), foreign intelligence agents, paid opposition researchers, and influential U.S. media—going back at least a decade, and including ample activity surrounding the 2016 election—should raise eyebrows even under ordinary circumstances. And we are living in a time where top people the world over are trying to verify whether a reality TV star turned U.S. president compromised U.S. democracy over a tape of Russian ladies peeing.
So where does this leave us? Are the likes of McCain, Kramer, et al. simply fellow dupes in a Democrat-driven, foreign-op stoked ploy to influence the U.S. election with outlandish accusations? Or did they play a more active role in bringing this bombshell to the American public?
The Steele lawsuit may eventually provide more clarity. In the interim, as everyone focuses on Trump and his family's shady shenanigans with Russia—none of which are necessarily diminished by anything here—we might also do well to apply the same scrutiny to just how and why the dossier details came to be and came to light.
* This post has been updated to reflect that the dossier claimed Trump hired women to pee on his hotel-room bed, not to pee on him.