DHS to American Citizens: Let Us Scan Your Faces, or No International Travel
Another nugget of privacy threatened in the name of national security.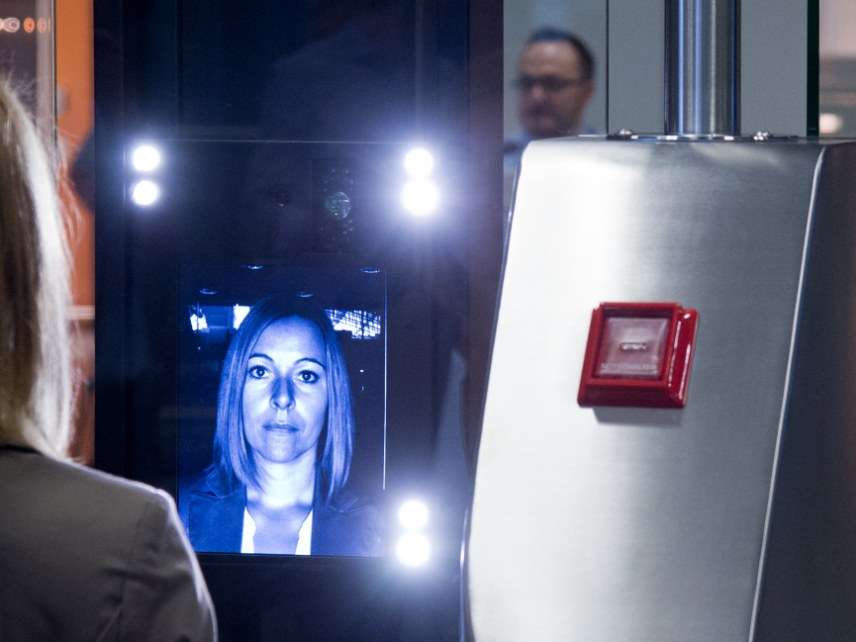 Prepare to get your faces scanned whether you like it or not, U.S. citizens, if you want to fly to other countries.
It won't be those other countries scanning your mug to make sure it's safe to let you in. These facial recognition and biometric systems, allegedly intended to track foreign travelers for immigration enforcement, will be foisted on you by your own government.
Don't blame this on President Donald Trump's anti-immigration fearmongering. This pilot project was put into place a year ago by President Barack Obama's Department of Homeland Security (DHS). You might not have heard much about it yet, because Americans' participation in it is currently voluntary. But as the program expands next year, it may get more coercive.
A new report from DHS claims that they have the authority to require citizens to let the government scan their faces as a condition of getting on an international flight. The report says early on, "Because crossing the border is considered voluntary, travelers are subject to the laws and rules enforced by" Customs and Border Protection (CBP).
That logic may not exactly hold up to close scrutiny—speech is often voluntary, but that doesn't mean the government can regulate it—but the report rolls with it, arguing that the government's right to inspect travelers extends to biometric scans:
[T]he only way for an individual to ensure he or she is not subject to collection of biometric information when traveling internationally is to refrain from traveling. Individuals seeking to travel internationally are subject to the laws and rules enforced by CBP and are subject to inspection.
Another way to ensure citizens aren't subject to having their biometric information collected try to get the courts or lawmakers to stop it. The Associated Press notes that Sen. Edward Markey (D-Mass.) thinks U.S. citizens should be able to opt out of the program.
The report does mention the possibility that travelers will be allowed to opt out of the scans and prove their identity another way. But as this report and the AP coverage notes, there is a significant likelihood that such requests might not be honored in the future.
The plan also calls for deleting all scans of U.S. citizens after 14 days and not using them for any other purposes. But a CBP representative told the AP that in the future, these images might be stored and then perhaps used for other purposes.
None of this should come as a surprise. The government has been increasingly prone to profiling and tracking Americans as they travel, whether it's local police departments scanning license plates or the more than two dozen state departments of motor vehicles that add driver's license photos to facial recognition databases.
We've already seen some of the ways this can be abused. Cities are sending threatening letters to car owners just for being parked in areas where prostitution is commonplace. New York City is implementing facial recognition software into its cashless toll road program in order to try to catch people who skip out on paying.
There is absolutely no reason to trust that this program will never be more than a way to monitor the comings and goings of foreign travelers. Instead, Americans may find themselves in a permanent virtual police lineup.