How Dentists Use Their Political Clout to Limit Competition
Dental therapists can provide access to more care, but the American Dental Association keeps trying to stop them.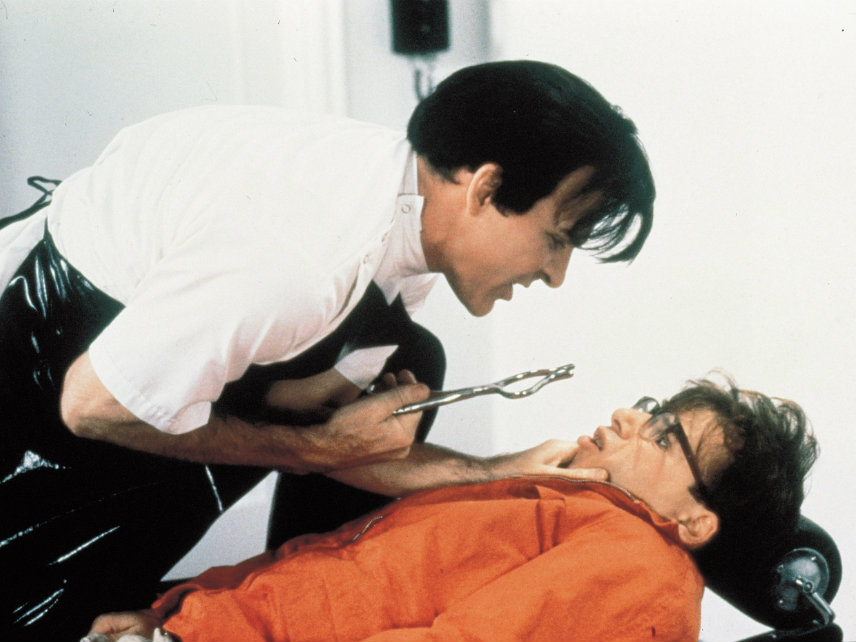 More than 51 million Americans do not have adequate access to dental care. Yet dentists in several states are fighting efforts to increase the number of professionals who can clean teeth and fill cavities.
The Washington Post has published a detailed look at the political power of the American Dental Association, which lobbies on dentists' behalf. The story includes several telling anecdotes from state lawmakers who have met the lobby's power head-on.
Take Maine state Rep. Richard Malaby (R-District 136), who sponsored a bill in 2014 to let mid-level dental professionals—known as dental therapists—provide additional care for the state's poor, rural areas. Though the bill eventually passed, the legislative battle was surprisingly brutal. A group of local dentists stopped using Malaby's 19th century inn for their annual Christmas parties. So many American Dental Association lobbyists descended on the Capitol that lawmakers started hanging signs declaring their offices "dental free zones." Legislators told the Post that they got an earful when they visited dentists for regular check-ups.
"I put their power right up there with the NRA," Malaby told the Post. "Dentists do everything they can to protect their interests—and they have money."
Dental therapists don't have as much training as full-fledged dentists. But they are health care professionals with years of training. At the University of Minnesota, for example, getting a dual bachelor's in dental hygiene and master's in dental therapy requires 32 months of dedicated course work, taking the same classes as dental students who stay for the full 48-month program. After passing a state exam, dental therapists are authorized to provide basic services like cleaning teeth and filling cavities, though they cannot do orthodontic or reconstructive work.
Dental therapists can play an important role in places that face a shortage of dental care. Such areas are more common than you might think. According to guidelines from the U.S. Department of Health and Human Services, a place has a shortage if there are more than 5,000 people per dental provider. As of December 2016, 5,400 locations fit the bill, with a combined population of more than 51 million people.
Part of the problem is the nature of dentistry. Many dentists graduate with high debt and, naturally, set up practices in wealthy areas where people can afford regular care. Dentists tend to cluster in suburbs, leaving inner cities and far-flung rural areas with fewer options. As I wrote in The Wall Street Journal last year, Maine and Minnesota have legalized dental therapy specifically to deal with that problem, and even dentists say it seems to be working:
In Minnesota…a 2012 study by the W.K. Kellogg Foundation found that dental therapists increased access to care while providing "competent, safe and effective" treatment. But the proof is in the sugar-free pudding: John Powers, a dentist in Montevideo, Minn., in the state's rural western reaches, says dental therapists have helped his private practice grow. He recently hired a fourth therapist.
The Federal Trade Commission has urged dental-school accreditors to clear the way for midlevel professionals like therapists, arguing that they can "increase the output of basic dental services, enhance competition, reduce costs, and expand access."
But the dentists' lobby sees dental therapy as a threat to its control of the dental care market. So the Michigan Dental Association is fighting a dental therapy bill, despite the fact that more than 200 communities in Michigan lack access to basic dental care. In Texas, a trade group of dentists helped defeat a similar bill in 2015. The American Dental Association has spent millions of dollars trying to block those bills and others in Ohio, Massachusetts, and Kansas; it has also filed multiple lawsuits trying to stop an Alaska program.
Even after a bill is passed, the fight continues. Dental therapy is technically legal in Maine now, but dental schools in the state are controlled by the dental profession, and they have so far refused to train or license dental therapists. "Supporters of the legislation say restrictions and bureaucracy have made becoming a therapist less desirable," the Post concludes.