John McCain's Cronyist 'Humanitarian' Group: Your Path to Trump's State Department
Kurt Volker, the McCain Institute's well-connected executive director, has been appointed special representative for Ukraine negotiations.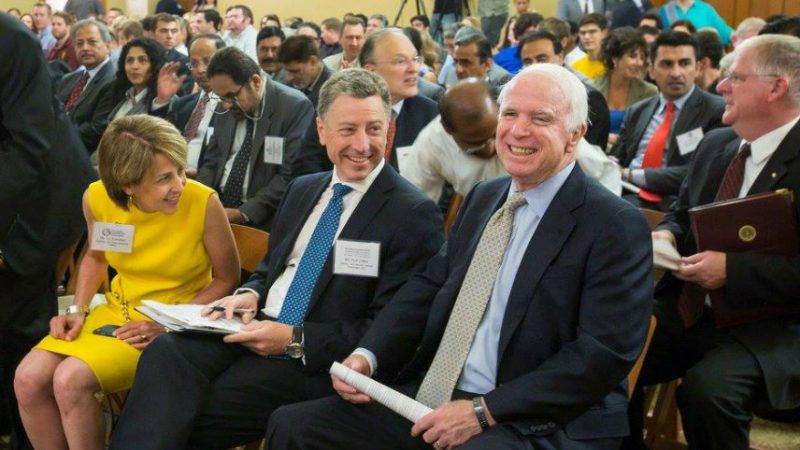 (The McCain Institute/Facebook)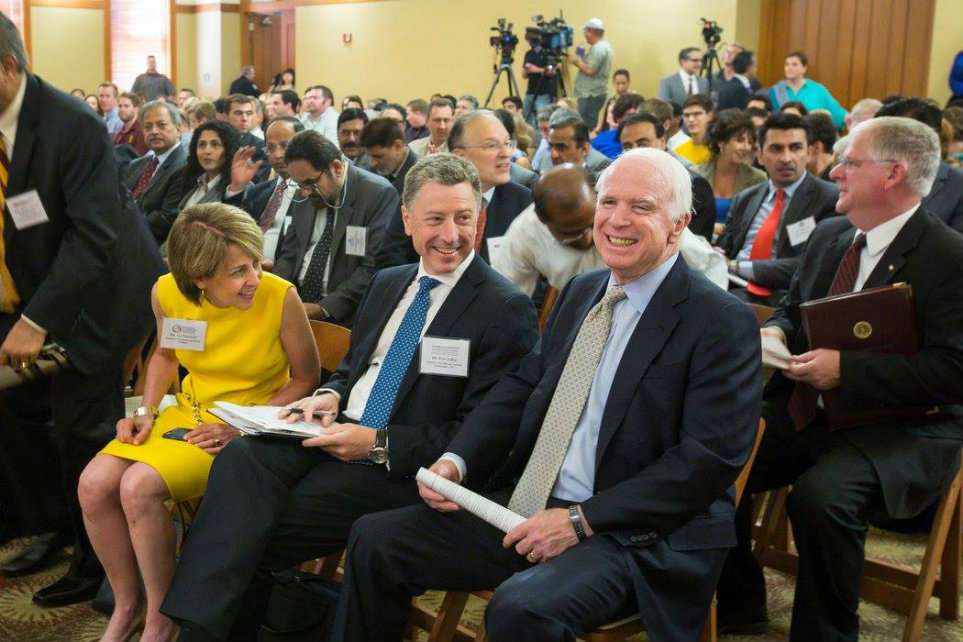 The McCain Institute—Sen. John McCain's cronyist "humanitarian" group—has proved the quite the pathway to Donald Trump's State Department. Fresh off an announcement that the president plans to tap the senator's wife (and McCain Institute figurehead) Cindy Hensley McCain as some sort of "ambassador at large for human rights," the department has appointed McCain Institute Executive Director Kurt Volker to be its special representative for Ukraine negotiations.
Volker—formerly of the CIA, McCain's Senate office, the National Security Council, and NATO—is also an advisor and former managing director at the BGR Group, a D.C.-based lobbying firm and investment bank (former slogan: "The world of business has no borders"), as well as a board member for the Hungary Initiatives Foundation, a group founded by the Hungarian government to lobby for the country's interests in America.
Both the BGR Group and the Hungary Initiatives Foundation have given at least $100,000 (and possibly much more) to the McCain Institute. And the Prague Freedom Foundation (PFF), which lists the BGR group as its address, is also a McCain Institute donor. PFF is ostensibly concerned with promoting independent journalism, but "U.S. international broadcasting insiders suspect that it was set up as a front" in its founder's quest "to acquire State Department properties and influence public broadcasting," according to The Daily Beast.
BGR founder Ed Rogers, a major advocate of U.S. military action in Syria, is also the designated lobbyist for Raytheon—another big McCain Institute funder, as well as one of the largest U.S. defense contractors and a world leader in producing guided missiles. Raytheon is also a major beneficiary of government-surveillance tower contracts along the Arizona border, and it has recently been lobbying for the right to sell "smart bombs" to another McCain Institute funder, Saudi Arabia.
In general, the institute is funded by an odd mix (for a human rights philanthropy, anyway) of shady foreign regimes, former McCain campaign advisors, and corporations—Freeport McMoran, Swift Transportation, Chevron—with interests before Senate committees that John McCain sits on.
A who's who of high-profile Clinton Global Initiative donors also bankroll the McCain Institute. The Soros Foundation. Teneo. Lynn Forester and Sir Evelyn de Rothschild. A state-owned Moroccan phosphate-mining company, OCP SA, that is wreaking havoc the western Sahara.
Upon the institute's launch, in 2012, Volker explicitly described it as a way to broker influence. "I don't think very many people have the same kind of access around the world that McCain has," Volker said. "When you mention his name, you do get top-tier people wanting to be associated and be helpful."
Behind the scenes, McCain Institute donors and their buddies get to mingle with Volker, Sen. McCain, other sitting U.S. officials, and foreign leaders and ambassadors at private luxury retreats in the Arizona desert. The 2017 meeting included government officials from Ukraine, Singapore, Qatar, Kurdistan, Germany, Canada, the U.K., and the Trump administration, along with business executives, bankers, and lobbyists from around the world.
Publicly, however, the institute tends to downplay these connections and focuses on the anti-"human trafficking" (i.e., anti-prostitution) work that Cindy and her merry band of faux-humanitarians do.
Asked about a $1 million donation from the Saudis, Sen. McCain even claimed that he had "nothing to do with" his namesake institute—a claim that's patently false. (It was literally launched by McCain, and Volker, with leftover money from McCain's 2008 presidential campaign fund.)
Alas, it looks like Volker—and possibly Cindy, too—will now get to bring the McCain Institute's special brand of cronyism and international influence peddling to the Department of State. At least their friends in foreign governments and international arms dealing must be excited.