Pennsylvania's Top Court Says Police Videos Are Public, But Lawmakers Are Already Removing Access
This win for government transparency appears to have an expiration date.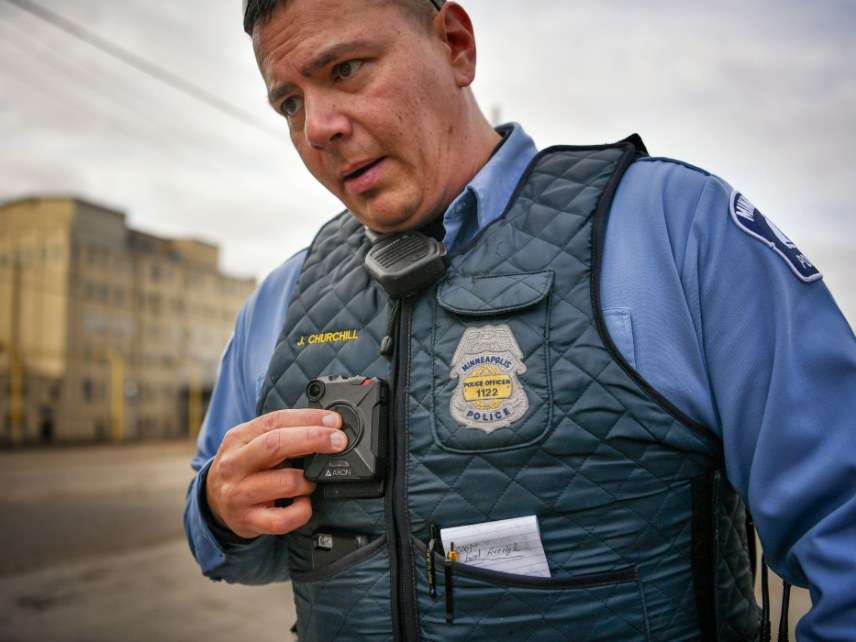 The Pennsylvania Supreme Court ruled yesterday that police dashboard camera footage is a public record. That should have been a major win for government transparency. Unfortunately, state lawmakers are already well on their way to shutting that transparency back down, creating a special process that will grant law enforcement agencies broad powers to keep video footage secret.
The state Supreme Court ruled 5–2 that police recordings are not naturally exempt from the state's public record laws. The decision wasn't a blanket order that all police dashcam or body camera videos must be fully public: Police will still have the authority to withhold material related to an ongoing investigation. But the ruling says they'll have to carefully justify why parts of a video should be kept private. They can't simply decline to release it.
Unfortunately, on the exact same day the state Supreme Court was making this decision, Pennsylvania's House was voting on legislation specifically designed to exempt police recordings from the state's records laws.
SB 560 would create a separate disclosure system for police recordings and give law enforcement officials wide latitude to say no to releasing the footage. It would then require petitioners to turn to the courts for a hearing to appeal the decision. This process would require a fee ($125), a host of bureaucratic demands with timelines, and restrictions on a judge's latitude to overrule the police's decision. Under the bill, the judge would have to determine that disclosure of the video is of a greater interest to the public than the government's rationale for secrecy. (A similar process was recently established in North Carolina.)
Pennsylvania's chapter of the American Civil Liberties Union (ACLU) notes that the legislation has been amended so that it's not quite so deferential to police, but it's still going to make it very hard for the average citizen to gain access to police recordings:
"The reasons for denial will make it nearly impossible for the public or the press to ever obtain video produced by these cameras," said Elizabeth Randol, legislative director for the ACLU of Pennsylvania.

An amendment to the bill that passed on Tuesday made some improvements to the legislation. That amendment eliminated language that required the court of common pleas to give "deference" to the law enforcement agency when a denial of a request is appealed. And it added language to require the law enforcement agency to make a reasonable effort to redact information that should be shielded from public view, such as the identity of a victim or witness.

Nevertheless, the amendment included flaws, according to the ACLU of Pennsylvania. With the amended language, the bill now allows a person only 20 days to file a request, down from the previous timeline of 60 days, and it requires a requestor to describe their relationship to the person in the video.
It's easy to imagine judges agreeing to release footage of cases where police actions have caused significant public outcry. For example, under Pennsylvania's bill it's easy to imagine a judge releasing dashcam footage like what we saw yesterday of the police shooting of Philando Castile.
But a system where officials carefully cherry-pick what gets released based on how much concern is expressed about police behavior creates a system where the larger public remains confused and uncertain about the relationship between law enforcement and the community. That makes it easier to sell the argument that there aren't trends of police misconduct but rather "isolated incidents."
After a controversial police shooting last year in Charlotte, North Carolina, I pointed out that body-cam footage
will help give people outside these communities a better sense over time how police treat the citizens they're supposed to be protecting and a better sense of how to evaluate and interpret these community backlashes. The circumstances of the shooting should decide whether or not the officer did anything wrong and should be disciplined or charged with a crime. But the context of the shooting put in perspective with how police in Charlotte interact with citizens also needs to be evaluated in order to shape enforcement behavior. Keeping all footage secret by default does not assist the community in watching the watchers.
No, a jury did not hold Officer Jeronimo Yanez criminally accountable for killing Castile. But the release of that dashcam footage yesterday serves a valuable role in alerting those who are not directly interacting with police this way that there truly is a serious problem. It's difficult to watch Yanez having a public screaming meltdown after shooting Castile, and to watch Castile's girlfriend remaining calm in her own recording while describing what happened, and think that this is how we want police to behave in America.
The Castile case is yet another example of how hard it is to get a jury to convict a police officer of a crime. So the deference toward police by our culture mandates that the public needs to be able to see and evaluate police behavior across the board, not just when a judge decides it's in the public's interest.
After yesterday's vote in the Pennsylvania House, SB 560 returns to the state's Senate for another vote. According to The Morning Call, Pennsylvania Gov. Tom Wolf (a Democrat) supports the legislation.