Milwaukee Jury Acquits Ex-Cop in Police Shooting Case
The cop was fired when charges in an unrelated sexual assault case were filed against him.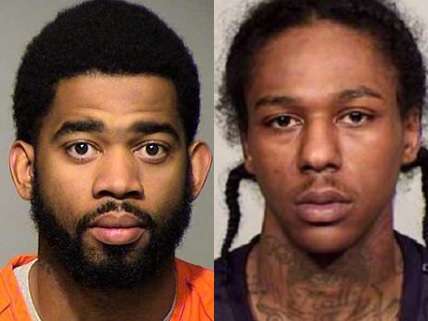 A jury found former Milwaukee cop Dominique Heaggan-Brown not guilty on one charge of reckless homicide in the fatal shooting of Sylville Smith.
Reason reported on the shooting when Heaggan-Brown was charged in December.
His acquittal follows the acquittal of the police officer who shot and killed Philando Castile in Minnesota. Meanwhile in Ohio, a jury continues to deliberate in the trial of Ray Tensing, a University of Cincinnati cop who shot and killed an unarmed motorist in 2015. His first trial ended last November with a hung jury.
The Sylville Smith shooting represents just one of many unnecessarily violent encounters in an endless drug war. Were drugs not forced into black markets, drug dealers might rely on the legal system rather than firearms to enforce their claims. Cops might not escalate situations as innocent as cars being parked a little too far from curbs, assuming criminal activity. Maybe, eventually, cops might learn the smell of marijuana is no reason for them to fear for their lives, as the cop acquitted for killing Philando Castile claimed.
The encounter began when Heaggan-Brown and two other cops said they saw Sylville Smith's rental car parked a foot away from a curb and suspected a drug deal was taking place. When approached by police, Smith fled.
Smith was armed with a gun and running from Heaggan-Brown when the officer shot him the first time. But Smith was on the ground and had thrown his gun away when Heaggan-Brown shot him a second time, in the chest. Prosecutors contended Smith didn't pose a threat before Heaggan-Brown fired again. Smith's defense attorneys argued the officer had been forced to act quickly.
Heaggan-Brown was fired in October when charges were filed related to an unrelated sexual assault claim. He was charged in relation to the shooting in January after the state Department of Justice submitted its report to the local district attorney—Wisconsin is one of a few states where police shootings trigger an independent investigation, although investigators are often former police officers.
Milwaukee Police Chief Ed Flynn, who had in the past said police departments had to start punishing "awful but lawful" behavior by cops, insisted all along Heaggan-Brown was justified in shooting Smith..