Cops Have Lost Control of Their Sex-Trafficking Panic, and It's Beautiful
Even the police can't control human-trafficking hysteria anymore, and it could backfire for them.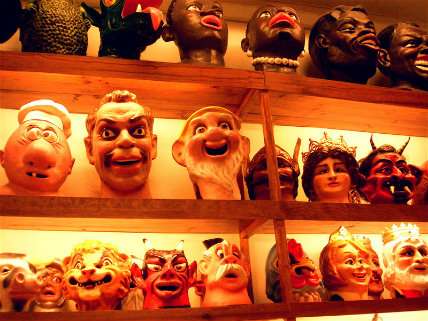 Be still my little libertarian heart, there's just something beautiful about a cop-created moral panic slipping beyond their control.
For years, U.S. police have been using tall tales about an American "sex trafficking epidemic" to scare citizens into giving up civil liberties (or at least offering up the rights of sex workers and their clients) and go about the government's typical types of thuggery. But now the narrative is getting away from them. So sure are Americans (despite all evidence) that sophisticated criminals are waiting to snatch up our girls and women at every opportunity that people are now inventing sex-trafficking rings of their own…and berating police for not taking action.
The latest example comes from Glendale, WI, where local police had to fend off rumors that "girls as young as 12 are being snatched up from two local malls and sold into prostitution rings." Someone who said they had attended a banquet where "a Detective from [the Milwaukee Police Department] spoke" and told them "Mayfair Mall and Bayshore Town Center are very popular spots for human trafficking" posted the story on Facebook.
After the bit about girls being snatched up, they warned neighbors to "be careful letting your girls go out alone" and asked that "if you shop in or frequent these areas keep your eyes open, you could make a huge difference."
So what's going on here—someone with an activist or attention-seeking agenda? A well-meaning poster who garbled the story? A detective doing the usual hype with some local flair? Whatever the case, there's no truth to reports of trafficking-related abductions at the Bayshore Towne Center, according to local police. While "you should always remain aware of your surroundings, we have had no reports of this at Bayshore nor are we currently investigating anything related," the Glendale Police Department posted to Facebook.
The Town Center also denied any such activity. And "per review of the Wauwatosa Police crime reporting software now available, there is no data supporting human trafficking concerns at Mayfair Mall," according to the Historic East Tosa Community Association.
But rather than relief, commenters on the police post expressed skepticism. Some saw the whole thing as confirming what could take place, even if it hadn't yet. "Could happen here. Scary," one woman posted. "While I agree that scaring the public is never a good thing," wrote another, "human trafficking is very real and keeping an eye out in public spaces like this that are potential areas of activity is never a bad idea."
"Just because there have been no reports of this sort of thing at Bayshore, does not mean it is not happening," suggested yet another, asking police to "please investigate this as a possibility because it IS happening, and turning a blind eye does not save these young women."
Other commenters quibbled about the specifics of the imaginary story ("in fact, as young as 12, should read, 'of any age.' Don't know specifics about these locations, but children of both sexes-and all ages-are vulnerable. That is a fact").
Any posters who sided with the police (and reality) on this one were upbraided by the others for being obtuse.
"I frequent Bay Shore Mall and have not seen anything of that order when I was there … I always feel safe and am treated with care," said one cheerful commenter. She was greeted with an admonition that "the problem [is] already there, ignoring it won't change that."
"Did anyone read the article? 'There have been no reports,'" noted someone on the local Fox story about it. Response: "You all should know it's all over and at any given time… Protect your kids and be aware."
It would be easy to chalk all this up to stereotypical suburban "soccer mom" fears, but their reactions reveal an effect that's all too typical in even the most rational: When confronted with credible evidence that contradicts our own understanding of a situation, we tend to double-down on our erroneous belief and (consciously or not) find ways to discredit the information or the messenger. Psychologists call these tendencies motivated reasoning or confirmation bias.
An Atlantic article on this effect mentions 1950s researcher Leon Festinger, who studied believers of doomsday prophet Dorothy Martin. These followers "believed that spacemen called the Guardians were coming to collect them in flying saucers to save them from a coming flood. Needless to say, no spacemen (and no flood) ever came, but Martin just kept revising her predictions. Sure, the spacemen didn't show up today, but they were sure to come tomorrow, and so on. The researchers watched with fascination as the believers kept on believing, despite all the evidence that they were wrong."
Sound familiar? Believers keep on believing in all sorts of things, from sex-trafficking epidemics to Russian masterminds "hacking" the U.S. election, Hillary Clinton's electability, or the idea that you can pray away the gay.
With U.S. officials hyping human-trafficking hysteria for years, it's no wonder that people believed them and began to let their imaginations wander. Perhaps not a bad thing, either. The more time police have to spend investigating and debunking totally bogus mall traffickers, the less time they can spend messing with adult sex workers under the guise of stopping sexual exploitation.
And the more times they're forced to quash parental fears by admitting that they've had no human-trafficking reports, the more it chips away at their simultaneous claim that human trafficking is happening "everywhere" and "all the time."
Diehards may never believe denials of imminent danger, but police might come to realize their false narrative isn't worth the hassle.
A few more recent examples:
• The IKEA Child Sex Trafficking Story Is Fake News
• Did You Hear About the Sex Traffickers Abducting Grown Women From Hobby Lobby?
• Little Girl Asks Another Child for Candy, Mom Fears Sex-Trafficking Ring
• Viral Human-Trafficking Rumor Hits Ionia County, Debunked by Police
• Texas Mom's Paranoid Rant Spawns Viral Sex-Trafficking Rumor
• Sex Trafficking Case Doesn't Imply Widespread Criminal Network, Police Chief Says
• Police Address Facebook Rumor That Great Lakes Crossing is 'Hot Bed of Sex Trafficking'