Pennsylvania's Pension Reforms Aren't Perfect, But They're Pretty Good
State still owes over $70 billion to current workers and retirees, but moving future hires to 401(k)-style retirement plans will save taxpayers in the long run.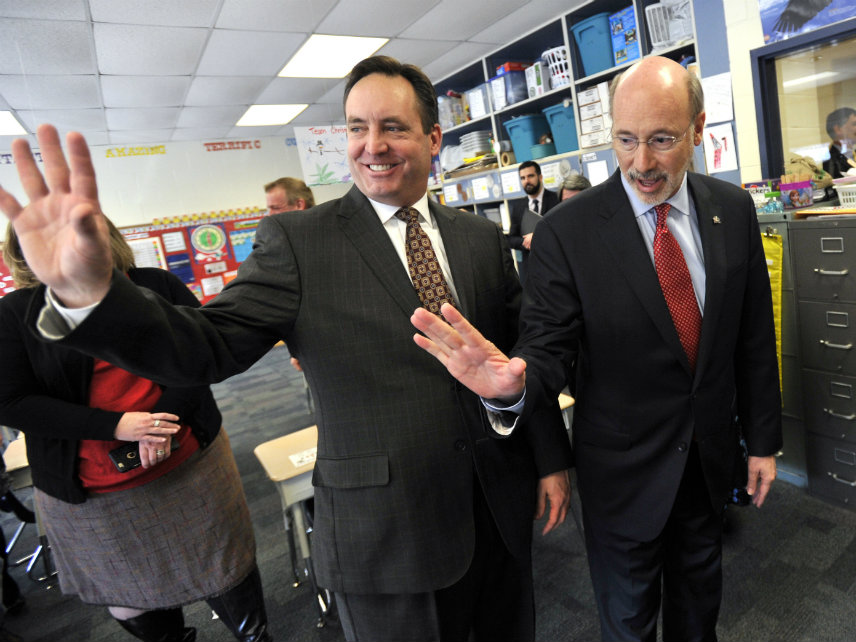 In a remarkable show of bipartisanship, Republican state lawmakers and a Democratic governor in Pennsylvania approved a pension reform bill moving most future public employees into 401(k)-style retirement plan, helping stanch a $70 billion unfunded liability.
Gov. Tom Wolf, who signed the bill Monday, said "This bill is a win for Pennsylvania taxpayers. It's also fair to Pennsylvania's workforce."
The reform is far from perfect, but makes several important changes that should help Pennsylvania with a massive pension debt that will still take decades to get out from under. It could also serve as a model for other states dealing with similar pension problems.
Future state workers and public school employees will be enrolled in a so-called "defined contribution" system, similar to the 401(k) retirement plans commonly used in the private sector that allow individual workers greater control over their savings. Taxpayers will no longer have to make up the difference between what the state promises retirees and what they set aside for themselves.
Taxpayers, however, are still on the hook for the $70 billion in existing unfunded liabilities. Current workers and retirees will continue to make contributions and collect benefits from to the current "defined benefit" system. New hires by the Pennsylvania State Police and the state prison system are exempted from the reforms and will keep the current defined benefit system, which is nothing more than an act of political favoritism.
Annual payments into that system will cost Pennsylvania taxpayers more than $4 billion this year. Those contributions will continue to grow annually through the early 2020s—accounting for as much as 10 percent of the state's whole budget by 2019, according to the Wall Street Journal—before leveling off and eventually declining over the course of several decades as current enrollees stop collecting benefits when they die.
Still, after years of struggling to get a pension reform bill passed while watching the unfunded liability grow ever larger—and in an environment that required bipartisan support for reforms—the passage of SB 1 is something to applaud.
At a bill signing ceremony in the state capitol on Monday, Senate Majority Leader Jake Corman (R-Centre) compared the experience to being a Chicago Cubs fan.
"For years, all I've been talking about is pension reform, so I'm not sure what I'm going to be talking about tomorrow," Corman said. Fellow Senate Republicans elected Corman to lead them in 2014 in part because his predecessor failed to tackle pension reform and other conservative priorities.
Combined with a 2010 law that committed the state to paying the full annual amount of its pension obligation, this newly signed reform "constitute a major turn-around among states," analysts for the Pew Charitable Trust wrote in their assessment of the bill. The proposal is perhaps the most comprehensive and impactful reforms any state has implemented, Pew's researchers concluded.
"For years, government union leaders fought reform efforts tooth and nail," said Nate Benefield, director of research for the Commonwealth Foundation, a Harrisburg-based free market think tank. "As a result, their own members' retirements have been put at risk, and taxpayers have suffered burdensome property tax hikes. Today's reform illustrates real progress can be made in the face of powerful and entrenched opposition."
Bipartisan support for these pension reforms caused unions to "call a strategic retreat," the Harrisburg Patriot-News reported last week. While they did not support the effort, "we're not throwing bombs at it," David Fillman, executive director of AFSCME Council 13, which represents many state and municipal workers in Pennsylvania, told the paper.
Pennsylvania's pension problems date back to 2001, when the state had a $20 billion surplus in its two pension funds. Lawmakers engineered a political giveaway to public sector unions by using those funds to boost benefits for workers without increasing contributions into the system. The following year, they extended those same higher benefits to already-retired former public workers, again without asking the workers to pay anything in return.
They compounded the error in 2003 by taking a decade long "pension holiday" that decreased annual contributions to the pension system in order to direct revenue to other parts of the state budget. The 2009 economic collapse turned a risky policy into a total catastrophe.
Moving to a 401(k)-style pension system will take politics out of the equation for the future, removing the temptation to redirect public workers' retirement funds to other purposes as the state did in 2003.
Still, the proposal does nothing to pay-off the $70 billion owed to current workers and retirees. Only future hires will move to the new system, so anyone currently working for the state government or any school district in Pennsylvania will continue to accrue and collect benefits from the current, deeply underwater system.
"We have difficulties ahead of us," Corman said, "but because of this legislation, we know that this will never, ever happen again."