Jeff Sessions Says Social Media, Encrypted Apps Hamper War on 'Modern Slavery'
These are the tools of pornographers, "sextortionists," and human traffickers, Sessions told a police conference this week.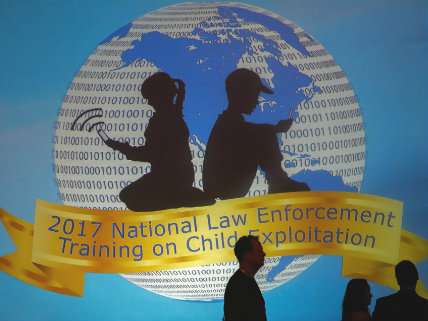 U.S. Attorney General Jeff Sessions told a gathering of more than 1,500 federal, state, and local law enforcement agents that he was ready to follow President Donald Trump's orders and "make our country safe again." For Sessions, that entails "mak[ing] the fight against child exploitation and human trafficking a top priority."
Both were major priorities for the Obama-era Department of Justice and FBI too, so Sessions' bluster is based on a bit of a false premise. But what difference does it make—prioritizing the protection of children and trafficking-victims can't be a bad thing, right?
Alas: When it's done by the likes of the Justice Department, it can be. Beyond all the big talk about saving kids, the agency actually allocates most of its anti-exploitation agenda to arresting adult sex workers and snagging people in stings that involve no actual victims. That is, when it's not aiding in the arrests of exploited children themselves. If Sessions' June 6 speech—closing the National Law Enforcement Training on Child Exploitation meeting in Atlanta—signals greater federal investment in status-quo solutions, expect to see even more "human trafficking stings" targeting adults engaged in prostitution, immigrants eligible for deportation, and asset-heavy escort-advertising sites, as well as any broader civil liberties they can plausibly grab along the way.
In Atlanta, Sessions warned of the dangers of "emerging technologies," encrypted-communication platforms, social-networking sites, and "the so-called Darknet." These, he declared, are the tools of such "depraved people" as "child pornographers, sextortionists, and human traffickers."
"We need to help our fellow citizens know what to watch for, and encourage them to tell us when they see something troubling," Sessions urged. "Nothing less than a united effort will be enough to keep our children from becoming victims of exploitation."
Sessions finished his speech by presenting a video on "the importance of recognizing the signs of child sex-trafficking and reporting suspected crimes." It featured the tagline: "Modern day slavery exists. If you see it, report it." Even the aggressively neutral Politico couldn't avoid making drug war comparisons, describing the video as "hearkening back to the D.A.R.E era" with its "hyperbolic language" and its portrait of "a slippery slope of behavior leading to irrevocable consequences."
The idea that every American child is just one smartphone app away from being snatched into sex slavery is absurd, and it bears no relationship to what both anecdotes and data tell us about such matters. But it does make a nice narrative if you want to wage war on pesky encrypted technologies that thwart all sorts of investigators; or to insert more Immigration and Customs Enforcement, Homeland Security, and FBI agents into community policing; or to get everyone from flight attendants to truck drivers telling federal agents about anyone "suspicious"; or to ensure the continued relevance of an agency whose drug-war glory days are behind it.
As Reason's Matt Welch pointed out in January, the Sessions confirmation hearing featured no lack of hysteria about human trafficking. Sen. Dianne Feinstein (D-California) began her interrogation by asking about sex trafficking, which she called the second-largest criminal industry in America—a "factually insane claim that will probably give [Sessions] more power," Welch noted:
In order for "human sex trafficking" to be the second largest criminal industry in the United States, it would at minimum need to supplant illegal narcotics (roughly $100 billion a year, according to a 2014 Rand Corp. estimate), or Medicare fraud (in the ballpark of $60 billion, according to the Government Accountability Office in 2015). So distant is reality from those numbers that even the commonly cited figure of $9.8 billion a year for all trafficking — and keep in mind that human smuggling dwarfs sex trafficking — was given "four Pinocchios" by Washington Post fact-checker Glenn Kessler.
Senators at the confirmation hearing also grilled Sessions on whether pornography is a public health crisis and how open he is to aggressive use of obscenity laws.