The Truth About Seattle's Proposed Soda Tax and its Ilk
It's one of a growing number of misguided anti-soda laws around the country.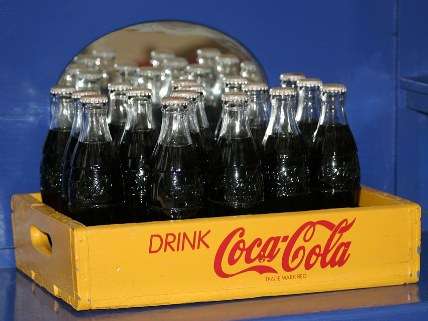 Seattle lawmakers are expected to vote early next week on a citywide soda tax that would add more than $2.50 to the cost of a twelve-pack of soda. The tax would undoubtedly drive consumers—at least those Seattle residents with cars and Costco memberships, including me—to buy more groceries in the city's suburbs.
But Seattle's proposed tax is just one cog in the larger misguided, ongoing campaign against soda by lawmakers in this country.
After years of defeats, supporters of soda taxes have scored several recent victories and are increasingly on the attack.
"There's an awful lot of things that governments could do, but they will only do it and devote money into it if the public demands it," former New York City Mayor Michael Bloomberg said this week in comments on his self-funded anti-soda agenda. "So increasing awareness among the public of what problems they and their children face is a very big deal."
That quote's worth a moment of parsing. In the first sentence, Bloomberg is acknowledging the public is not demanding soda taxes. Rather, he is. In the second sentence, Bloomberg is suggesting American families will only know what problems they and their children are facing if a billionaire like him points these problems out to them and ensures their local government taxes them to make those problems somehow vanish through taxation.
But most consumers are smarter than that. Voters in Santa Fe, N.M., for example, overwhelmingly rejected a paternalistic soda tax there last month.
Back to Seattle, where I spoke out against the proposed tax in a local NPR appearance in March. (I've also written on the topic here countless times.)
Seattle Mayor Ed Murray, who proposed the city's tax earlier this year, later expanded it to include diet sodas, which he characterized as a way of, er, fighting white privilege. The mayor's actions came after a racial-equity analysis revealed what most people know already: the soda tax would disproportionately target African American and Latino consumers, who are more likely to drink full-calorie sweetened drinks than are white consumers, who are more likely to drink no- or low-calorie sweetened drinks.
"The changes were recommendations that emerged when staff from the mayor's office and the office of Councilmember Tim Burgess studied disparate impacts the tax could have on people with low incomes and on people of color, according to Murray," the Seattle Times reported.
"The mayor says he decided to include diet drinks to make the tax more fair, because numbers show more wealthy white people drink diet soda, while minorities drink regular soda," reported MyNorthwest.
Despite his efforts, the city council rejected Mayor Murray's proposal to expand the soda tax to include diet drinks, and is expected to vote on the measure next week. Two city council members voted against the bill because "they couldn't support a tax that would disproportionately burden low-income people and people of color."
Could Mayor Murray veto the bill for the same reason? He should, even if it's unlikely.
If the bill were to become law, an interesting angle to any potential lawsuit might be the racially disparate impact of the tax. Who might sue to overturn a soda tax in the city? Opponents of Seattle's proposed soda tax include the Martin Luther King County Labor Council, Seattle Metropolitan Chamber of Commerce, and a coalition known as Keep Seattle Livable for All.
Seattle's best-known soda company also opposes the tax.
"I think it targets one industry unnecessarily so," said Jennifer Cue of Jones Soda, a national craft-soda maker based (at least for now) in Seattle.
Cue is right. But there are other very good reasons to oppose soda taxes. For example, some city council members in Seattle are already worried that a tax this high could be repealed by voters.
In Philadelphia, where the city's soda tax still faces a strong court challenge, recent reports show revenue raised by the tax may fall millions of dollars short of estimates.
And then there's the issue of whether soda taxes can or will make anyone any healthier. My longtime skepticism seems justified. When Seattle officials recently asked other cities with soda taxes if they'd seen any impact, those cities answered in unison: nope.
"City officials from Philadelphia and Berkeley, Calif., told Seattle City Council members that they have yet to see any lasting effects from the soda taxes that have been enacted," Seattle station KIRO reported last month.
If soda taxes are a bad idea—and they are—then do those who want to cut soda consumption have any good ideas?
Not exactly. Across the country in Howard County, Md., a public/private partnership that aimed to reduce soda consumption may have succeeded in doing so. But that's no reason to suggest the campaign is a success or is replicable, as I discussed in April on the Kojo Nnamdi Show.
Walter Olson, a senior fellow at the Cato Institute's Center for Constitutional Studies and a Howard County resident, had an excellent op-ed recently on the county's anti-soda campaign. Olson writes that while some elements of the scheme may have been good—maybe not the part where smiley Millennials "wander public parks" in search of soda drinkers to nudge playfully with anti-soda microagressions—overall it "sowed divisiveness, put government resources to improper purpose, and rested on a premise of frank paternalism."
"Local soda taxes are an unpopular idea around much of the country and run into the problem of border-hopping evasion," Olson told me by email this week.
Given that, Olson thinks the Howard County model may supplant taxes going forward.
"So look for more interest in the Howard County model, which deploys simultaneous multi-channel messaging, micro-legislation, and community organizing with the aim of steering public opinion to stigmatize 'bad' beverages and the businesses that offer them."
What Howard County did may not be as bad as what Berkeley and Philadelphia have done, and what Seattle may do. But it's still paternalistic. And paternalism in any form must be opposed.