San Diego D.A. Files Charges Against Marijuana Entrepreneur 16 Months After Seizing His Money
"I can't help but think this is vindictive prosecution."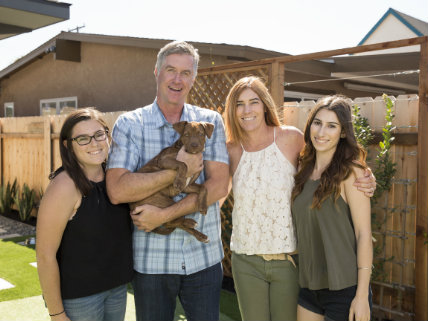 The San Diego District Attorney's Office filed criminal charges against marijuana business owner James Slatic on Wednesday, two weeks after a judge ordered it to return more than $100,000 it had seized from Slatic and his family.
In a criminal complaint filed in San Diego Superior Court, prosecutors accused Slatic and five other employees of his business, Med-West, of illegally manufacturing and distributing hash oil to Colorado. Slatic and the others face 12 counts of manufacturing a controlled substance, exporting more than 4 grams of concentrated marijuana, conspiracy to obstruct justice, and money laundering.
Heavily armed San Diego police raided Med-West in January 2016. The case drew national media attention after the San Diego D.A. used civil asset forfeiture to seize not just Med-West's bank accounts, but more than $100,000 from the Slatics' personal bank accounts, including the college savings accounts of his two daughters.
Despite the raid and the seizures, it looked like criminal charges would never materialize. The Slatics and the D.A. battled in court over the money for the next year and a half. The San Diego D.A. eventually dropped its asset forfeiture case against the family but claimed the money was evidence in an ongoing money laundering investigation. Two weeks ago, and a judge ordered the D.A. to return the Slatics' money, finding that the D.A. "cannot hold on to [the Slatics'] money indefinitely without having filed any charges against any of them at the present time."
Slatic maintains that his business was perfectly legal under California's marijuana laws.
"Amazing that after 16 months and right after we get our family's money back, the district attorney brings these charges in complete opposition to the California state law legalizing this conduct and industry," Slatic wrote in an email to the San Diego Union-Tribune. "I can't help but think this is vindictive prosecution."
The Slatics were represented by the Institute for Justice, nonprofit libertarian-leaning law firm that has challenged asset forfeiture laws in several states. The Institute for Justice said the seizure of the Slatics' money was a brazen and illegal example of what it calls "policing for profit," using asset forfeiture to fill the D.A.'s coffers without charging Slatic with a crime.
However, the San Diego D.A. said in a press release Wednesday that the charges were delayed by the court battle and a "year-long, complicated investigation."
"We wanted to be thorough and make sure we got it right," San Diego County District Attorney Bonnie Dumanis said in a statement.
Earlier this year, Dumanis announced that she will resign effective July 7.