Cuban Libertarian Party Launched After Arrest of Libertarian Activists
The Party, named after famed 19th century Cuban independence fighter Jose Marti, is putting up posters of the incarcerated activists around Havana.
The Cuban government probably did not expect to inspire the creation of a dissident political party when it arrested libertarian activists Ubaldo Herrera Hernández and Manuel Velázquez Visea in February. But a Partido Libertario Cubano—Jose Marti, named after the famed 19th century hero of Cuban independence, did launch itself this month in response to the (Raul) Castro regime's actions.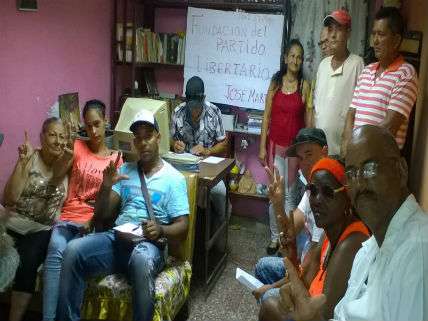 According to a report from Zachary Foster, with the Nevada Libertarian Party in America who is in contact with the Cubans, the activists were arrested initially on charges of assault on a state agent, which they insist are falsified and refer merely to refusing to show I.D. when asked by that agent outside the Benjamin Franklin Library, a site opened by libertarian activists in December to distribute libertarian literature.
According to a press release from Foster, the actions that brought on their arrest were actually "exchanging books about free markets and limited governments, which is antithetical to the regime's revolutionary socialist doctrine."
This week, activists of that Party began peppering Havana with poster images of the arrested men and the slogan "Freedom for Ubaldo Herrera Hernández and Manuel Velázquez Visea, libertarians unjustly imprisoned for defending the ideas of freedom."
In a column in the PanAm Post (English via Google Translate), Nelson Rodriguez Chartrand insists that both men have been abused in custody and reports:
"The Cuban Libertarian Party—José Martí , takes full responsibility and pride in the authorship of this peaceful demonstration of freedom, fully aware of the right that we are as human beings to express and express ourselves freely, at the same time as absolutely responsible to the Government of Cuba , For any retaliation that may be brought against any member of our organization, "said its president, Mrs. Caridad Ramírez Utria, moments before carrying out such a peaceful initiative.
Caridad Ramirez Utria, according to the Pan-Am Post report, was "part of the peaceful grouping Ladies in White who fights for the freedom of political prisoners" and was beaten by state police and sent to the hospital last year. from the street.
The Libertarian Party's National Committee in America has condemned the activists' arrest.
Marian Tupy wrote for Reason last year on the lies the Castro regime tells about its accomplishments.