Some ADAs Worried About Krasner Philly DA Victory, but Krasner's Not Worried About Them
The criminal justice establishment doesn't realize how much credibility it's lost over the years.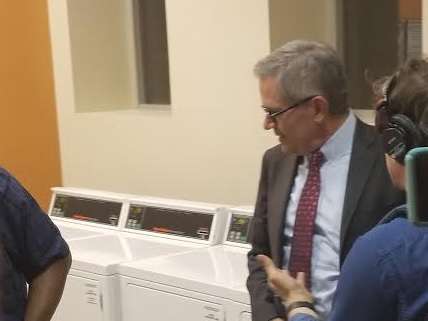 Before his victory in the Democratic primary last night, reform-minded district attorney candidate Larry Krasner had already earned the scorn of several former prosecutors (ADAs). Eleven of them wrote an open letter urging Philadelphians to vote against Krasner, filling their missive with political rhetoric like "alternative facts" and blaming a "European billionaire" (Soros) for Krasner's success.
Krasner, who won with nearly 40 percent of the vote in a 7-way race, said throughout the race that the reforms and focus on civil rights he was campaigning on are the same issues that informed his 30 year career in law.
Now, current prosecutors are coming out to criticize Krasner's candidacy, albeit anonymously. A number of them spoke with Philly.com—most were oblivious to the sentiments about the district attorney's office and the criminal justice system that helped propel Krasner to victory.
"I don't know whether to laugh or cry," one prosecutor said, according to Philly.com. "It's kind of hard to separate the person from what he said during the campaign. I don't think he has much goodwill in the office, given the tenor and tone of what he's been saying."
What has Krasner been saying? That too often the district attorney's office works to appear extremely tough on crime by seeking maximum penalties, that, as his campaign website said and the former ADA's who wrote the letter disputed, the DA's office was "driven by a win-at-any-cost culture that prioritizes high conviction rates and harsh sentencing over more effective approaches that are proven to reduce crime."
"His idea of justice is different than the vast majority of people's in the city," another ADA, described by Philly.com as "higher up in the chain of command," said. "We're in a city ravaged by gun violence and violent crime. When your platform is civil rights and resisting Trump, well, that's not the job of the prosecutor. Our job is to protect the city and keep people safe."
While Krasner has promised not to cooperate with the federal government under Donald Trump (a promise that makes sense given Attorney General Jeff Sessions' priorities so far), reforming the criminal justice sytem, not "resisting Trump," was the central tenet of his campaign.
And as for violent crime in Philadelphia, it is at the lowest level it has been in the city in decades, and that's according to police themselves.
"Everything we've seen from him during the campaign has been about how the DA's Office is unethical and prosecutes terrible cases, and only he can fix it," another anonymous prosecutor told Philly.com. "That's a pretty broad [criticism], and it isn't particularly morale-boosting."
The current district attorney, Seth Williams, was indicted on federal corruption charges in March but intends to serve out his term, which ends in January. And recently, the state's former attorney general, Kathleen Kane, elected in 2012, was also sentenced to up to two years in jail after being convicted of perjury and abuse of office charges.
Philadelphia residents are understandably skeptical about the integrity of their criminal justice system. Complaints from the criminal justice establishment about Krasner may be as effective as establishment complaints were against Trump.
Krasner responded to concerns from prosecutors after his victory last night, telling reporters that he respected everyone's right to an opinion.
"The bottom line is people are entitled to their opinion," Krasner said, "including people who left the district attorney's office a long time ago, people who actually never had any dealings with me at all, people who have pursued careers after leaving the district attorney's office that involve being paid to defend officers accused of corruption, they're entitled to their opinions.
Krasner added: "And so are the many many assistant district attorneys in the office who've personally come up to me to encourage me, to congratulate me, to give me information over the years, and so are the many judges who've come up to me to congratulate me and tell me that I will have their vote."
Krasner will face Republican Beth Grossman, a booster for asset forfeiture and former Democrat who served in the DA's office under Lynne Abraham, the "tough on crime" Democratic DA who served from 1991 to 2010.