Local Officials Are Coming for Your Garden
Local regulatory busybodies are zoning away your right to grow food in your garden.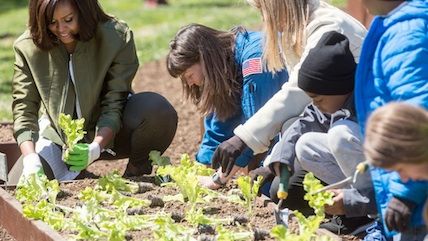 With spring in bloom, gardening season is underway across the country. That means lettuces and herbs, tomatoes and carrots. But it also means local regulatory busybodies are hard at work in many parts of the country making sure some gardeners' toughest fights this season won't be against drought, weeds, and non-human pests.
In Columbiana, Ohio, for example, the city council has proposed to amend existing law to allow residential gardens in the city. Yay? Nope. Residents are crying foul.
They call the measure "just another effort on the city's part to restrict their rights."
Residents' ire seems justified. The initial amendment proposed by the city council would have legalized gardens, but limited them to backyards only. Columbiana also recently began enforcing a 1974 law prohibiting the keeping of chickens and other backyard livestock.
And then there's this jewel:
"The city had no laws pertaining to residential gardens, which means they were technically not allowed," reports the local Salem News. "According to the city's laws, if something is not permitted it is prohibited."
If that sounds like a local paper misreading the law, think again.
"Currently, our ordinances state that if you do not see it specifically written, then you are not technically allowed to have it," says city councilor Crystal Siembida Boggs, who criticizes the rules as "vague."
That's really about the best thing someone can say about such a law.
Gardeners are under attack from laws like these across the country. I recount many instances of gardeners facing physical removal of their gardens, fines, and even threats of jail time in my recent book, Biting the Hands that Feed Us: How Fewer, Smarter Laws Would Make Our Food System More Sustainable.
In 2013, in another case I detail in my book, the Institute for Justice sued the city of Miami Shores, Florida, on behalf of a local couple who the city had ordered—under threat of stiff fines—to rip up the front-yard garden they'd tended for years. A federal state judge upheld the law.
"The court finds that the prohibition of vegetable gardens except in the back yards is rationally related to Miami Shores' legitimate interest in promoting and maintaining aesthetics," the judge wrote in his ruling.
The plaintiffs appealed to the U.S. Court of Appeals for the 11th Circuit.
In another instance I detail in my book, officials in Tulsa, Oklahoma, entered resident Denise Morrison's front yard without her permission and ripped out her edible garden.
"Morrison, who was unemployed at the time, was using the foods she grew to sustain herself during a difficult period," I write. "Code officers, on the other hand, were enforcing a city ordinance that said plants cannot be higher than twelve inches 'unless they're used for human consumption.'"
Morrison's garden, I note, in fact contained many plants fit for human consumption, including strawberries and spearmint. Tulsa officials didn't care. Morrison sued the city in federal court. The court threw out her lawsuit, arguing she'd been given proper notice by the city.
Oklahoma lawmakers recently adopted a law to promote urban agriculture as part of an effort to combat poor access to fresh produce in many cities and towns. The law creates a fund to dole out grants to benefit people in low-income areas—including Tulsa.
Thomas Boxley from University of Oklahoma, who runs a school garden project in an impoverished part of Tulsa and who no doubt is doing good work, says his project helps "to show the youth that you can begin to grow some of your food needs right in your backyard."
You can, unless Tulsa says you can't.
It's hard to see this grant program as anything but a slap in the face to people like Denise Morrison who've been told they can't grow their own food because things like zoning and aesthetics are simply too important. Gardeners and food freedom be damned.