Scott Gottlieb Confirmed as New FDA Commissioner
Not a radical reformer, but clearly understands how overregulation is slowing medical innovation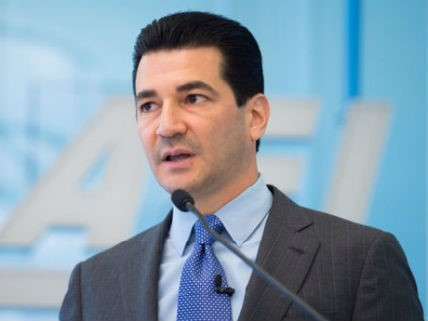 Physician, venture investor, and drug industry consultant Scott Gottlieb has been confirmed by the Senate as the new Commissioner of the Food and Drug Administration. Gottlieb takes the helm of the agency that regulates products accounting for about 20 cents of every dollar of annual spending by U.S. consumers, that is, about $2.4 trillion in annual consumption that includes medical products, food and tobacco. The agency regulates medicines, diagnostic tests, medical devices, food safety including those made from modern biotech crops and livestock, food labeling, and tobacco and nicotine products. What the agency's bureaucrats decide has signifcant impact on U.S. economic growth and the livelihoods of Americans.
Gottlieb has long been a critic of the FDA's slow and protracted drug and medical device approval processes. Researchers at the Tufts University Center for the Study of Drug Development have estimated that in 1991 it cost $412 million (2013 dollars) to develop and obtain approval for a new pharmaceutical. Last year, they calculated that it now takes more than $2.5 billion, a six-fold increase.
In an email, Union of Concerned Scientists spokesperson Seth Michaels warned that Gottlieb's confirmation is "yet another example of an appointee whose record raises questions about whether they'll respect science and the public interest." On the other hand, Paul Howard, Senior Fellow and Director, Health Policy at the market-friendly Manhattan Institute issued a statement applauding the appointment. "At a time of both unprecedented scientific opportunity and rapidly evolving public health challenges, Dr. Gottlieb provides the FDA with principled and pragmatic leadership," declared Howard. "His experience as a regulator, practicing physician, cancer survivor, and innovator will help the agency navigate the scientific challenges surrounding drug and medical device development and approval without losing sight of the real-world implications of the agency's decisions for patients struggling with potentially life threatening conditions."
I earlier noted, "While not a radical reformer, Gottlieb clearly has a good understanding of how over-regulation has been slowing down innovation in medicines and foods." Good luck to him as he tries to reform the agency's excessively cautious regulatory culture.