School Lunches To Suck More Like They Used To
Awful Obama administration-era reforms are being scaled back slightly. School lunches will still stink.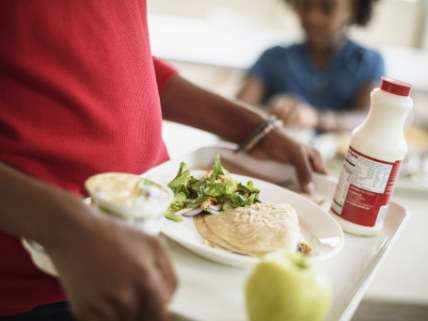 One of the Obama administration's signature achievements is on the chopping block. A cursory look at its replacement reveals GOP efforts to scrap the Obama-era rules resemble little more than Obama-lite, and appears unlikely to achieve better outcomes.
No, I'm not referring to the incompetent efforts in Congress to repeal and replace Obamacare. Rather, I'm talking about the Trump administration's announcement this week that it will gut a series of mandates under the USDA's National School Lunch Program that were championed by former First Lady Michelle Obama.
The reforms were announced this week by new USDA Secretary Sonny Purdue under a plan to—honestly—"Make School Meals Great Again." That headline should tell you all you need to know about the Trump administration's plans.
The changes, made as part of an interim rule, include giving schools flexibility to meet whole-grain, sodium, and flavored-milk requirements implemented under the Obama administration.
"I wouldn't be as big as I am today without chocolate milk," Perdue said in a curious choice of words announcing the changes.
Critics of the interim rule were quick to pounce on the Trump administration's school-lunch agenda.
"It is outrageous that President Trump and his administration are now pushing a policy that weakens the essential nutrition standards which have strengthened access to healthy food for so many students," said Rep. Jim McGovern (D-Mass.) in a statement issued this week.
But hold on a minute. Students have capitalized on that strengthened access to throw away countless tons of healthier food in public-school garbage cans across America. In 2014, I wrote a recent "GAO report had found that last school year's disastrous rollout of the updated USDA National School Lunch Program helped drive 1.6 million paying students from the lunch rolls. The new rules led some schools to abandon the program, as I reported in 2012. What's more, the new rules, championed by First Lady Michelle Obama, have also resulted in unprecedented mountains of food waste."
While the rules have increased food waste dramatically and forced students and schools to flee the program, USDA estimates also show the reforms cost schools more than $1 billion a year. A 2014 Los Angeles Times editorial on massive financial losses and waste the Obama administration's school-lunch reforms caused in the city said the rules "defy common sense[.]"
That they did. And what sort of high-quality food have students been getting under the Obama administration rules?
"[T]he First Lady's school lunch reforms may have improved the quality of food choices slightly, but they also increased food waste. I say 'slightly' because school lunch menus have changed little, even after the [the First Lady's] reforms," I write in my recent book, Biting the Hands That Feed Us.
Indeed, USDA reforms to the school-lunch program didn't exactly turn school lunchrooms into Chez Panisse, as I wrote in a 2014 column that highlighted my own local school system's lunch offerings: "whole grain chicken patty sandwich with tater tots, whole grain cheese or pepperoni pizza, hot dog with tater tots, french toast sticks with sausage, mac 'n cheese with whole grain chicken bites, whole grain chicken nuggets with blueberry bread."
Objectively, the Obama administration's food is not great food. But the Trump administration's plans—rulemaking of the sort supported by congressional Republicans for several years—won't make school lunches great, either.
"[T]he plan favored by many Republicans in Congress— to gut the First Lady's reforms and return the USDA National School Lunch Program to where it was five or six years ago—may worsen the quality of food choices slightly, but would probably decrease food waste," I write in Biting the Hands that Feed Us.
GOP plans are not an attempt to institute wholesale, needed reforms. Rather, the Trump plan is to tap the brakes on the expansion of a massive, problematic government program. Even the conservative Free Beacon characterizes the crux of Purdue's plans as "giving schools greater freedom in complying with the former first lady's school lunch rules."
The whole problem with the infuriating notion of making school lunches great again is that school lunches in this country have never been great. They were not great before Michelle Obama decided she could improve them. They have not been great since Michelle Obama attempted to improve them. Walking the school lunch program back a few years is a big idea only to small minds.