Rand Paul: Budget Deal Should Be Renamed 'The Status Quo Protection Act'
Libertarian-leaners are lonely voices on Capitol Hill opposing the latest bipartisan spending spree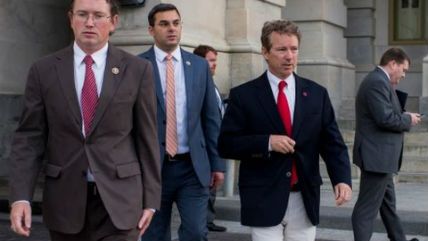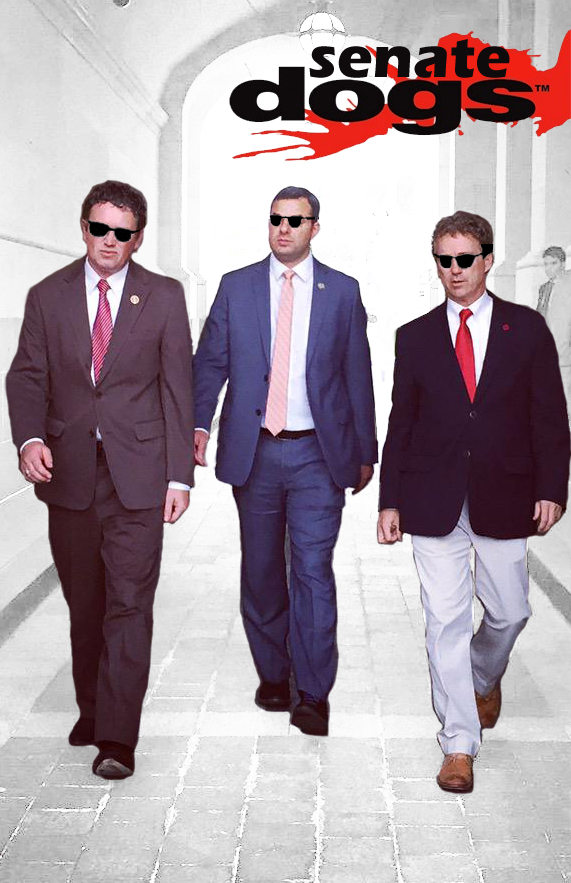 I was at one of those infamous D.C. cocktail parties the other night when Rep. Thomas Massie (R-Ky.), one of the two most libertarian-leaning members of the House of Representatives, sidled up to me at the bar and croaked, "How ya liking our new trillion-dollar budget deal?!"
The $1.16 trillion agreement hikes current spending levels, largely by vomiting forth $93.5 billion worth of "Overseas Contingency Operations" (OCO)—a disreputable gimmick that current Office of Management and Budget Director Mick Mulvaney has long and correctly railed against. Unlike the budgetary "dark ages" and government-dismembering prophesied by dullard hysterics in the media, this latest last-minute Continuing Resolution very predictably maintains just about every pre-existing spending level and pet project/agency. A House vote is scheduled for this afternoon.
So who's against it? Massie's pal Sen. Rand Paul (R-Ky.), for one. Paul has a piece over at Breitbart.com explaining why:
It not only rejects President Trump's calls for cuts to multiple agencies, but it increases their funding by millions of dollars.

It paves the way for those agencies to engage in more "use it or lose it" September spending.

It leaves our deficit at well over $500 million. […]

Former Joint Chiefs of Staff Chairman Admiral Michael Mullen tried to warn us in 2010 when he called debt "[t]he most significant threat to our national security." History is littered with the ruins of nations who fast-tracked their own decline by becoming overextended. […]

[A]s long as we continue to spend with abandon, pile it on the backs of the taxpayers we claim to serve, and pretend it's all okay, we are ultimately our own worst enemies.
Read my interview with Massie last month basically predicting all this, and my April 2016 column asserting that the GOP's abdication on budgetary/sequestration issues helped sink Rand Paul's presidential bid. Below, Nick Gillespie helps explain why maintaining a "Pentagon slush fund" is no way to run a country.