Trump Embraces Murderous Drug Warrior, Inviting Him to the White House
The president praised Philippine strongman Rodrigo Duterte for "fighting very hard to rid his country of drugs."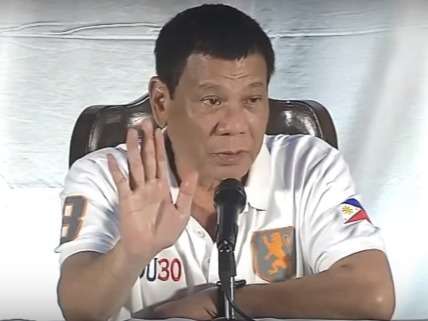 Over the weekend, President Trump had what the White House called "a very friendly conversation" with Philippine President Rodrigo Duterte, whose bloody war on drugs has killed thousands of people since he took office last summer. Trump praised Duterte, a tough-talking populist whose style resembles that of his American counterpart, for "fighting very hard to rid [his] country of drugs" and invited him to visit the White House.
As of April 23, according to numbers reported by the Philippine National Police (PNP), the anti-drug campaign Trump praised had resulted in the deaths of 2,717 "suspected drug personalities killed in police operations," often in fishy circumstances. Duterte, who won office while promising to fill Manila Bay with the bodies of criminals and after his election urged Philippinos to murder drug dealers and addicts, encourages police to shoot first and ask questions later, creating an atmosphere of impunity in which extrajudicial executions disguised as self-defense proliferate. Human Rights Watch (HRW) found "a damning pattern of unlawful police conduct in these killings, designed to paint a veneer of legality over summary executions." As of January 9, according to the PNP's numbers, another 3,271 people had died in "extrajudicial, vigilante-style, or unexplained killings." HRW says many of these homicides "are in fact death-squad-style extrajudicial executions by police and police agents."
After talking to Trump in December, Duterte reported that the president-elect "was wishing me success in my campaign against the drug problems" and "understood the way we are handling it." This time around, a Duterte spokesman described Trump as "expressing his understanding and appreciation of the challenges facing the Philippine president, especially on the matter of dangerous drugs." The message Duterte is getting from Trump is that there is nothing wrong with his homicidal anti-drug crusade. "By essentially endorsing Duterte's murderous war on drugs," John Sifton, HRW's Asia advocacy director told The New York Times, "Trump is now morally complicit in future killings."
The Times claims the president's chumminess with Duterte left some of his aides "stun[ned]" and "slack-jawed." It reports that "two senior officials said they expected the State Department and the National Security Council, both of which were caught off guard by the invitation, to raise objections internally." Externally, however, the administration sees nothing amiss in Trump's embrace of the Philippine strongman, which fits a pattern of admiration for authoritarian leaders around the world.
On ABC's This Week yesterday, Jonathan Karl, quoting HRW, noted that "Duterte's outspoken endorsement of the [anti-drug] campaign implicates him and other senior officials in possible incitement of violence, instigation of murder and command responsibility for crimes against humanity." In light of those charges, Karl asked White House Chief of Staff Reince Priebus, "why is President Trump honoring President Duterte now with a visit to the White House?" Priebus said "we need cooperation among our partners in Southeast Asia" to confront the threat posed by North Korea's nuclear arms. "This is somebody with an abysmal human rights record who has been accused of basically mass extrajudicial killings," Karl said. "Did that not come up in the phone call?" Apparently not. "The issue on the table is North Korea," Priebus replied, "and there is nothing right now facing this country and facing the region that is a bigger threat than what's happening in North Korea."