'Thin Blue Line' Bill to Expand Federal Death Penalty Advances in Congress
Just what we need: some more overlapping federal and state laws.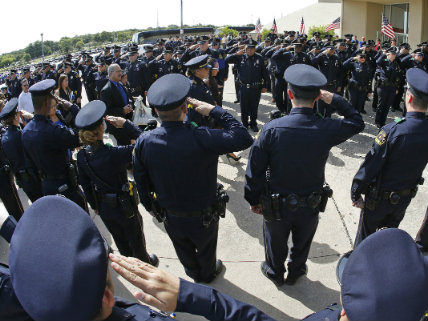 A bill to expand the federal death penalty to include the killing of state and local police officers advanced through a Republican-controlled committee in Congress Thursday, over the objections of civil liberties and criminal justice groups who argue it is unnecessary and duplicative.
The House Judiciary Committee advanced a bill Thursday, the Thin Blue Line Act, by a 19-12 vote that would make the killing of a state or local law enforcement officer during the commission of a federal crime an aggravating factor for juries to consider when weighing a death penalty sentence.
The legislation would be largely symbolic. Federal death penalty cases are exceedingly rare, and executions at the federal level are even rarer. The last federal execution took place in 2001, when Timothy McVeigh was executed for the Oklahoma City bombing. Most homicide cases are prosecuted by states.
While Judiciary Committee chairman Rep. Bob Goodlatte (R-VA) noted that the practical application of the law would be limited, it "is nevertheless vitally important in the scenarios where it will apply," he argued in a statement Thursday.
"For example, it would likely apply in some terrorism cases," Goodlatte continued. "We all remember that the terrorists who bombed the Boston Marathon killed a MIT police officer during their flight from justice. It also would apply to situations where a state or local officer is killed serving as a member of a Federal task force."
Including officers serving on federal task forces would be notable, since many state and local police officers participate in federal anti-drug and anti-terrorism task forces.
The bill was supported by police unions, such as the Fraternal Order of Police. Over the past several years, members of Congress and state legislators have introduced numerous "blue lives matter" bills to strengthen penalties for assaulting and killing police officers, including making police a protected class under hate crime laws.
Attorney General Jeff Sessions introduced similar legislation in 2015, when he was a U.S. senator, saying "the alarming spike in violence directed against the men and women entrusted with ensuring the safety and order of our society must be stopped,"
However, civil liberties and criminal justice groups oppose the bill. The American Civil Liberties Union said in a statement Thursday that the bill "is an unnecessary expansion of the federal death penalty."
"Congress should be advancing police reforms that are supported by both law enforcement and the communities they serve, but, unfortunately, these bills only cater to Attorney General Sessions and President Trump's misguided 'law and order' agenda," ACLU legislative counsel Kanya Bennett said.
The NAACP Legal Defense Fund also called the legislation "duplicative" and "unnecessary," saying it will worsen the racial disparities in the already-troubled criminal justice system.