'F*CK DPD' Sign Leads to Felony Hoax Bomb Charge in Denver
Man faces up to 3 years in prison, $100,000 fine if convicted.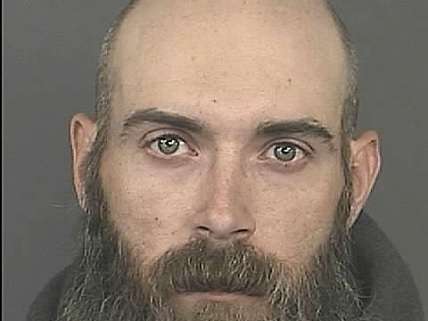 A man who says police mistook his anti-police sign, which he says was written on a card board box he taped to his parked BMW SUV, is now facing a count of "hoax explosives and incendiary devices," a class-five felony that comes with up to 3 years in prison and up to a $100,000 fine.
Charlie Dent told Denverite he was upset over the manners of a Denver cop who had written him a speeding ticket when he decided to put up a sign on his parked SUV that said "Fuck DPD," saying he knew not to say anything to the cop at the time because "you can't do nothing to a cop."
Dent says after his first two signs were blown away by the wind, he wrote "Fuck DPD" on a shoe box-sized cardboard box and used electrical tape to attach it to his parked SUV. The morning after he was ticketed and put up the sign he told Denverite he returned home from work to find cops surrounding his SUV. Police told him staff from the elementary school across the street called them, according to Hunt, who also suggested police mistook an LED light and red button connected to the car for a bomb part.
Police arrested Dent "for having an explosive device displayed," according to a statement of probable cause provided to Reason by the district attorney's office.
"A sign displaying 'Fuck DPD' along with a series of wires, electrical components, and metal tube prominently displayed upon the hood of" the car, the statement read. "The sign, along with wiring and device appeared to be an explosive device intended to draw and cause alarm."
The arresting officer added in his report that vehicle was also parked within 100 feet of an "active/open elementary school."
Dent says when he asked officers on the scene if he was going to jail over this, they told him it depended on "what side of the bed the bomb squad woke up on."
Since his arrest, Dent says he was suspended from work after requesting to take off on his court date and asked to move out of his apartment by his landlord.
Denverite notes that the law the felony cites "doesn't give a lot of guidance on this charge, simply saying that it applies to anyone who possesses 'false, facsimile, or hoax' devices.
The DPD referred questions for comment to the district attorney's office, which provided the probable cause statement.
h/t Dan S