France Election Preview: Terrorism, Socialism, Nationalist Socialism, and the Prospects for Economic Liberalization
Voters go to the polls Sunday, where two candidates will advance to the final round.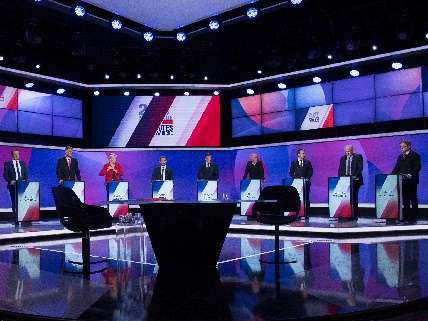 The attack on a police bus on the Champs-Elysee in Paris yesterday, which killed two police officers and for which ISIS claimed responsibility, came while France's presidential candidates were participating in their last televised forum, and President Trump said today that he thought the attack would help the National Front's Marine Le Pen. "She's the strongest on borders and she's the strongest on what's been going on in France," Trump told the AP. "Whoever is the toughest on radical Islamic terrorism, and whoever is the toughest at the borders, will do well in the election."
After the police attack, Le Pen called for the expulsion of all foreigners on terror watch lists. The suspected gunman in yesterday's attack, Karim Cheufri, is a French national who was questioned in February for allegedly making threats to kill police officers. Meanwhile, the center-right François Fillon, once the frontrunner before a scandal over a no-show job for his wife yielded calls for him to drop out, said "Islamic totalitarianism" ought to be the next president's top priority.
François Hollande declared a war on terror after multiple coordinated ISIS-linked terrorist attacks in Paris in November 2015 killed 130 people. The French government followed up with warrantless raids, house arrests, limits on freedom of speech and assembly, and other security measures.
The 2015 attacks helped the National Front outperform its polling in the first round of regional elections, but by the second round, a month after the attacks, the bounce appeared to have faded. Voters go to the polls Sunday for the first round and in early May for the second round—four candidates are polling at about 20 percent; Emmanuel Macron, Le Pen, Fillon, and Jean-Luc Mélenchon.
And in fact, both Le Pen and Mélenchon, a former Socialist who created his own party and has been called the "French Bernie Sanders," support French withdrawal from the European Union and euro as well as more protectionism, and even closing the border to refugees and banning the veil.
"This is a very good example like Hayek used to say, where extremes actually join together," Emmanuel Martin, a French economist involved with libertarian MOOC Ecole de la Liberté, told Reason earlier this week. "Mélenchon-LePen, their program is 90 percent the same." Martin, who also describes himself as a libertarian rocker, even has a song about the tendency for such confluence in what we call the far right and the far left.
"Mélenchon is the new Robespierre," Martin explained, referring to the French revolutionary leader associated with the Reign of Terror, "and to some extent he's very much like Bernie Sanders, but I think he's more evil… They both share this total illusion of democratic socialism, which to me is a complete oxymoron, and to any libertarian obviously."
While terror attacks in France grab more headlines, the country has long-standing economic problems caused by too many labor regulations, too much centralization, and a lack of accountability in government. President Hollande's tough talk and concomitant actions on the war on terror failed to shore up support in the face of his failure to execute on economic reform.
The former economy minister, Emmanuel Macron, who was one of the architects of Hollande's belated turn away from socialism and attempt at some labor deregulation and other economic reforms, now has the highest polling average, at 23.6 percent.
"He's trying to gather so many different people, that it's very difficult to find something solid, something really, he's just a basic politician, he's trying to please everyone," Martin explained. "And his speeches are completely hollow, just hot air, really, and sometimes you even laugh when you listen to him, because it's so empty."
Nevertheless, there could be a bright side there. "Maybe that's the solution," Martin suggested, "to gather a lot of voters and then do some reforms, but I don't know if he'll do the reforms."
Fillon, the former frontrunner, came into the race, Martin said, "with a very Thatcher-like type of program, saying, yeah, we're going to suppress 500,000 jobs in the government, and the local governments, and people just hate that, because it's perceived as creating a cleavage, a division, but people on the right they like that, the conservatives on the right they like that."
In addition to the no-show job scandal, Martin noted, "the other problem with Fillon is that if he tries this very direct, straightforward program, people will go to the streets and this will be another revolution."
France, Martin pointed out, has 5.6 million government workers, out of a population of 66 million. "It's a crazy number," Martin noted. "And obviously these people don't have any interest in reducing public spending, and the more you hire them the more they'll lobby for public spending."
Additionally, according to Martin, more than half of the parliament is made up of public servants, "which means that you have public servants that control public service and they don't have any incentive to control public spending," which is currently 57 percent of GDP. "And Mr. Mélenchon wants to increase this."
Mélenchon also wants to raise the minimum wage, which is more 60 percent of the median wage in France (by comparison, it is about 36 percent of the median in the U.S.) and is also tied to other wage tiers, and prohibiting companies from having more than 10 percent of their workforces on short-term contracts.
Similarly, LePen rails "against big companies, capitalism, and free trade," Martin noted. "She really is a socialist, but on the right."
It's a departure from her father, Jean-Marie Le Pen, the only National Front candidate to make it to a second round of presidential voting, back in 2002. Martin described the elder Le Penas a kind of "protectionist liberal, a small government protectionist, if you will… so he was a nationalist but he was also for small government, a small welfare state, more businesses, and all this."
The younger Le Pen is different. "She's a socialist," Martin explained, "I wouldn't call her a Nazi, but her type of socialism is a nationalist socialism, not in a Nazi sense but, if you look at Mélenchon's policies, it's exactly the same, he wants to close the borders, he's a protectionist, he wants to exit the E.U., the euro."
Le Pen was adept at "stealing a lot of voters from the former Communist Party," Martin said. "Just like in national socialism in Germany a century ago, she's very critical of capitalism, of free trade, of economic liberalism, of big businesses."
Martin himself said his original intentions were to not vote in this year's presidential risk. "But the risk of LePen-Mélenchon in the second round would be a nightmare."
Martin said he doesn't know whether he'll vote for Fillon or Macron, and was not particularly impressed by either candidate. He described Fillon as a Heritage Foundation type, calling him economically very libertarian but socially very conservative, linked to the Catholic right. Macron, while "less libertarian on the economy," Martin suggested, might be "at the same time more clever, smarter" politically.
"He could achieve the same results [as Fillon] without saying it, without having the whole population on the streets and all this," Martin said.