Former Trump Adviser with Russian Ties Revealed as Surveillance Target
FBI got warrant to monitor Carter Page's communications.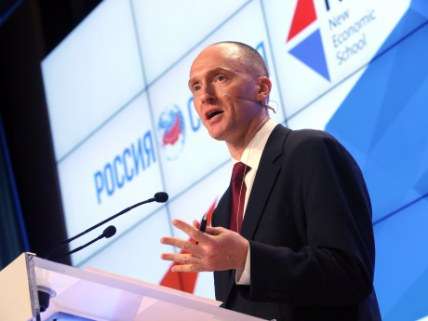 So now we know at least one person connected to President Donald Trump's campaign was likely suspected of being influenced by the Russian government by the FBI and that suspicion was used to get a secret warrant to snoop on his communications.
The target here was Carter Page, who advised the Trump campaign on foreign policy during the campaign and has extensive business ties to Russia. He is not part of Trump's administration. Concerns by the intelligence establishment about Page's relationship to Russian officials are not new. Michael Isikoff wrote about worries about Russian influence over Page back in September and the Trump campaign downplayed Page's ties to team.
So what is new now is the leak that the FBI turned to the Foreign Intelligence Surveillance Act (FISA) court to get a warrant to monitor Page's communications with Russia. The Washington Post reported that FBI officials convinced a judge there was "probable cause to believe was acting as an agent of a foreign power, in this case Russia."
This, obviously, is not a "smoking gun" nor should it be seen as proof that Page did anything illegal or inappropriate. It's simply a warrant, not even an indictment. How seriously should we take it that the FBI was able to get a warrant approved? Domestically, police rarely have any problems getting a judge to sign off on a search warrant. Likewise, the deliberately secretive FISA Court also has a reputation for approving warrant requests. They rarely, if ever, turn one down, and in the increased coverage of domestic surveillance after Edward Snowden's disclosures, their approval rate was seen by critics as a rubber stamp.
But it turns out there's another side to the high rate of approvals in the FISA Court. A former FBI agent who used to be responsible for getting such warrants explained via Just Security in March that there's an extensive vetting process the FBI goes through before bringing a warrant to the court. Asha Rangappa explained:
FISA warrant investigations can't be opened "solely on the basis of First Amendment activities," so mere fraternization, even with sketchy people, wouldn't be enough. The FBI would have to gather evidence to support the claim that the U.S. target was knowingly working on behalf of a foreign entity. This could include information gathered from other methods like human sources, physical surveillance, bank transactions or even documents found in the target's trash. This takes some time, and, when enough evidence had been accumulated, would be outlined in an affidavit and application stating the grounds for the FISA warrant. The completed FISA application would go up for approval through the FBI chain of command, including a Supervisor, the Chief Division Counsel (the highest lawyer within that FBI field office), and finally, the Special Agent in Charge of the field office, before making its way to FBI Headquarters to get approval by (at least) the Unit-level Supervisor there. If you're exhausted already, hang on: There's more.

The FISA application then travels to the Justice Department where attorneys from the National Security Division comb through the application to verify all the assertions made in it. Known as "Woods procedures" after Michael J. Woods, the FBI Special Agent attorney who developed this layer of approval, DOJ verifies the accuracy of every fact stated in the application. If anything looks unsubstantiated, the application is sent back to the FBI to provide additional evidentiary support – this game of bureaucratic chutes and ladders continues until DOJ is satisfied that the facts in the FISA application can both be corroborated and meet the legal standards for the court. After getting sign-off from a senior DOJ official (finally!), a lawyer from DOJ takes the FISA application before the FISC, comprised of eleven federal district judges who sit on the court on a rotating basis. The FISC reviews the application in secret, and decides whether to approve the warrant.
That's some useful insight that can help understand that a warrant approved to snoop on Page should be taken seriously while also helping the average American understand the high approval rate of the submissions.
Still, the latest round of news actually does very little to help Americans grasp what's actually going on. If Page had some sort of nefarious intent we still have little sense of what it might be other than to influence American policy in such a way that benefits Russia somehow. Page's response was essentially "Bring it on!" and told Politico this isn't evidence of him engaging in illegal behavior but rather evidence of politically targeted surveillance by President Barack Obama's administration and allies of Hillary Clinton.
So additional light on the situation is not exactly helping Americans get a better sense of what's going on here. But what about Rep. Devin Nunes (R-California) going to the press as chair of the House Intelligence Committee and saying that communications from the Trump transition team had been incidentally connected and that names may have been inappropriately "unmasked" (unredacted)?
Sources from both parties are telling CNN that they've looked over the classified documents Nunes is referring to and can find no evidence that Obama or former National Security Adviser Susan Rice broke the law by attempting to "unmask" the names of U.S. citizens referenced in the report.
The debate over whether or not Rice did anything illegal is a little bit of a red herring, but blame the Trump administration and Trump himself for pushing hard on that button. There's little to suggest that Rice broke the law, but focusing on what the law says deflects away a useful debate about how the intelligence community collects and stores information and data about United States citizens. Just because the unmasking request was likely legal doesn't mean we should not be concerned about what guidelines the feds use to access our private communications and personal data.
It's also worth noting that, as the ambiguity and confusion and partisanship spools out here, as president, Trump has the authority to declassify some of the information involved here. It could certainly go a long way to helping explain what is happening, wouldn't it? Julian Sanchez, Cato senior fellow and one of the founders of Just Security, told Reason that Trump has wide authority to declassify much of the information under debate, though probably not the transcripts of intercepted communications themselves.
Whether eliminating confusion about the surveillance of Trump's transition team actually serves Trump's interests is another question entirely, one that echoes with the familiar refrain we hear from pro-surveillance authoritarians: "If you've done nothing wrong, you've got nothing to hide."