Police Chief Says Investigators Were More Concerned About Clearing Cop Who Shot Behavioral Specialist Trying to Help Autistic Man Than Conducting an Impartial Investigation
Also said the department was plagued by infighting and lax training in an interview with investigators audio of which was obtained by a local newspaper.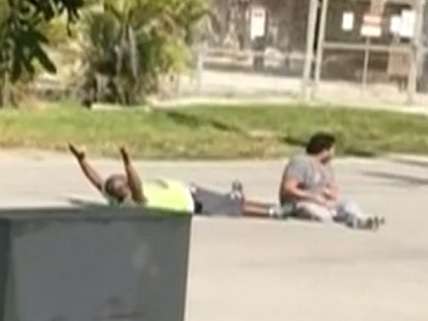 North Miami Police Chief Gary Eugene, who took office less than a week before a police officer shot an unarmed behavioral specialist trying to help them with an autistic man, told investigators the crime scene was chaotic and described a dysfunctional department plagued by infighting and lax training and investigators on the scene more interested in clearing the cop than conducting an impartial investigation, the New Miami Times reports. Meanwhile, an attorney for a police commander suspended after being accused of lying about whether he was on the scene but later cleared, said the city had to "clean house" in the department.
The police chief also told investigators, in audio obtained by the New Miami Times, that the cop, Jonathan Aledda was told by another officer that the autistic man had a toy in his hand, and to stand by and not do anything, before he shot the behavioral specialist, Charles Kinsey, anyway. At the time, the police union defended the shooting of Kinsey by saying Aledda had aimed at the autistic man, who they claimed police thought had a gun. Eugene's account contradicts those claims, and illustrates the inappropriate role police unions play in thwarting transparency and accountability in the public institutions of policing.
Eugene also contends that Hollant was suspended not because he was suspected of lying but because of a vendetta by the assistant police chief, saying Hollant was pressured to change his account of events to help Aledda. "He talked to Emile prior to the suspension and told him… [by] not saying you saw the guy loading the gun, do you realize that information could have helped my officer?'", Eugene said according to the Times. "They were more concerned about clearing the officer of any wrongdoing than actually getting any impartial investigation."
The commander was suspended without pay after authorities accused him of lying about whether he was on the scene when Aledda shot Kinsey. Aledda, meanwhile, was suspended with pay, the New Miami Times reports. The state's attorney's office said it did not find any evidence Hollant misled investigators, and he is now on paid leave until the investigation into the shooting, now in its ninth month, concludes.
"The scene was a mess, to be honest with you," Eugene said, according to audio of an interview with investigators obtained by the Times. "People were walking all over the place. Thank God he did not die. I realized I have a problem with the training of my staff. We're talking about some 15- or 16-year veterans, but in North Miami, a 15- or 16-year veteran may have less experience than a two-year cop in Miami."
Eugene said he was concerned the infighting was so intense it would endanger officer safety on the streets. "I'm afraid one of them will get shot, for God's sake, and someone will call for backup and they'll say, 'I'm not going,' just to tell you how much the animosity is," Eugene said, according to the Times.
A spokesperson for the state's attorney told the Times the office was "very close" to deciding whether to charge Aledda.