Revisiting Restrictions on the Right to Bear Arms
Does conviction for a crime mean a permanent ban?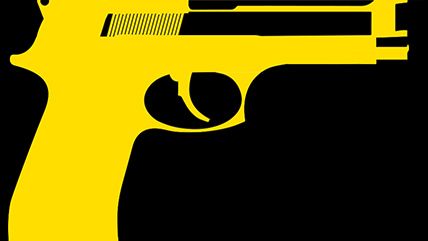 You can't legally own a gun if you have been convicted of most felonies with a potential sentence of more than one year of imprisonment (or, if it's a misdemeanor, more than two years). Federal law, at 922(g)(1) of the U.S. Code, makes that clear. But some offenders who were banned from possessing firearms have succeeded in getting lower courts and a federal appeals court to agree that the statute can, in certain applications, violate people's Second Amendment rights.
In January, the federal government applied for certiorari to the Supreme Court in Binderup v. Holder, which consolidates two such cases.
One of the plaintiffs is Daniel Binderup, who had a consensual but illegal sexual relationship with a 17-year-old in 1998. He was sentenced to probation for three years under a misdemeanor conviction. The federal government believes this bars him from legal gun ownership forever, as it was a crime for which he could have been (though he wasn't) given over two years' incarceration.
The other plaintiff is Julio Suarez, who was found with a gun in his car in Maryland without a carry license. He was given 180 days of prison in a suspended sentence, plus a fine and probation.
Attorney Alan Gura, who won two previous Supreme Court cases for Second Amendment rights—Heller in 2008 and McDonald in 2010—is one of Binderup's lawyers. At issue, he says, is whether 922(g)(1) should cover people whose crimes present no evidence of danger to the public, now that gun ownership has been recognized by the Heller decision as an individual constitutional right.
One of the court filings from Binderup's legal team sums up the relevant issue well: "not one word of the Government's brief discusses the critical issue in this as-applied Second Amendment challenge: whether Daniel Binderup's possession of firearms would be in any way dangerous."
In a complicated September 2016 decision, an en banc panel of the 3rd Circuit Court of Appeals declared that Binderup's and Suarez's convictions "were not serious enough to strip them of their Second Amendment rights." Reasons given included that the offenses were nonviolent and earned light sentences.
The government hopes the Supreme Court will reconsider, and its certiorari petition spells out what's at stake from its perspective: "Section 922(g)(1) is by far the most frequently applied…firearms disqualification, forming the basis for thousands of criminal prosecutions and tens of thousands of firearm-purchase denials each year."
Gura already has other 922(g)(1) challenges in process and indicates many more could be waiting in the wings.
This article originally appeared in print under the headline "Revisiting Restrictions on the Right to Bear Arms".