Shooting of Unarmed Airman Ruled 'Reasonable'—Dashcam Vid Released Three Years Later
Footage shows the cleared officer shooting Michael Davidson within 6 seconds of the man exiting his vehicle.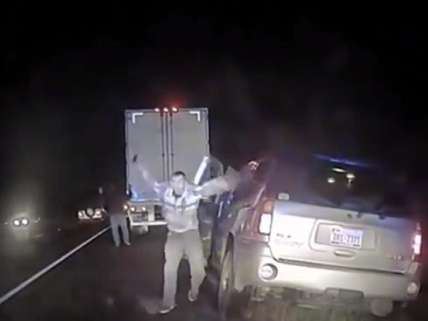 Michael Davidson was on his way to the Seymour Johnson Air Force Base in North Carolina, according to his father, when he got into a minor traffic accident which resulted in a police officer, Phillip Hancock, showing up and shooting Davidson after he exited the car. The father complained after the 2014 shooting that no one had informed him his son had been shot by police until an officer investigating the shooting called. The local Alabama police department whose officer shot Davidson insisted it was the state's responsibility to inform the father.
Nearly three years after the shooting, an appeals court upheld a lower court's decision that Hancock's use of force was "reasonable," and that because of the way Hancock was holding a wallet while he exited the vehicle, his constitutional rights weren't violated. Hancock claimed he thought the wallet was a gun when he shot Davidson in the abdomen—Davidson survived but his lawsuit was eventually thrown out.
One of Davidson's attorneys, Brian Mosholder, claimed it was "very obvious" from the dashcam video that the officer was "creating a situation that he wished had happened that would have justified this shooting." The city of Opelika, where the shooting happened, released a statement after the latest court ruling, saying it, the chief of police, and Hancock himself had "always denied any wrongdoing."
Dashcam footage of the March 2014 incident was finally released last week. The judges who reviewed the tape said they saw Davidson bring the wallet forward as if it were a gun. I don't see that, but I didn't go to law school or pass the bar and don't work in a profession closely linked to the law enforcement community. You can watch for yourself below. The incident starts at about 20 seconds in. Afterward, instead of offering medical help to the unarmed man shot by a cop, other officers console Hancock.