Trump Speaks to Congress Tonight, Kellyanne Conway's Couchgate: P.M. Links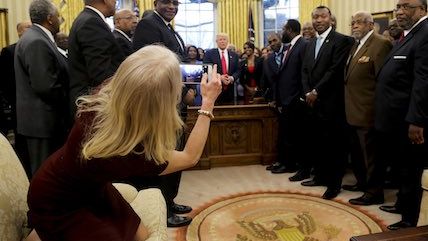 (Aude Guerrucci / POOL/EPA/Newscom)
Aude Guerrucci / POOL/EPA/Newscom

President Trump will deliver his address to Congress tonight at 9:00 p.m. Reason writers will be providing live coverage here at Reason.com and on Twitter.

Is it constitutional for the Trump administration to bar certain reporters from press briefings?
Kellyanne Conway put her feet on the Oval Office couch.
Education Secretary Betsy DeVos described historically-black colleges as early examples of school choice.
I was on the Federalist Radio podcast with Ben Domenech, talking CPAC, the Oscars, and campus due process. Listen here.