New Jersey Set To Ban Flavored Vaping Fluid, Protecting Kids From Something They Can't Buy Anyway
If you want to vape, it has to taste terrible and cost full price.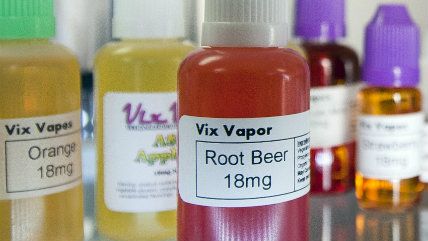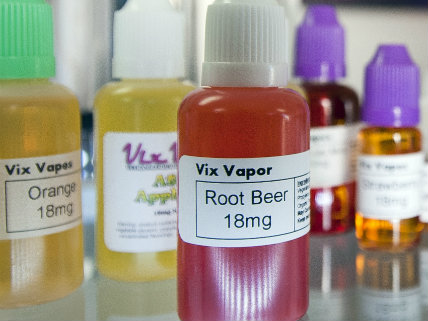 Lawmakers in New Jersey are moving to ban the sale of flavored vaping products, in an effort to stop children from being interested in a product that they are not allowed to buy in the first place.
The state already has a ban on flavored tobacco products, with only clove, menthol, and tobacco flavors allowed, and a bill advancing through the state legislature would extend that ban to electronic cigarettes too. The bill advanced out of the the Assembly's health committee on Monday.
Its for the kids, state Del. Herb Conaway (D-Burlington), tells NJ.com.
"The appeal of electronic smoking devices is just as bad, if not worse, because the products are available in almost every candy-like flavor imaginable," Conaway said. "From a public health perspective, it makes sense to extend the ban on flavored tobacco products to electronic smoking devices, as well."
Sure, but here's the thing: it's already illegal for anyone under the age of 19 (only a gubernatorial veto prevented it from being 21) to buy cigarettes or e-cigarettes in the state of New Jersey. Kids aren't buying flavored vaping fluid for their e-cigs, but adults who want to vape something that doesn't taste awful might be interested in doing exactly that.
No matter, because the mere existence of flavored e-cigarette options on the market is apparently enough to lure children into smoking—just like how the existence of cherry-flavored beer is luring children into being alcoholics, natch.
Then there's the question of whether states should be making e-cigarettes less desirable. They're safer than traditional, combustible cigarettes because they contain no tobacco and don't require burning—thus they don't fill a user's lungs with tar and soot—while still giving a jolt of nicotine. If we want to shape public policy to steer people away from dangerous health choices like smoking, then it makes sense to make e-cigarettes seem like a more attractive option, even if that includes using "almost every candy-like flavor imaginable" as a marketing tool.
But what about the children? Despite what Conaway—and others, including the Center for Disease Control—might say, there is little evidence that vaping is a gateway to smoking, whether among teenagers or within the general public. Smoking rates have fallen to all-time lows, even as vaping rates have increased. If using an e-cigarette was a gateway to smoking a traditional cigarette, you'd expect to see a corresponding uptick in smoking along with vaping.
As Reason's Jacob Sullum has noted, data from the 2014 National Youth Tobacco Survey, biostatistician Hongying Dai and economist Jianqiang Hao found that nonsmokers who had used an e-cigarette in the previous month were less likely than other nonsmokers to rule out trying tobacco cigarettes in the future.
That is not terribly surprising, says Sullum, since just 3 percent of teenagers who had never smoked reported past-month e-cigarette use. That a small minority is apt to differ from the remaining 97 percent in traits, such as rebelliousness, risk aversion, and sensation seeking, that might affect the propensity to experiment with smoking.
Those facts apparently aren't welcome in Trenton, where the narrative of teens using e-cigarettes is rolling along. To stop those kids from breaking one law, more laws are needed.
And while they were at it, NJ.com reports, the same state legislative committee voted Monday to make it illegal to use coupons to buy vaping products or for stores to offer promotional deals on e-cigarettes.
Because if you're going to force people to use flavorless e-cigarettes, I guess you might as well make sure they're paying full price too.
Conaway claimed the second bill also is about protecting the children. Despite the fact that anyone under 19 is prevented from buying tobacco or vaping products—even if they have a coupon, can you believe—she says kids "are still being exposed to promotional offers."
"Banning discounts and promotions can help eliminate their curiosity and susceptibility to trying nicotine products," she told NJ.com.
Yep, because there's nothing that really gets the youths fired up like a good coupon.