Anti-Immigration, Pro-Big Government National Front's Le Pen Inching Up in Polls—At 44 Percent in Run-off Match-up
Both her center-left and center-right opponents are campaigning on much needed labor reforms, as well as tax and spending cuts, not popular with Socialists.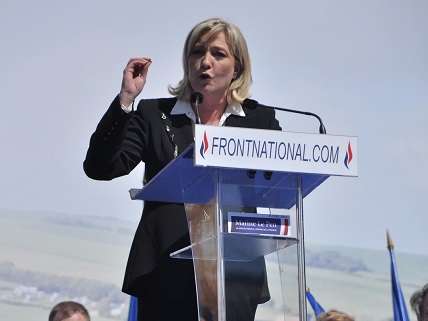 Marine Le Pen of the anti-immigration, pro-welfare state National Front, is improving her standing in some French presidential polls—she is expected based on her polling performance so far to make it through the first round of elections, while a corruption scandal that rocked the candidacy of Republican candidate Francois Fillon has reduced his lead in head-to-head polling with Le Pen to a 12 points. In the most recent poll of the most likely run-off scenario, Fillon topped Le Pen 56 to 44.
Le Pen's father, Jean-Marie, made it into the run-off against the incumbent Jacques Chirac, where the challenger was trounced 82 percent to 18 percent. In the first round, Chirac led with 20 percent and Le Pen finished second with 17 percent. Chirac received nearly 20 million additional votes in the second round, while Le Pen gained only 700,000. Polling in the 2017 election suggests Fillon, or whoever else makes it into the second round with Le Pen, cannot expect support as broad as Chirac received.
Some French leaders are warning that a Le Pen win is far from impossible. She has a 27.7 percent chance of winning according to prediction markets aggregator ElectionBettingOdds.com—within the range of Trump's chances of winning during much of the 2016 campaign.
"I think Madame Le Pen could be elected," Jean-Pierre Raffarin, a former Republican prime minister, warned this month according to Euractiv, while another former prime minister, Socialist Manuel Valls, who ran unsuccessfully for the Socialist nomination for president this year, said it was dangerous to assume Le Pen could not win.
Le Pen has mixed a nationalist, Euroskeptic, Islamophobic and anti-immigration message with promises of increased social and welfare spending to expand the National Front's appeal, particularly relative to her most likely second-round opponent, Fillon, who is campaigning on much needed civil and government services cuts as well as labor market deregulation. The Socialist Francois Hollande's presidency failed in large part under the weight of unsuccessful efforts to get French government spending under control and to remove barriers to economic growth. Socialist voters, The Independent columnist Satyajit Das suggests, faced with the run-off choice of Le Pen and Fillon or a center-left candidate (the Socialist Benoit Hamon is not expected to make it into the second round in most scenarios), may choose Le Pen at a higher rate than French pundits are willing to admit. The center-left candidate, Emmanuel Macron, a former investment banker and founder of the En Marche! party, is, like Fillon, is also running on labor reforms and tax cuts, two policies critical to improving France's economy but not popular with Socialist voters.
Le Pen has not been shy in trying to align herself with Donald Trump and with Brexit (she supports a French withdrawal from the European Union), and launched her campaign earlier this month with the slogan "France First." In response to Macron rising in the polls, she has adopted a Trump-like attack on the French media, accusing it of campaigning "hysterically" for Macron. Last year she praised Russia President Vladimir Putin as a real leader and called the EU the real enemy, and earlier this year she denied that Russia invaded Crimea, which is under the control of Russia but recognized by most of the international community as still being part of Ukraine.