General Motors Wants to Outlaw Silicon Valley Self-Driving Car Competition
Shameless crony capitalism play by Detroit automaker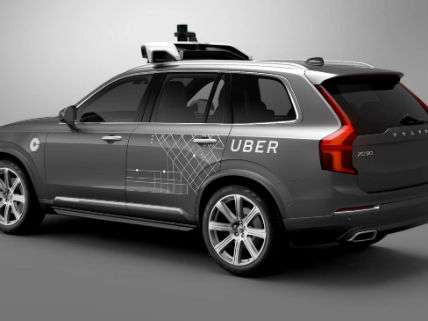 In December, the Michigan legislature adopted the SAVE Act pretending that its goal was to help get self-driving vehicles on Michigan's roads as soon as possible. Fortune magazine actually declared that the state had passed the "most permissive self-driving car laws in the country." In some respects, maybe yes, but the Act contains a telling bit of crony capitalism: "A motor vehicle manufacturer may participate in a SAVE project if it self-certifies to all of the following: (a) That it is a motor vehicle manufacturer. A person that is not a motor vehicle manufacturer may not participate in a SAVE project."
In other words, it is a naked attempt to protect legacy vehicle manufacturers, like Ford, GM, Chrysler-Fiat, etc., from competition with software companies like Google and ride-hailing services like Uber. In the case of Michigan, Waymo, the self-driving division of Alphabet (Google), managed to get itself grandfathered after pointing out that its self-driving vehicles had vastly more actual road testing experience than any of the automakers.
According to The Wall Street Journal, GM is now getting pet legislators to introduce the SAVE ACT in other states. The Journal reports that Illinois state Rep. Michael Zalewski has introduced a bill that, like Michigan's, would limit access for testing self-driving vehicles on that state's roads to companies that make their own vehicles.
That means GM would be eligible, but not tech companies like Uber Technologies Inc. that are developing their own self-driving cars and don't make their own vehicles.

"General Motors approached me about it and suggested that they had success last year in Michigan [with a similar bill], and they consider Chicago a big market for them," Mr. Zalewski, a Democrat, said in an interview. "We went from there." …

After falling behind in self-driving cars, GM has unleashed its powerful lobbying team to cultivate relationships with statehouses. The largest U.S. vehicle maker by sales has a long history of backing legislation to preserve its interests, including a bill in Indiana last year that would stop electric-vehicle maker Tesla Inc. from operating its own stores there.
This is outrageous.
In my July 2016 article, "Will Politicians Block Our Driverless Future?," I reported that when a U.S. Senate committee asked then-head of Google's self-driving vehicle program Chris Urmson what additional legislation was needed, he replied: "What we have found in most places is that the best action is to take no action. And that in general the technology can be safely tested today on roads in many states."
In other words, stay away.
The scurrilous motivations behind the SAVE Act might be best summarized as "I'm from the government and I'm here to help my cronies by hurting their competitors."
For more background, see my March 2017 article, "Bad News: The Government Wants to 'Help' Driverless Car Companies."