Arizona Bill to Crack Down on Rioters Could Be Used to Shut Down Protests
Adding rioting to racketeering laws could lead to arrests of peaceful organizers, opponents fear.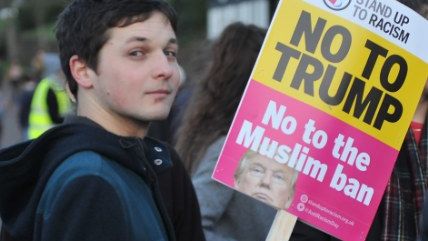 (Edward Smith/ZUMA Press/Newscom)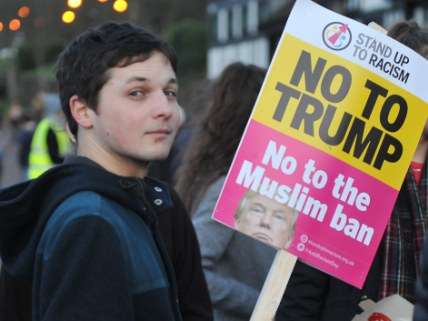 Rioting is illegal, even in Arizona, but some Republican senators there want to make it extra super illegal. And critics fear they're going to make it so illegal that it will result in people being charged with criminal conspiracy or racketeering (and risk having their property seized) just by participating in a protest where others might engage in violence.
Democratic senators expressed such worries in a piece posted at Arizona Capital Times. They fear that if SB 1142 is made law, it will be used to find new ways to crack down on peaceful protesters by creating pretenses to connect them to troublemakers. The Republicans defending the law are turning to the conspiracy that all the violence is planned and paid for by outsiders as justification:
By including rioting in racketeering laws, it actually permits police to arrest those who are planning events. And [Republican Sen. John] Kavanagh, a former police officer, said if there are organized groups, "I should certainly hope that our law enforcement people have some undercover people there."

"Wouldn't you rather stop a riot before it starts?" Kavanagh asked colleagues during debate. "Do you really want to wait until people are injuring each other, throwing Molotov cocktails, picking up barricades and smashing them through businesses in downtown Phoenix?"

Sen. Sylvia Allen, R-Snowflake, said the new criminal laws are necessary.

"I have been heartsick with what's been going on in our country, what young people are being encouraged to do," she said.

She agreed with Quezada that there already are laws that cover overt acts. But Allen said they don't work.

"If they get thrown in jail, somebody pays to get them out," she said. "There has to be something to deter them from that."
This seems a bit of a short-sighted approach, one Democratic legislator pointed out. The Republican senators are only perceiving the protesters as coming from the left and not considering the idea that this new crime classification could come back to haunt Tea Party type protesters if somebody decides to get violent at a protest. These senators also seem to be operating under the absurdly mistaken idea that violent agitators at protests are something brand new.
Not mentioned in the Times story, but pointed out by Will Gaona, policy director for the Arizona chapter of the American Civil Liberties Union, on Twitter: Law enforcement unions are supporters of the legislation and are no doubt helping push it along. It will certainly make it easier for police to justify practices where they simply shut down and detain protesters without much consideration over who is actually engaging in destructive behavior.
SB 1142 doesn't actually do a whole lot but simply add rioting to existing conspiracy and racketeering classifications and defines rioting thus: "A person commits riot if, with two or more other persons acting together, such person recklessly uses force or violence or threatens to use force or violence, if such threat is accompanied by immediate power of execution, which either disturbs the public peace or results in damage to the property of another person."
The bill passed on a party live vote in the Senate, 17-13 and is heading over to the House.