Scott Pruitt Emails Reveal He Consulted with Industry About Regulations
Another tiresome example of selective political outrage ensues.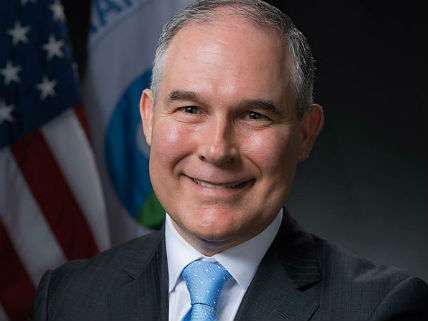 Scott Pruitt, the former attorney general of Oklahoma, was confirmed last week as the head of the U.S. Environmental Protection Agency. Activist groups and Congressional Democrats urged that the vote on his confirmation be delayed until emails detailing his communications with folks in industry were released under court order this week. The evident hope was that combing through the emails would reveal some kind of "smoking gun" that would forestall his becoming EPA adminstrator.
Well, some 7,000 pages of emails have now been released and posted by the liberal watchdog group the Center for Media and Democracy (CMD). It turns out that an elected Republican politician was in frequent contact with constituent companies who wanted to make known their concerns about the impact of federal regulations on their businesses. I confess that I have not read through all of the emails, but the reports in The New York Times and The Washington Post have evidently turned up nothing that is particularly surprising or corrupt in this batch (more emails are expected to be released later this month). As the Times reports:
The emails do not appear to include any request for his intervention explicitly in exchange for campaign contributions, although Mr. Pruitt was separately working as a member of the Republican Attorneys General Association to raise money from many of the same companies.

Despite the large volume of correspondence between Mr. Pruitt's office and the industry players, the emails are unlikely to cause Mr. Pruitt significant new problems. They do expand on email exchanges or topics that previously had been disclosed.
To a large extent, this episode is another tiresome example of selective political outrage: Special interest, like beauty, is in the eye of beholder. For example, in its 2015 report Obama's Carbon Mandate: An Account of Collusion, Cutting Corners, and Costing Americans Billions, the Senate Environment and Public Works Committee found:
EPA and environmental activists had cozy relationships and egregiously used personal emails and held meetings away from EPA headquarters, including a local park and coffee shops.
Of specific interest was the role that the Natural Resources Defense Council played in helping the EPA devise the Obama Administration's rules for reducing the emissions of carbon dioxide. The report
details how NRDC staff was able to get their ideas for imposing greenhouse gas limits on power plants before EPA officials, how EPA policy makers and attorneys worked closely with NRDC's experts on developing these regulations, and how EPA relied on groups like NRDC as partners to communicate messages to the public about the pro posed rules.
Bemusingly, the Post reports today:
Rhea Suh, president of the Natural Resources Defense Council, said in a statement. "These [Pruitt] emails tell us that he's in league with the very industries we've now entrusted him to police."
If an agency or government office is empowered to punish and reward, then it's not a surprise that special interests - activists and industry - seek to persuade government functionaries to reward their friends and punish their enemies.
In any case, the public should expect maximum transparency from government officials. In that spirit, the Attorneys General United for Clean Power will doubtlessly soon release their Common Interest Agreements pertaining to consultations with activist groups formulating demands that ExxonMobil turn over documents concerning its contacts with think tanks, scholars, and others who have been skeptical of catastrophic man-made warming.