Watch NYPD Officer Use Taser on an Unarmed Pregnant 17-Year-Old
Even though she was surrounded by police officers who could have subdued her, the girl was tased for resisting arrest.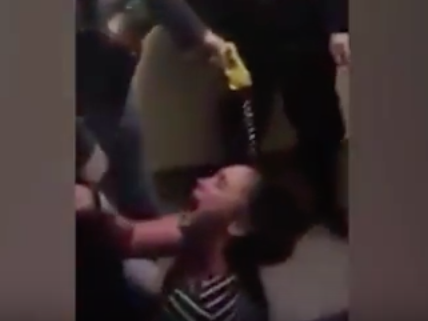 A 17-year-old pregnant girl—Dailene Rosario—was tased by an NYPD officer last Friday in the hallway outside of her Bronx apartment. A portion of the incident—which is now reportedly under investigation by the NYPD's Internal Affairs Department—was captured on video and originally posted to WorldStarHipHop.com.
Police were in the apartment building originally responding to a report of an asthma attack, according to the New York Daily News. But after hearing two men fighting on a different floor, the officers called for backup "and about 10 other cops responded."
The two men fighting were brothers—one was Rosario's boyfriend and the other was Rosario's sister's boyfriend—and the altercation was apparently sparked by an argument over a video game. Rosario told ABC7 the fight had already subsided by the time police arrived, and she admits she refused to let officers into the apartment where the fight started without a warrant.
A female officer—Taralena Gerrato—claims Rosario pushed her and then flailed as other officers tried to subdue her. Despite the presence of a large group of male and female officers on the scene who could have subdued the unarmed teenager, one officer deployed a Taser into Rosario's side, causing her to scream in pain while some outraged onlookers yelled, "She's pregnant!"
Rosario, who was charged with harassment, disorderly conduct, and resisting arrest, told the Daily News, "It's like your whole side is on fire and you're being stabbed at the same time," adding, "The hook was embedded into my skin so they had to cut it to take both the Tasers (barbs) out."
Unsurprisingly, Ed Mullins—president of the NYPD's sergeants union—told the Daily News, "I can tell you that from what I've seen, I really don't see any issue with using the stun gun," adding, "She's failing to comply with arrest. I mean, how do you know somebody is pregnant unless they absolutely look pregnant?"
The NYPD has over 1,700 Tasers, and as I previously noted, the NYPD's Civilian Review Board completely watered down its report regarding the use of Tasers after "revisions" by the mayor and the police department led to the deletion of recommendations "to end the deployment of Tasers on handcuffed detainees" and "much of the language emphasizing how prevalent the use of Tasers is on unarmed suspects" from an earlier circulated draft.
Read my interview with the director of Killing Them Safely, a documentary about Taser fatalities and the increased use of stun guns by police in part due to "Lazy Cop Syndrome," and watch video of Dailene Rosario's tasing below: