Law Enforcement Leaders Release Agenda Calling for Trump Administration to End 'Unnecessary Incarceration'
Current and former prosecutors and police chiefs say "today's crime policies...are simply ineffective in preserving public safety."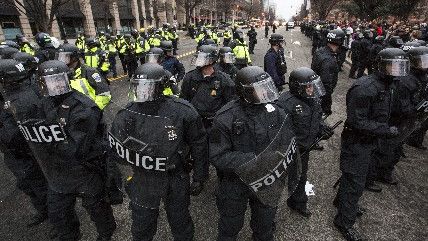 (Natan Dvir/Polaris/Newscom)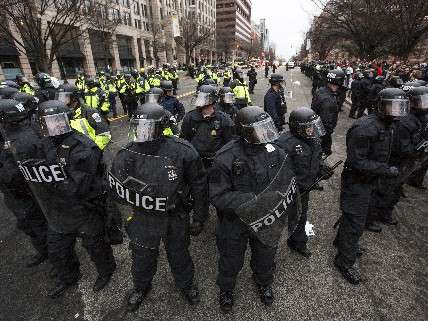 Law Enforcement Leaders To Reduce Crime & Incarceration—a group of over 175 distinguished current and former law enforcement officials—has released a 28-page "agenda" which includes five major policy recommendations for the Trump administration:
Prioritize Resources to Combat Violent Crime
Support Reducing Unnecessary Incarceration and Federal Sentencing Reform
Increase Mental Health and Drug Treatment
Bolster Community Policing
Preserve and Expand Recidivism Reduction
The document's focus on reducing crime through more efficient federal assistance to local law enforcement agencies, and also through efforts to reduce the prison population, are in direct contrast with President Trump's recent executive orders—which included volatile law and order rhetoric and an insistence against all available facts that the United States is engulfed in a violent crime wave. The report is also in direct contrast to the stated interests of police unions such as the Fraternal Order of Police (FOP)—which endorsed Trump's candidacy and support his call for more punitive sentencing requirements.
Noting the $5.5 billion in federal grants given to local law enforcement agencies by the Department of Justice (DOJ) in 2016, the report's authors write, "to a large degree, these outlays are not targeted at fighting violent and serious crime. In fact, some of these dollars are expended on antiquated law enforcement tools, such as dragnet enforcement of lower-level offenses. This misses an opportunity to prioritize resources towards more effective ways of fighting violent and serious crime in the states. Without such change, states will continue inefficient enforcement techniques."
Insisting that "Bloated prison populations harm more than they protect," the authors rebuke Attorney General Jeff Sessions for opposing (as a U.S. senator) the Sentencing Reform and Corrections Act of 2015 (SRCA), which they supported on the basis that "Reducing unnecessary incarceration will free funding and time for our officers to focus on targeting and preventing violent crime, making our streets safer."
With regards to imprisoning addicts or the mentally ill, the authors write, "Individuals with mental illness cost taxpayers significantly more to incarcerate than other inmates for a variety of reasons, including a higher likelihood of violating prison rules, high medical examination costs, and increased staffing needs." They add, "As a result, when these people are released they are, at best, no better off than then they went in — and often worse. They are practically destined to commit more crimes and cycle into prison."
The authors argue that to reduce recidivism rates in the name of public safety, "prisons must start preparing inmates for release from the first day they are behind bars to the last. This includes effective support for ex-offenders once they re-enter society." They also call for bringing back Clinton administration-era levels of funding for the Justice Department's Office of Community Oriented Policing Services (COPS), which once had an annual budget of $1 billion in grants to aid local agencies in community policing, but which now as about a $200 million annual allocation.
The report is co-authored by former Dallas Police Chief David Brown and former New Orleans police superindentet Ronal Serpas, and some of the group's more notable members include New York City District Attorney Cyrus Vance, Los Angeles Police Chief Charlie Beck, former Virginia Attorney General Mark Earley, and former New York and Los Angeles Police Commissioner William J. Bratton.
Read the whole document, titled "Fighting Crime and Strengthening Criminal Justice: An Agenda for the New Administration" here.