San Bernardino Deputy Threatens to 'Create' Charges Against Man Videotaping Him
"I'll create something. Do you understand? You'll go to jail," deputy tells citizen.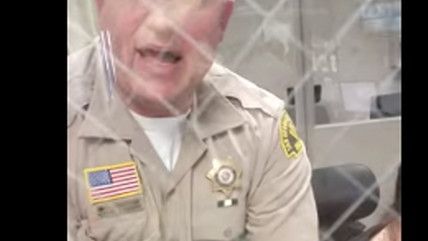 A San Bernardino sheriff's deputy did not appreciate a citizen videotaping him during a terse exchange in the sheriff's office, and threatened to arrest the man because of it. When asked on what grounds did the deputy have for making an arrest, the deputy replied, "I'll create something."
Duncan Hicks, a 34-year-old Victorville (Calif.) man, was frustrated by what he perceived as a lack of cooperation from this same San Bernardino County sheriff's deputy and a front desk clerk while he tried to file a domestic incident report. Hicks told the San Bernardino Sun that the deputy and clerk were "rude and irritated," adding, "They refused to even help me and kicked me out, telling me I had to leave."
A short while later, Hicks returned to the station, this time video recording his encounter on his phone.
After taking issue with what he said was incomplete information on the incident report, the unidentified deputy told Hicks, "Duncan, you know what man, I'm about getting tired of you and you're about to go to jail." Hicks naturally objected to that threat, to which the deputy replied, "I'll create something. Do you understand? You'll go to jail. Do you understand that?"
The deputy then claimed that Hicks recording him was against the law, which is not true, a fact confirmed by the sheriff's spokesperson who told the Sun, "there is no rule preventing one from recording video or taking photographs in our lobby."
Watch the incident below, the deputy's threat happens at around the 0:50 mark:
Hicks told the Sun that another sergeant at the station thought the deputy "was probably having a bad day," to which Hicks retorted, "If he did this when he was having a bad day, what's he capable of doing when he's having a terrible day."
Hicks makes a good point. If this deputy—knowing he was being recorded—was so blithely willing to admit he would "create" charges as a means of punishing an inconvenient citizen, it's chilling to think what he would consider doing in a situation with less transparency.
San Bernardino County Sheriff John McMahon said in a statement, "our employees' response to the citizen is not consistent with my expectation of customer service. Additionally, the deputy's responses are not consistent with the interpretation of the law." An administrative investigation into the incident is now underway.
Read more Reason coverage on the "War on Cameras" here.