White House Site Relaunches with Trump's Populist Policy Proposals
Hints at actual policy plans.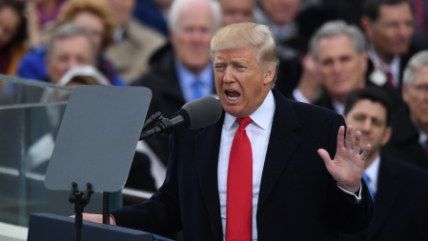 (Anthony Behar/Sipa USA/Newscom)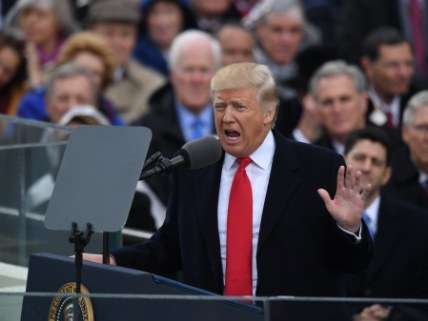 The website for the White House has been updated and relaunched to fit the new President Donald Trump administration.
It is obviously pretty bare bones for now (you can read his inauguration speech here), but the issues section puts his agenda on open display. For those less interested in speeches and more interested in actual upcoming policy hints, it's worth looking over to see where things are going. He has six sections—energy, foreign policy, jobs, military, law enforcement, and trade. Here's a few interesting things worth noting, both good and bad:
The administration will embrace fracking.
Sound energy policy begins with the recognition that we have vast untapped domestic energy reserves right here in America. The Trump Administration will embrace the shale oil and gas revolution to bring jobs and prosperity to millions of Americans. We must take advantage of the estimated $50 trillion in untapped shale, oil, and natural gas reserves, especially those on federal lands that the American people own. We will use the revenues from energy production to rebuild our roads, schools, bridges and public infrastructure. Less expensive energy will be a big boost to American agriculture, as well.
Unfortunately, but not unsurprisingly, Trump is also "committed" to the white whale of "energy independence." Just as with trade, America benefits when we get energy cheaply no matter where it comes from. It's great that he recognizes that cheaper energy creates jobs (by reducing costs). It's a shame he doesn't realize it's another good that can free Americans up to do other things if we can get it more cheaply elsewhere.
The administration will use military action to fight the Islamic State (and increase the size of the military)
Defeating ISIS and other radical Islamic terror groups will be our highest priority. To defeat and destroy these groups, we will pursue aggressive joint and coalition military operations when necessary. In addition, the Trump Administration will work with international partners to cut off funding for terrorist groups, to expand intelligence sharing, and to engage in cyberwarfare to disrupt and disable propaganda and recruiting.
The Trump administration is also calling to "rebuild" the military even though America still overwhelms every other country's forces, saying "our military dominance must be unquestioned." But he does also call for embracing diplomacy and his saber-rattling here is focused entirely on terrorist groups and has no suggestion of interference in other countries' governance.
The administration is calling for a moratorium on new federal regulations.
As a lifelong job-creator and businessman, the President also knows how important it is to get Washington out of the way of America's small businesses, entrepreneurs, and workers. In 2015 alone, federal regulations cost the American economy more than $2 trillion. That is why the President has proposed a moratorium on new federal regulations and is ordering the heads of federal agencies and departments to identify job-killing regulations that should be repealed.
Tim Carney at the Washington Examiner noticed last night that right as Barack Obama's administration was packing up, the Department of Energy released a new rule that will likely kill off cheap incandescent three-way light bulbs. Libertarians and conservatives who love trade should be doing the best they can to push Trump into focusing on these kinds of issues. This is what is hurting both manufacturers and consumers. Foreign trade makes goods cheaper for Americans and should be supported. All these regulations make both the production and the consumption of goods more expensive. That's where the focus should be. Speaking of which.
The administration is really committed to screwing up trade:
This strategy starts by withdrawing from the Trans-Pacific Partnership and making certain that any new trade deals are in the interests of American workers. President Trump is committed to renegotiating NAFTA. If our partners refuse a renegotiation that gives American workers a fair deal, then the President will give notice of the United States' intent to withdraw from NAFTA.
It cannot be hammered enough: Foreign trade is not what is killing off American jobs. Increased manufacturing efficiency and automation is killing off jobs. Trump's tactics will not bring jobs back. It will instead drive up prices of goods and will likely end up hurting the people Trump insists he's helping. A new study analyzed the impacts of increased tariffs and a withdrawal from NAFTA and calculated that it would actually spike the prices of American cars and cost more than 30,000 manufacturing jobs within the United States.
Check out more of the Trump Administration's White House site here. And get used to hearing "Trump Administration."