Donald Trump Is Wrong about Manufacturing and Economic Patriotism
Protectionism springs from ignorance of basic facts and economic principles.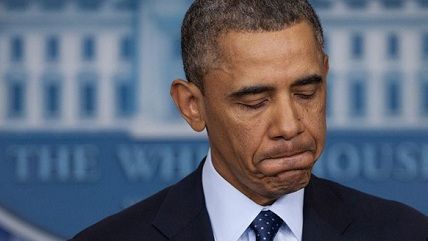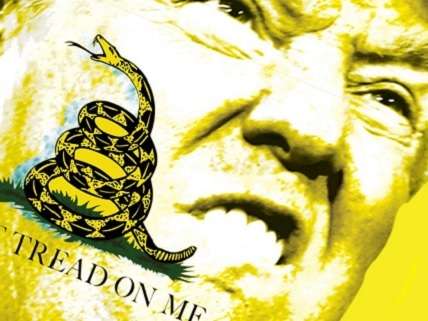 How misinformed—delusional, even—is Donald Trump's understanding of the economy? Totally. Here's a key passage from his inauguration speech (full transcript after the jump):
We've made other countries rich while the wealth, strength and confidence of our country has dissipated over the horizon.

One by one, the factories shuttered and left our shores with not even a thought about the millions and millions of American workers that were left behind.

The wealth of our middle class has been ripped from their homes and then redistributed all across the world.
Let's be clear: Manufacturing jobs (factory jobs) peaked as a percentage of the workforce in 1943 at around 40 percent, during the mobilization efforts for World War II. Since then, they have declined at a perfectly steady rate (red line below). In terms of raw numbers, manufacturing jobs peaked in 1979. The United States produces more stuff with fewer workers. Not only are these jobs never coming back, they disappeared from our shores decades ago. Only people who are wilfully naive or mendacious about basic economic reality and history can continue to assert that declines in manufacturing employment are recent or a major part of contemporary economic dislocation. FFS, I lived in Buffalo from 1990 to 1993 and even then people were saying the factories and the mills had just shut down, even though the big declines were already 20 and more years in the past.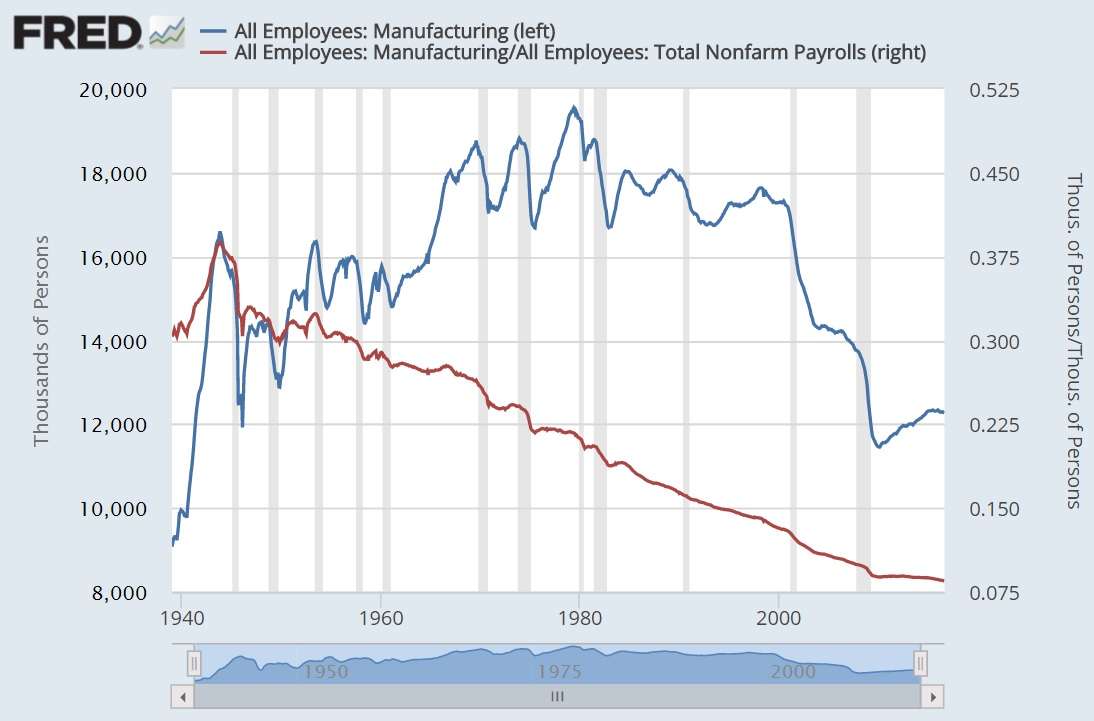 Of course, Donald Trump is not alone in constantly talking about bring factory jobs back to America. Bernie Sanders never stops talking about and it was a regular line in Hillary Clinton's stump speech, too. In his early years in the White House, especially while selling the stimulus, Barack Obama also pushed that line, along with a very Trumpian "buy American" provision in the stimulus. To paraphrase Bob Dylan paraphrasing Samuel Johnson, economic patriotism is the last refuge to which a scoundrel clings. In today's global economy—a system that has not only lifted billions of horribly poor people out of extreme poverty but has delivered increasingly improved living standards for Americans—there simply is no such thing as "made in America." Or perhaps a bit less categorically, nothing good will come of increasing the price of imports, whether we're talking about finished goods or raw materials (such as steel).
If Donald Trump thinks the "strength and confidence of our country has dissipated over the horizon" due to, say, NAFTA, which increased the amount of U.S. good sold in Mexico, just wait until you have to buy a car built with steel only sourced from western Pennsylvania or made more expensive due to tariffs.
One more point: The industrial Midwest (also known as the Rust Belt) was key to Donald Trump's victory. The region remains mired in a decades-long slump; states such as Ohio and Michigan have for years been at or near the top when it comes to job loss and population declines in percentage terms. They don't need less trade with foreign countries, they need more; they also need more in-migration from other states. Whether U.S.-born or foreign-born, an influx of people is a sign of a thriving economy. These states need to create better, cheaper business climates by reducing taxes and regulation if they want to have any chance of competing with parts of the country that have better weather and lower start-up costs. When Reason TV and Drew Carey looked at ways to save Cleveland and other once-great American cities, the comparisons between the Mistake on the Lake and Houston were incredibly telling. Cleveland had dozens of different types of business zones, for instance, while Houston had essentially zero. The paperwork to start a business in Houston took an afternoon, while in Cleveland it stretched on for weeks. These are the fixes that should be discussed and implemented, not cynical and utterly unrealistic appeals to xenophobia and trade wars.
Here's a 2009 Reason TV video that is freshly relevant in the wake of Trump's inaugural address. I post it partly because it explains why free-er trade is good and because it explains that economic nationalism hurts poor people most of all. But I also post it to show that just eight years ago, we were hearing exactly the same rhetoric and arguments about how protectionism can fix what ails America. It wasn't true then and it's not true now.
Read a full transcript of Trump's speech after the jump.
Transcript of Trump's first speech as president:
Chief Justice Roberts, President Carter, President Clinton, President Bush, President Obama, fellow Americans and people of the world, thank you.

We, the citizens of America, are now joined in a great national effort to rebuild our country and restore its promise for all of our people.

Together, we will determine the course of America and the world for many, many years to come. We will face challenges. We will confront hardships. But we will get the job done.

Every four years we gather on these steps to carry out the orderly and peaceful transfer of power.

And we are grateful to President Obama and first lady Michelle Obama for their gracious aid throughout this transition.

They have been magnificent.

Thank you.

Today's ceremony, however, has a very special meaning because today we are not merely transferring power from one administration to another or from one party to another, but we are transferring power from Washington, D.C., and giving it back to you, the people.

For too long, a small group in our nation's capital has reaped the rewards of government while the people have bore the cost. Washington flourished, but the people did not share in its wealth. Politicians prospered but the jobs left and the factories closed.

The establishment protected itself, but not the citizens of our country. Their victories have not been your victories. Their triumphs have not been your triumphs. And while they celebrated in our nation's capital, there was little to celebrate for struggling families all across our land.

That all changes starting right here and right now, because this moment is your moment.

It belongs to you.

It belongs to everyone gathered here today and everyone watching all across America.

This is your day.

This is your celebration.

And this, the United States of America, is your country.

What truly matters is not which party controls our government, but whether our government is controlled by the people.

January 20th, 2017, will be remembered as the day the people became the rulers of this nation again.

The forgotten men and women of our country will be forgotten no longer. Everyone is listening to you now. You came by the tens of millions to become part of a historic movement, the likes of which the world has never seen before.

At the center of this movement is a crucial conviction that a nation exists to serve its citizens. Americans want great schools for their children, safe neighborhoods for their families and good jobs for themselves.

These are just and reasonable demands of righteous people and a righteous public.

But for too many of our citizens, a different reality exists.

Mothers and children trapped in poverty in our inner cities, rusted out factories scattered like tombstones across the landscape of our nation.

An education system flush with cash but which leaves our young and beautiful students deprived of all knowledge.

And the crime and the gangs and the drugs that have stolen too many lives and robbed our country of so much unrealized potential. This American carnage stops right here and stops right now.

We are one nation, and their pain is our pain.

Their dreams are our dreams, and their success will be our success. We share one heart, one home and one glorious destiny.

The oath of office I take today is an oath of allegiance to all Americans.

For many decades we've enriched foreign industry at the expense of American industry, subsidized the armies of other countries while allowing for the very sad depletion of our military.

We've defended other nations' borders while refusing to defend our own. And we've spent trillions and trillions of dollars overseas while America's infrastructure has fallen into disrepair and decay.

We've made other countries rich while the wealth, strength and confidence of our country has dissipated over the horizon.

One by one, the factories shuttered and left our shores with not even a thought about the millions and millions of American workers that were left behind.

The wealth of our middle class has been ripped from their homes and then redistributed all across the world. But that is the past, and now we are looking only to the future.

END