The Donald Trump of Texas
Friday A/V Club: Pappy O'Daniel prepares to be sworn in.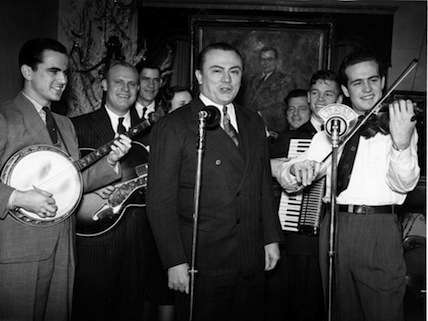 There is precedent for this president. There was another man who leapt directly from pop culture into politics, using showmanship and populist rhetoric to draw huge crowds to his rallies while the pundits pooh-poohed his chances of winning. He was a businessman and radio star named Wilbert Lee "Pappy" O'Daniel, and he was elected governor of Texas in that state's bizarre election of 1938.
I wrote about O'Daniel in a Reason story about a year ago. With Donald Trump now assuming the presidency, it's a good moment to remember a man whose rise looks a lot like Trump's:
When it became clear that something big was afoot, [newspaper writers] argued that no one could tell whether the crowds consisted of supporters or just gawkers. Did those mobs actually agree with O'Daniel's vague platform? the pundits asked. Or were they only there to enjoy, in the words of the syndicated columnists Drew Pearson and Robert Allen, "a mellifluous radio voice that women gush over and a hill-billy band that delights both young and old"? When the Star-Telegram finally acknowledged that Pappy was attracting "larger and more enthusiastic crowds than any other candidate," it added that many members of those audiences were nonvoters and wondered whether the movement was a "bubble."
…and whose reign may well turn out to look like Trump's as well:
When re-election time rolled around in 1940…he hadn't gotten much done at all other than alienate a great deal of Austin.

That and start a newspaper. Declaring that "no recent governor has been so unfairly dealt with as the press has dealt with me," he launched The W. Lee O'Daniel News. There and on his radio show, he blamed his failures on evil outside forces—and not just the big failures. When two musicians quit his band, Pappy informed his listeners that "the gang of professional politicians" had "struck another blow at your governor." The sunny side of Pappy's populism was starting to give way to something darker.
There are some notable differences as well, starting with the contrast between O'Daniel's moralistic persona and Trump's hedonism. It's hard to imagine Pappy bragging that he grabbed anyone "by the pussy." (O'Daniel's original band, the Light Crust Doughboys, did record a double-entendre song called "Pussy, Pussy, Pussy." But that was after the group and the governor had parted ways.) Still, the parallels are pretty strong, and I've just scratched the surface of them here. To see more of them, you can read my article.
In the meantime, since it's Inauguration Day, here is O'Daniel's radio broadcast from August 3, 1941. The governor had just won a special election to the U.S. Senate, and this show went out the day before he took his oath of office:
And here, along with a nice collection of photos from O'Daniel's career, is Pappy's band playing his theme song, "Please Pass the Biscuits, Pappy":
One more tidbit for you, though this one isn't a parallel so much as it's a strange coincidence. When O'Daniel's band recorded "Please Pass the Biscuits," the singer on the record was named Leon Huff. Many years later, another musician named Leon Huff co-wrote a tune called "For the Love of Money"; and many years after that, "For the Love of Money" became the theme song for a show called The Apprentice, hosted by one Donald Trump.
(For past editions of the Friday A/V Club, go here.)