Illinois Man Sues Cops Who Arrested Him for Burning a Flag
Dozens of states still have unconstitutional laws that make flag desecration a crime.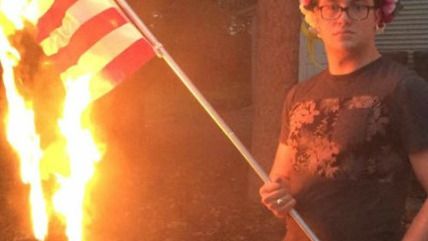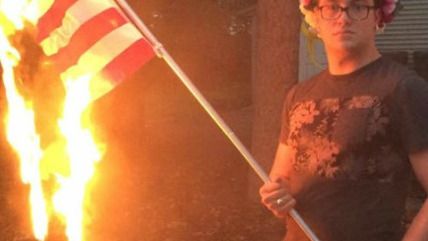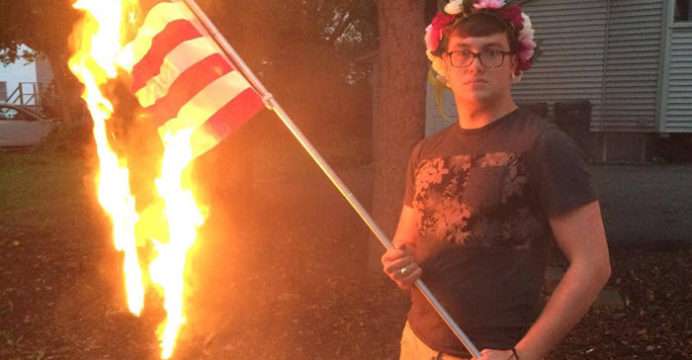 When Donald Trump declared that anyone who burns an American flag should go to jail, it was consistent with his general ignorance of the Constitution and his specific antipathy toward freedom of speech. But nearly three decades after Texas v. Johnson, the 1989 decision in which the Supreme Court recognized flag burning as a form of political expression protected by the First Amendment, police officers surely should understand that following Trump's suggestion would be illegal. Four cops in Urbana, Illinois, nevertheless saw nothing wrong with arresting Bryton Mellott last summer for violating a state law that makes public flag desecration a felony punishable by up to three years in prison.
In a federal lawsuit filed last week with help from the ACLU of Illinois, Mellott argues that the four officers—Kenneth D. Sprague, Jeremy A. Hale, Matthew E. McElhoe, and Andrew J. Charles—should be held personally liable for violating his First and Fourth amendment rights because their actions were clearly unconstitutional at the time. Mellott burned a flag in a friend's backyard on the evening of July 3 as a protest against America's "blind nationalistic approach to foreign and domestic issues." He posted photographs of himself holding the burning flag on Facebook, accompanied by an explanation of why "I am not proud to be an American," followed by the hashtag #ArrestMe.
Taking the bait, Officers Sprague, Hale, and McElhoe showed up the next morning at the Walmart in Savoy where Mellott worked and took him away in handcuffs after determining that his actions met the terms of the flag desecration statute. (Because part of the backyard could be seen from the street, the protest was deemed "public.") Mellott was held at the Champaign County Jail for five hours, then released with a notice to appear after a lieutenant consulted with local prosecutors. The following day, Champaign County State's Attorney Julia Rietz announced that Mellott would not be charged with violating the flag desecration statute because it is unconstitutional under Texas v. Johnson.
"Open dissent is the highest form of American patriotism," Mellott said last week. "It was a frightening display of irony that on the Fourth of July, I should be taken from my workplace to sit in a county jail for exercising this liberty."
Mellott is asking a federal judge to overturn the flag desecration statute and order appropriate damages for the violation of his constitutional rights. The police suggested that they took Mellott into custody for his own protection because of death threats from people offended by his Facebook post. But Mellott did not ask for police protection, and whatever anger was aroused by his protest would not justify charging him with a crime.
"There simply was no justification for Bryton to be arrested for his political statement," said Rebecca Glenberg, an ACLU of Illinois senior staff attorney. "If police were concerned about Bryton's safety, they should have taken action against whoever they thought was compromising his safety, not against the person engaged in constitutionally protected speech."
The Associated Press notes that "dozens of states" still have flag desecration statutes on their books. It says legislators "have been reluctant to repeal such laws either because it's politically unpalatable or it hasn't been a priority."