Jeff Sessions Provides Slippery Answers at Confirmation Hearings, Thanks to Senatorial Decorum
Attorney general confirmation hearings continue today; Sen. Cory Booker (D-N.J.) to testify against Sessions.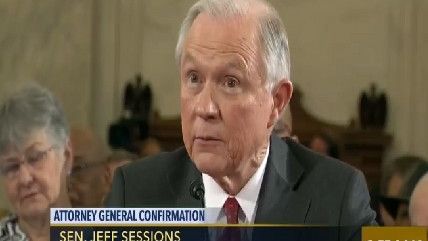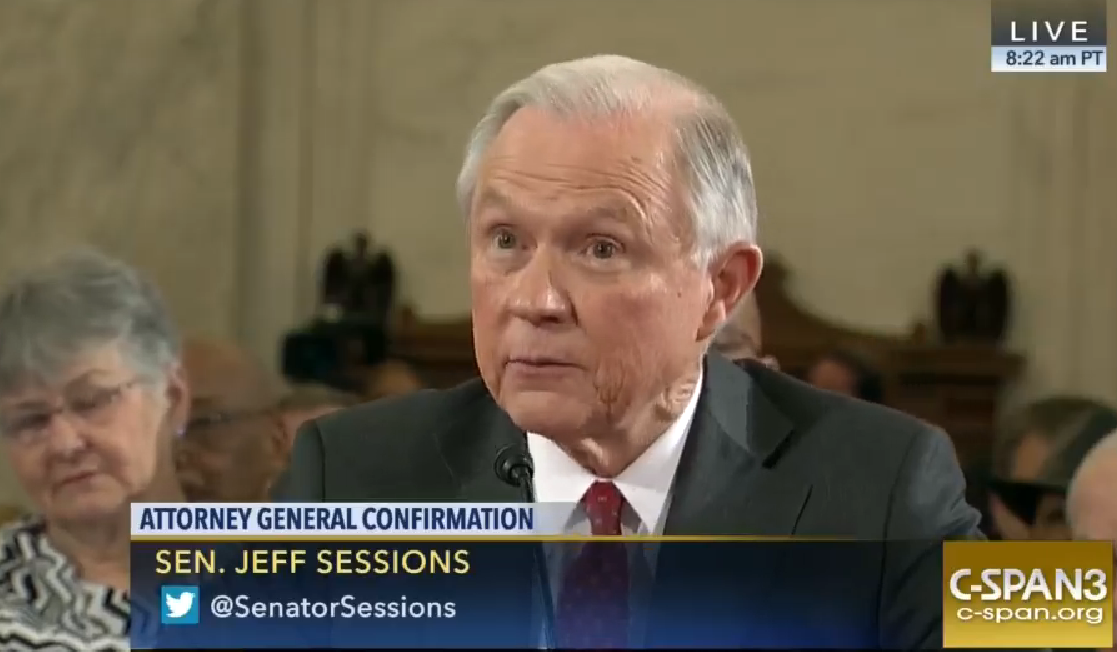 The second day of confirmation hearings into the nomination of Sen. Jeff Sessions (R-Ala.) for attorney general takes place today, beginning with a series of testimonials from witnesses who will then be questioned by members of the committee.
Reason's Eric Boehm noted that Sessions got away with offering only "unclear, useless answers on marijuana" during the first day of hearings, and some liberals wanted a more contentious hearing with aggressive questioning from the committee's Democratic senators and less of the Senate's typically staid rules of decorum that often provides cover for evasive answers.
Wade Henderson of the Leadership Conference on Civil and Human Rights told CNN, "The first day of Senator Sessions' confirmation hearing proved that the rushed nature of the confirmation process places senatorial collegiality over the advice and consent responsibilities that are the Senate's constitutional duty."
Late in the first day of hearings yesterday, Sen. John Kennedy (R-La.) noted that police unions adore Sessions, to which Sessions added he believes the Obama administration failed to provide adequate support for local police departments. Sessions promised that as attorney general, he would place fewer restrictions on federal financial assistance to local PDs (who sometimes lose federal grant funding for lack of compliance with federal law) and cut back on efforts designed to curtail police misconduct.
Sessions also reiterated his skepticism of consent decrees—federally enforced reforms and monitoring imposed by the courts on cities with demonstrated records of police misconduct. Sessions hedged just a bit in his opposition to consent decrees, saying some consent decrees "could be a legitimate decision." In the foreward for a 2008 paper published by the Alabama Policy Institute, Sessions wrote, "One of the most dangerous, and rarely discussed, exercises of raw power is the issuance of expansive court decrees."
Ex-Reasoner Radley Balko posted in his Washington Post column a series of excellent questions pertaining to civil liberties and federalism that Sessions should be asked (but likely won't):
You said this in 2007: "The civil libertarians among us would rather defend the constitution than protect our nation's security." Do you believe these two things are incompatible? If sworn in as attorney general, you'll take an oath to defend and uphold the Constitution. Let's say that once in office, you're faced with a situation in which you believe it is necessary to violate the Constitution in order to protect national security. Let's say that the actions you think you need to take aren't constitutionally ambiguous — you yourself believe they're unconstitutional. What would you do?

…

You're also a strong advocate of "states' rights," or federalism. Many states whose legislatures don't share your view of civil asset forfeiture have passed laws to restrict or even end the practice. The federal government responded with its "equitable sharing" program, which allows police agencies in such states to call up a federal law enforcement agency such as the Drug Enforcement Administration when they want to confiscate some property. The investigation is then considered "federal," which means it's controlled by federal forfeiture laws, not the more restrictive state laws. This would seem to be a direct infringement on the intent of those states' legislatures, wouldn't you agree? The Obama administration has tried to limit the practice, though it hasn't ended it. Would you repeal the Obama reforms to equitable sharing, strengthen them or end them?

Speaking of federalism, you also have some strong feelings about marijuana legalization. You recently said that "good people don't smoke marijuana" and that the drug is "already causing a disturbance in the states that have made it legal." You've been critical of Obama and his Justice Department for not cracking down on the states that have legalized the drug. Can you point to any data from Colorado or Washington that demonstrates a "disturbance?"
Among those who testified against Sessions in the first part of today's hearing were American Civil Liberties Union (ACLU) National Legal Director David Cole, NAACP President Cornell Brooks, and sexual assault survivor's advocate Amita Swadhin.
Those appearing in support of Sessions include Commission on Civil Rights member Peter Kirsanow (who said while a member of the commission in 2002, "Not too many people will be crying in their beer if there are more detentions, more stops, more profiling" of Muslims), former Bush administration Deputy Attorney General Larry Thompson, and former Bush administration Attorney General Michael Mukasey.
Unfortunately for anyone seeking a substantive grilling of how Sessions would enforce federal law as attorney general, senators of both parties essentially stuck to the script of asking witnesses to provide answers which confirm the senator's own politics, but which offer little scrutiny of Sessions and his policies.
For example, Sen. John Cornyn (R-Texas) asked Chuck Canterbury—the president of the nation's largest police union, the Fraternal Order of Police—a question about police confrontations with mentally ill people. Then after receiving a vague answer, Cornyn assured Canterbury, "I think you'll find a friend in Sen. Sessions as attorney general in recognizing the priorities for local and state law enforcement…" That was followed by Sen. Pat Leahy (D-Vt.) asking Army veteran and former DREAMER Oscar Vazquez "Are you concerned about what might happen under the new administration for young people registered under DACA (Deferred Action for Childhood Arrivals)?" Vazquez's answer was of course, yes.
Later today, Sen. Cory Booker (D-N.J.) will testify against Sessions—a major break in the aforementioned senatorial decorum, which some conservatives suspect is motivated by Booker's presidential ambitions. Booker told the Washington Post that while he likes Sessions persionally, "This is a time where I think that silence is not just unacceptable," adding that he worries a Sessions-led Justice Department could "undermine" criminal justice reform, civil rights, and "the advancement of gays and lesbians in this country."