Anti-White Hate Crime? Video Shows Black Teens Torturing Mentally Disabled White Kid
Be skeptical that Donald Trump's election has unleashed a wave of hate crimes, period.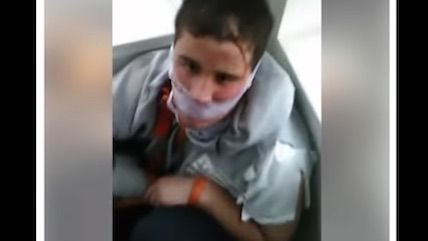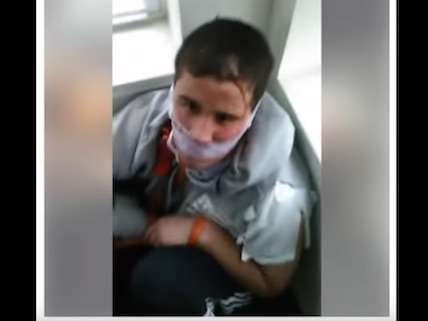 Chicago police have arrested four teenagers for assaulting a mentally disabled young man with a knife, tying him up, and subjecting him to other abuses—all of which were livestreamed on Facebook.
The alleged perpetrators are black teens, and the victim is white. The police found the victim wandering Chicago's West Side on Tuesday. He was "in an obvious state of trauma," according to CBS Local. Authorities eventually calmed him down and identified him as the subject of the video.
The video itself lasts for 30 minutes, during which the victim—who is tied up, with his mouth taped shut—is abused in numerous ways. The perpetrators cut his hair with a knife until his head bleeds, flick cigarette ashes on him, and threaten him. They occasionally utter things like, "Fuck Donald Trump, fuck white people." At one point, the video recorder—a black woman whose name is easily identifiable—suggests putting the victim out of his misery.
It's these statements that have some segments of Twitter—including and especially the alt-right—wondering whether the incident counts as a hate crime. As I write this, #BLMKidnapping is trending on Facebook, in reference to the attack. Needless to say, that's hyperbole, based on the facts as they are currently known.
BuzzFeed News reported police were looking into the hate crime angle, but couldn't speculate at the moment:
Johnson said police were investigating if the incident was a hate crime, but so far he said there was no indication it was motivated by politics or race.

"Some of this is just stupidity," he said. "People just ranting about something they think might make a headline. We'll keep investigating, and we'll let the facts guide us on how this concludes."
Maybe the perpetrators have malice toward white people in their hearts. Maybe they're just deeply immature people who think hurting someone is funny. Maybe they're under the influence of drugs (someone is definitely smoking something). It really shouldn't matter: what they've done is reprehensible, regardless of the motive.
That's the problem with making hate crime determinations—in many cases, determining the precise factors that led a bad person to do something awful is no easy task. For example, BuzzFeed took a second look at 28 of the alleged "hateful incidents" the news outlet investigated in the wake of Trump's election. Reporters found few outright hoaxes, but the motives remained questionable in roughly a third of stories:
Other incidents happened as described — and were reasonably initially perceived as political — but the stories are a bit more complicated. A Southern Illinois University student who appeared in front of a Confederate flag in what appeared to be blackface later said it was a cosmetic mask, and the university said "we sometimes find that reports of incidents made via social media and elsewhere are not fully supported by the facts." The man arrested for scrawling "Black Bitch" on a Philadelphia woman's car is black.

Meanwhile the hoaxes, which were at the center of the conversation in late December, didn't surprise academics and journalists who study extremism and hate crimes.

"People will do things when there's a lot of attention paid to it, and hate crimes aren't any different. What I find interesting is how that is being politicized now," Brian Levin, a criminology professor and director of the Center for the Study of Hate and Extremism at California State University, San Bernardino, told BuzzFeed News. Hate crimes, he said, spike after a catalytic event, and in that "cycle of publicity and retaliatory violence" there will be false reports.

As our catalog shows, there's little evidence of a wave of hoaxes. There has also not been the wave of violent assaults that some anticipated. (The FBI did disrupt one murderous terror plot just before the election, in which Kansas militia members sought to bomb Somali refugees.)
We ought to be a little skeptical of the Southern Poverty Law Center's contention that Trump's election has unleashed a wave of race-based harassment and hatred. But we should also be a little skeptical that a bunch of teenagers bullying a white man has anything, really, to do with Donald Trump. This was an inexcusable act of violence, no matter what was going through the perpetrators' heads.