Less Than One-Third of Americans Want to See Roe v. Wade Overturned
A majority of both Republicans and Democrats think the Supreme Court should leave Roe alone.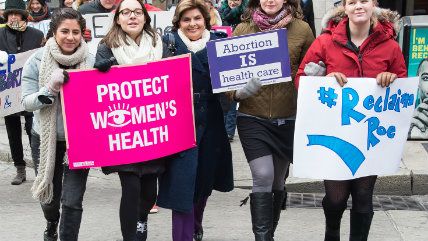 (Ouzounova/Splash News/Newscom)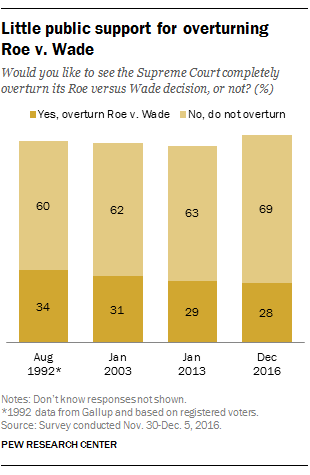 President-elect Donald Trump has promised to appoint Supreme Court justices who will overturn Roe v. Wade, the seminal 1973 case affirming a right to legal abortion across America. If it happens, it won't be a popular move. According to a new poll from the Pew Research Center, less than one-third of Americans think that Roe should be overturned.
In the Pew poll, conducted November 30 through December 5, 2016, just 28 percent of respondents said they hoped the historic ruling would be history, while 69 percent—including a majority of Republicans—said the Supreme Court should leave Roe alone. Among Democrats or Democratic-leaning respondents, 84 percent said they did not want to see Roe overturned, while 53 percent of Republican respondents agreed.
Among respondents who described themselves as "moderate" or "liberal" Republicans, only 27 percent supported overturning Roe, ccompared to 57 percent of those who described themselves as "conservative" Republicans.
"Public opinion about the 1973 case has held relatively steady in recent decades, though the share saying the decision should not be overturned is up slightly from four years ago," Pew notes. In January 2013, 63 percent said that Roe should not be overturned. In 2003, it was 62 percent and, in 1992, just 60 percent.
Republican opinion remains little-changed since 1992, when 52 percent of GOP respondents told Pew they support Roe v. Wade. At that time, just 66 percent of Democrats said the same.
Men were slightly more likely to support overturning Roe than were women (30 percent, versus 26 percent). And contra claims that America is getting less pro-choice, those age 50 or older were more likely than their younger counterparts to say Roe should go (33 percent, versus 24 percent).
Education was also associated with a divide on Roe, with 35 percent of respondents who had a high-school education or less saying it should be overturned but just 23 percent of those with a college degree and 12 percent of those with a post-graduate degree saying so. And while Catholic and Protestant support for overturning Roe was roughly equal—34 percent and 35 percent, respectively—nearly half of white, evangelical Protestants said they think Roe should be overturned.