Movie Review: 20th Century Women
Annette Bening and a top cast are in peak form in one of the year's best movies.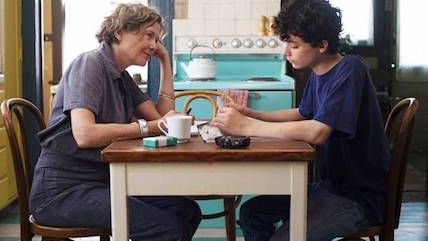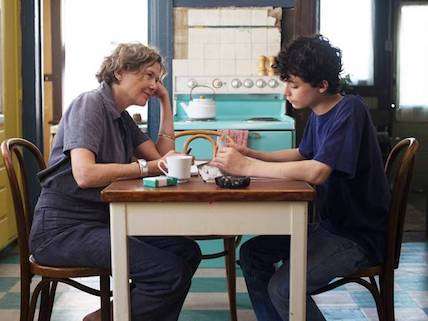 20th Century Women tells a coming-of-age story in which even the grown-ups are still coming of age. The movie is set in Santa Barbara, California, in 1979 (the punk-heavy soundtrack kicks off with Talking Heads' "Don't Worry About the Government"). We meet the main characters in brisk succession. Dorothea Fields (the great Annette Bening), long-divorced and now 55, has maintained a cockeyed openness to life, although she's emotionally walled-off from what it's done to her. Her 15-year-old son Jamie (breakout star Lucas Jade Zumann) isn't in half as much adolescent turmoil as his mom imagines, and is mainly concerned about things like her veiled loneliness and heavy cigarette habit. ("When I started, they weren't bad for you," she says. "They were just stylish.")
Dorothea and Jamie live in a big sagging house along with a couple of useful boarders. One of them, a warm-hearted handyman named William (a priceless Billy Crudup), earns his keep doing endless renovations—the house seems cluttered with ladders and sanders and drop cloths on every floor. The other renter, 24-year-old Abbie (Greta Gerwig, even more adorable than usual), is an aspiring photographer who dropped out of art school after being diagnosed with cervical cancer. And there's another regular presence in the Fields home, too: 17-year-old Julie (Elle Fanning, going dark), Jamie's best friend, who sneaks in through his second-floor window every night for affectionate but strictly sex-free sleepovers.
The movie has no real plot—which is to say, it's like life itself. Writer-director Mike Mills opens up his characters in what is essentially a long series of anecdotal scenes, showing us their half-buried passions and fears. Surprisingly, his script is often chuckle-out-loud funny about all this as well.
Dorothea, for example, is a natural rebel, born before her time. Confronted with a high-school principal telling her son he can't keep skipping school, she immediately asks, "Why not?" But she's also saddened to know Jamie is drifting away toward manhood, and won't be coming back. "You get to see him out in the world, as a person," she tells Abbie. "I never will."
Abbie's cancer hangs over her love life like a black cloud. But she takes a tentative run at the gentle ex-hippie William. ("Do you wanna fool around?" she asks him. "With me?") Afterward, she tells him his hair smells good, and he says, "I make my own shampoo." "Of course you do," she says, now knowing more about him than he ever will himself.
All three women, dealing with different phases of life, employ the empathetic Jamie as a sounding board. Julie, whose experience in the sex-and-alcohol department far exceeds his, casually discusses her extensive promiscuity. "Half the time I regret it," she says. "Then why do you it?" Jamie asks. "Because half the time I don't regret it," she says.
The picture might be dismissed as a "feminist" movie (Dorothea recruits Abbie to help raise Jamie to be a "good man," and soon she has him reading Our Bodies, Ourselves). But the film has no agenda, and there's nothing preachy about it. Mills simply makes observations from the perspective of the under-consulted other half of the human race. When Julie finishes having sex with a guy who promised to pull out but then didn't, and we hear her saying, in the tiniest of whispers, "I thought we had a deal there"—well, whose heart wouldn't implode? And when the director has Abbie tell Jamie her terrible cancer story as Suicide's "Cheree" radiates around them, or builds a long and hilarious dinner-table scene around people's disinclination to utter the word "menstruation," who could fail to marvel at his ability to highlight substantial issues in such disarming ways?
"I want to see this modern world," Dorothea announces as she sets out on her own for a night at a punk-rock club. "Can I come?" William asks. Yes he can. Us, too.