Death Penalty Sentences in America Continue Decline
Only 20 were executed in 2016, the fewest since 1991.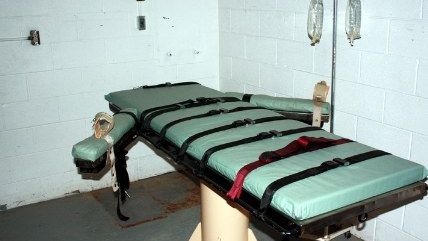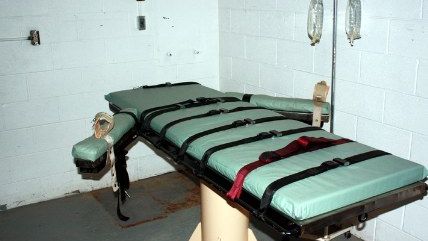 (Conchasdiver / Dreamstime.com)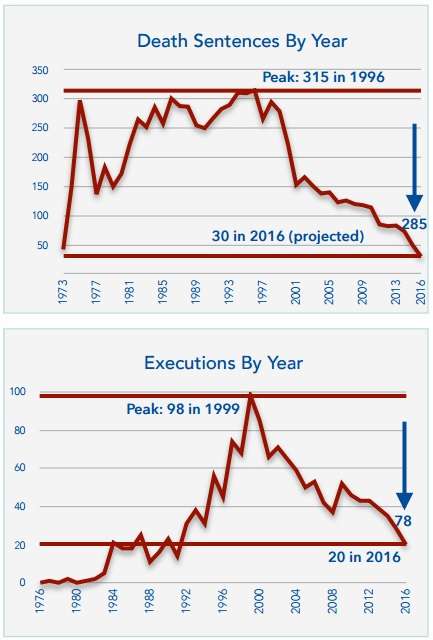 Voters in several states may have given a thumbs up to the continued application of the death penalty in November, but actual sentences and executions are continuing a massive decline across the country.
That's the latest from the year-end report by the Death Penalty Information Center, a D.C.-based non-profit devoted to analysis and reports about the use of executions in the country.
The two most important stats (shown also in the graph to the right): Not only are actual executions down from a peak of 98 a year to 20 a year; even sentencing somebody to death has dropped significantly from a peak of 315 a year (in 1996) to 30 this year.
The 20 executions were confined to just five states: Georgia, Texas, Alabama, Missouri, and Florida. The report notes that even in these execution states, actual death penalty sentences are declining. Texas saw only four new death penalty sentences in 2016. Juries in Georgia and Missouri didn't impose any new death penalty sentences at all this year.
Voters in three states—Nebraska, California, and Oklahoma—voted to maintain or enshrine the death penalty as a valid sentence for crimes. But despite those votes, the Death Penalty Information Center also noted that support for the death penalty in polls continues its decline from a high point in the mid-1990s. For the first time in 45 years, support for the death penalty has dropped in polls below 50 percent. More still support the death penalty than oppose (49 percent to 42 percent), but the gap is closing.
The Death Penalty Information Center also took note of an election trend that we've also highlighted here at Reason: Voters are bouncing prosecutors with reputations for attempting to implement harsh sentences or practices:
Prosecutors in four of the 16 counties that imposed the most death sentences in the U.S. between 2010 and 2015 were defeated by candidates who expressed personal opposition to the death penalty or pledged to institute reforms in the county's death penalty practices.
The report takes note of vicious Florida prosecutor Angela Corey, who was blown out in her primary by a candidate who is now promising to build a "conviction integrity unit" to go back and look for previous wrongful convictions. Corey wasn't the only prosecutor to get bounced in this new trend:
In the November general election, incumbent Harris County, Texas District Attorney Devon Anderson lost to challenger Kim Ogg. Harris County has carried out more executions than any other county in the U.S., and Ogg said during the course of the campaign that the death penalty had created "a terrible image for our city [Houston] and our county." She pledged that, "[u]nder an Ogg administration, you will see very few death penalty prosecutions."

Similarly, reform candidate Andrew Warren defeated incumbent Hillsborough County, Florida State Attorney Mark Ober, whom public defenders said had been seeking death in 20% of all murder cases, overburdening their office to a "critical point" at which it might not be able to take more cases. Warren said that "[o]ur use of the death penalty needs to be fair, consistent, and rare." He has proposed the creation of a conviction integrity unit to identify and redress wrongful convictions in Hillsborough County.
The report takes note of important judicial trends and decisions that may continue the death penalty's decline. Florida's Supreme Court ruled its system of sentencing defendants to death was unconstitutional for allowing non-unanimous juries to make the call. The U.S. Supreme Court had previously struck down Florida's death penalty for giving judges—not juries—too much control over the determination. The 19-page report details many statistical and procedural concerns about how the death sentence gets handed down and now the increasing secrecy by states concealing the drug cocktails they're using to execute people.
Read the full report here.