Why It's a Good Thing That Driverless Cars and Trucks Are Going To Take Decades…
...to become fully operational. Tech change, like social change, is more evolutionary than we think, allowing society to adjust.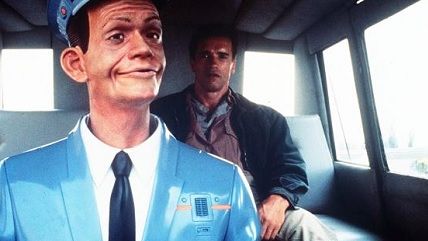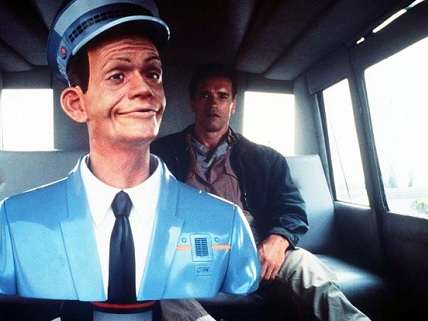 Yesterday, we posted a video conversation with me and Reason Foundation founder Bob Poole talking about the promises and timeline for fully automated cars and trucks to take over America's highways and city streets. Watch that here on Reason's YouTube channel.
Poole's main point isn't that driverless cars and trucks aren't a good thing, but most of the hype surrounding them is just that: hype. It's one thing to create trucks, say, that can drive the interstates in special lanes over long distances. That's a tough challenge, but one that can be handled relatively easily (big emphasis on relatively). But at some point, those trucks need to break bulk and their contents need to get repacked into smaller delivery trucks. Safely navigating city or suburban streets is a massively more difficult enterprise and it's one that needs to be taken into account when projecting the costs and benefits of a driverless economy.
Similarly, argues Poole, who knows transportation policy better than most parents know their own kids, the death of owner-operated cars is probably wildly overexaggerated. You can't take desultory ownership trends from years of the Great Recession and extrapolate forward. Yes, we use our cars for only a few hours a day at best, so the dream of just having on-demand transportation show up when we summon it (Uber! Lyft! Etc.!) is attractive, but we also pay for the ability to get into our mobiles whenever we want. The price is set by our peak demand, not our average demand.
None of this is to say that a driverless world won't happen or that it won't be a good thing. As much as I love driving, if I never had to do it again—or pay for a car repair directly out of pocket—I'd be a happy camper. It's just that the overhyped timeline for the full transition is 30 or more years away, assuming everything goes smoothly. The good news with that? All the equally overhyped fears about 3.5 million truckers being thrown out of work overnight is equally nonsense. Like almost all major changes driven by technology and economics, creative destruction doesn't actually happen in a quick, unpredictable fashion.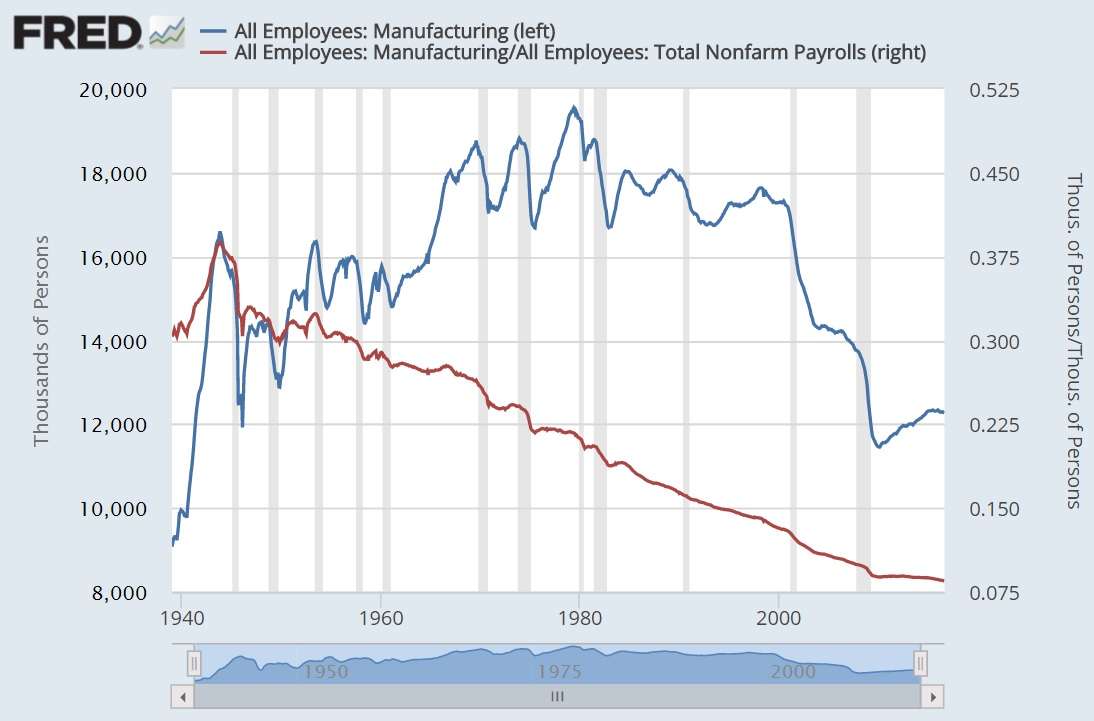 Indeed, to the extent that both Hillary Clinton and Donald Trump kept harping during the 2016 campaign on bringing manufacturing jobs back to the United States, you'd think factory work disappeared overnight. In absolute numbers, manufacturing jobs as a percentage of employment peaked in the late 1970s. That's 30-plus years ago, so stories about towns being decimated by overnight closures are, for lack of a better word, bullshit. I lived in Buffalo, New York in the early 1990s and people there were acting as if aliens had descended and stripped out all factory and heavy-industry jobs in a 24-hour period. In fact, the city's population (and economy) had peaked in 1950 and industrial employment had been bleeding out for decades. The idea that places get turned into a wasteland overnight is the worst sort of nostalgia that helps no one but keeps whole areas frozen in time. Manufacturing as a percentage of the U.S. workforce peaked in 1943—during World War II!—at about 38 percent. Since then, there's been a long, slow, totally predictable decline in the number of Americans working in factories that everyone could see coming and continuing.
The point of that history lesson? Occupational change, like technological change, takes more time and gives more room to adapt than we normally think. Yes, travel agents have in many ways been superseded by online services. The typing pool is never going to make a comeback. Traditional taxi drivers are almost certainly sunsetting. And long-haul trucking and car-based delivery men and women might not be needed in 2050. But the upside of fully automated vehicles taking longer than Elon Musk predicts is that we'll have more time to adapt to the world as it changes and retool our skills and sensibilities.
Listen below or subscribe to Reason's podcast at iTunes (rate and review us there too!).
And remember this is our annual webathon, in which we ask visitors to Reason.com to support our print, web, video, and audio journalism with a tax-deductible donation. If you like what we're doing, help us reach our goal of $250,000 so we can bring you more fact-based, "real" news in 2017 and beyond. Giving levels and associated swag here.
Subscribe to our YouTube channel.