Army Corps of Engineers Halts Work on Dakota Access Pipeline
Standing Rock protesters succeed in blocking Bakken oil pipeline route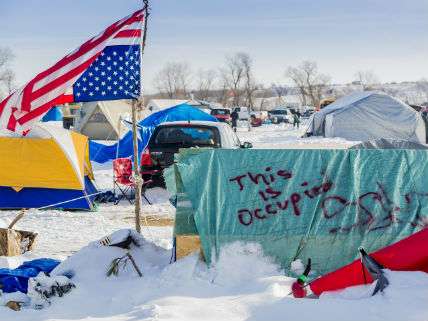 The apparent decision by the Army Corps of Engineers to not grant an easement for the Dakota Access Pipeline to cross under Lake Oahe was announced via a tweet from the Standing Rock protesters in North Dakota. Evidently, the Corps has decided to conduct an additional environmental assessment seeking alternative routes. From the New York Times:
In a statement on Sunday, the Army's Assistant Secretary for Civil Works, Jo-Ellen Darcy, said that the decision was based on a need to explore alternate routes for the pipeline crossing.

"Although we have had continuing discussion and exchanges of new information with the Standing Rock Sioux and Dakota Access, it's clear that there's more work to do," Ms. Darcy said. "The best way to complete that work responsibly and expeditiously is to explore alternate routes for the pipeline crossing."

The consideration of alternative routes "would be best accomplished through an Environmental Impact Statement with full public input and analysis," Ms Darcy said in a statement.
This decision may address the expressed concerns of the Standind Rock Sioux Tribe about protecting drinking water sources and sacred sites, but it does not mean that the pipeline will not get built. It is worth noting that the land through which the pipeline was routed is privately owned and the easements were reportedly acquired without the exercise of eminent domain.
Quick update: National Association of Manufacturers (NAM) President and CEO Jay Timmons just released this statement in response to the Army Corps decision:
"This decision defies logic, science and sound policy-decision making, and the consequences can be measured in lost work for manufacturers and those in the manufacturing supply chain.

"If a project that has involved all relevant stakeholders and followed both the letter and spirit of the law at every step of this approval process can be derailed, what signal does that send to others considering building new energy infrastructure in this country?

"We can only hope that President-elect Trump will stand by his promises to invest aggressively in new infrastructure in America and start by overturning this misguided decision and allow the completion of the pipeline."
Sadly, neither current President Obama or President elect Trump seem overly concerned about the rule of law.