Can Egg Producers Recover from November's Great Fall?
Large farms have been stung by two recent setbacks. What's next?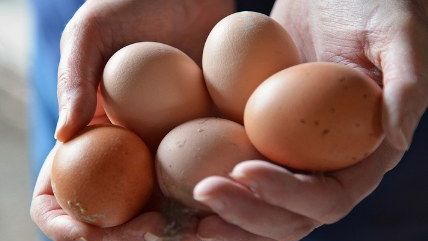 (UnitedSoybeanBoard via Foter.com / CC BY)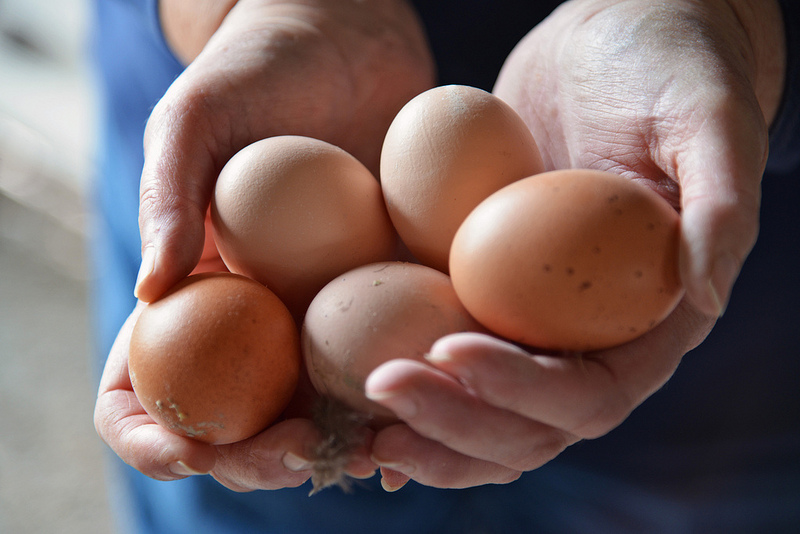 Supporters of animal agriculture—of the sort that can feed people inexpensively and on a large scale, at least—are reeling after two stinging defeats last month.
The first blow came in Massachusetts, where residents voted to adopt Question 3, which mandates a minimum cage size for raising livestock on farms in the state, around the country, and around the world that sell eggs, pork, and veal in Massachusetts. That law effectively means chickens, pigs, and veal calves must be raised in a "cage-free" environment. The second blow came with the defeat of an appeal in federal court challenging a similar law in California.
The purpose of the California law is to "to prohibit the cruel confinement of farm animals." Similarly, the Massachusetts law is intended to "to prevent animal cruelty." The latter also claims that caged livestock "threaten the health and safety of Massachusetts consumers, increase the risk of foodborne illness, and have negative fiscal impacts on the Commonwealth of Massachusetts."
But a closer look shows it's these two laws, in fact, that may harm the health of livestock and humans and wreak negative economic consequences.
As I described in a column this summer, "'cage-free' hens are typically raised in aviaries—large, cramped egg-laying warehouses in which hens are more likely to attack, kill, and eat one another, and hens and livestock workers are more likely to become sick."
If that sounds grim, it is.
"In short, liberating hens from cages—and holding them in aviaries—doesn't necessarily make them, or the workers who handle them, any healthier," wrote the New York Times's David Gelles, in an eye-opening piece earlier this year that pierced the halo surrounding cage-free eggs. Notably, research backs up Gelles's expose.
If the health benefits of mandating cage-free eggs are questionable at best, the financial benefits of doing so appear to be nonexistent. As Wired reported earlier this year, in an excellent article that's worth reading for the great flow chart alone, shifting from caged to cage-free methods poses a host of existential perils for many farmers. For farmers who want (or are forced) to make the switch, the costly transition will take years—a decade or more, in many cases—to achieve.
Egg prices rose last year after a massive outbreak of avian flu. But the price some farmers charged for a dozen eggs had already doubled in California in 2014, as its cage-free law was set to take effect.
As these charts show, the days of eggs serving as cheap protein available to the masses could be ending. If that happens, then we'll have foolhardy regulations to blame.
Unlike the Massachusetts law, California's applies to egg-laying hens but not to pigs or veal calves. Like the Massachusetts law, the California law violates the dormant Commerce Clause, as I explain here. That issue had been at the heart of the California lawsuit case. Last month, though, the Ninth Circuit Court upheld a 2014 lower court ruling that the plaintiffs—attorneys general from six egg-producing states—did not have standing to challenge the law.
I agree with the plaintiffs on the premise behind the challenge, but with the Ninth Circuit's ruling on the standing issue. "In short," as I wrote in 2014, "the wrong people made the right arguments." But that doesn't mean that law—or the new Massachusetts law—could or should withstand a court challenge.
"Large egg producers certainly could file an action like this one on their own," wrote Ninth Circuit Court judge Susan Graber. That's something supporters of the Massachusetts and California laws are ready for.
"Some agribusiness interests may want to force states like California and Massachusetts to allow the commerce in substandard and cruel products that these two states have rightly determined to be repugnant to their values," said Paul Shapiro, vice president of policy?with the Humane Society of the United States, in an email to me this week. "States have the right to protect their citizens from inhumane and unsafe products, something numerous courts have already ruled on."
While I disagree with Shapiro about the merits of a likely lawsuit, none of this is to say that eggs from caged chickens are in any way better than eggs from chickens that are cage-free or from chickens that roam freely around a farm, pecking at grubs.
There's undoubtedly a growing market for cage-free eggs. But neither voters nor lawmakers in California, Massachusetts, nor any state (nor in Congress, for that matter) have any legitimate power to dictate to farmers the proper size of a chicken's cage. Let's hope a federal court soon agrees.