50 Days in Jail for Waiting on a Ride
"You got people who just want to ride around and randomly take people to jail for nothing."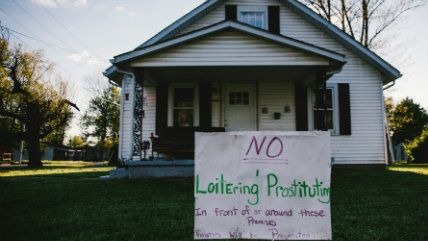 (Seth Herald/NurPhoto/Sipa USA/Newscom)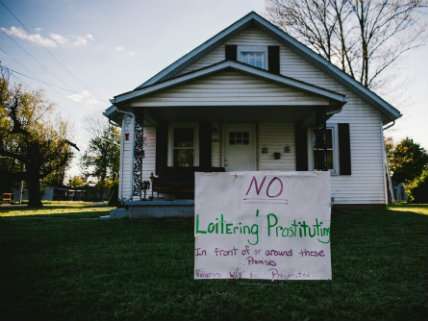 Erika Elias claims she was waiting for a ride outside a Columbus, Georgia, trailer-park last month when a local police officer spotted her. Because Elias had been been picked up for prostitution nearby previously, and the neighborhood is one where cops regularly make prostitution arrests, Police Officer Ryan Vardman assumed she was there selling sex again that morning. Elias was arrested for "loitering for the purposes of prostitution" and now faces nearly two months in county jail.
Elias was also charged with giving false information to a police officer after initially identifying herself as "Stephanie Elias." She later told State Court Judge Michael Cielinski she had lied about her name because she was afraid her past criminal record would lead the cop to suspect her of prostitution, even though that wasn't her purpose when Vardman spotted her around 9:45 a.m. that Thursday. "I was really not prostituting, but [Vardman] said I was prostituting," she testified.
That she was arrested regardless "means I can't stand anywhere," Elias complained to the court. "I can't even stand there and wait on a ride. … I'm trying to change my life and you can't change your life, because you got people who just want to ride around and randomly take people to jail for nothing."
Elias' testimony highlights the problem with prohibitions on "loitering for the purposes of prostitution." Under these and similar laws, one needn't indicate a willingness to exchange sex for money in any sort of verbal form, whether explicitly or in coded language. Nor must a guilty party engage in any actual sexual activity, attempt to engage in such activity, or have any direct interaction with supposed customers. The criteria for this crime is entirely subjective: does a cop think you look like someone selling sex?
In practice, this means that people who have previously been arrested for prostitution, areas where cops have previously made prostitution arrests, and anyone not dressed classy enough for a particular cop's taste are targeted. As Melissa Gira Grant recently detailed in a Village Voice feature, New York City cop criteria for such arrests (about 1,300 from 2012 through 2015) might include the fact that someone in a "prostitution prone" area was wearing "tight jeans" and showing cleavage, was carrying condoms, or had talked to someone passing by. For people with previous prostitution arrests, simply going about their daily lives can (and does) lead to subsequent arrests, especially if they live in the same area as the initial arrest.
How do authorities get away with this? Because the people most often arrested for prostitution pre-crime—poor women, transgender women, people without identification—tend to be those least equipped to fight the charges, for a host of reasons. And they are up against a charge which is incredibly hard to disprove, since it's based mostly on not actions or words but some cop's vision of their intent.
As for Elias, she plead guilty to both charges against her, and was sentenced to either 50 days in jail or a $700 fine. Asked by Judge Cielinski why she was pleading guilty if she hadn't been loitering for prostitution purposes, she told the court: "Let's be honest judge, I really don't have time to just argue with y'all. I'm wrong if I'm right. If I'm right, I'm still wrong."