ISIS Claims Ohio State Attack, Trump Will Leave His Business, Texas Abortion Docs Must Bury Fetuses: A.M. Links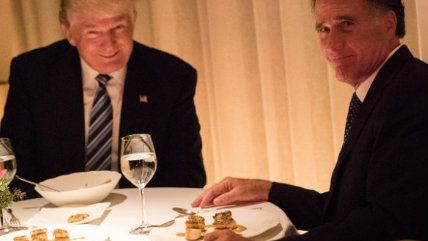 The Islamic State has claimed responsibility for Monday's attack at the Ohio State University, carried out by student Abdul Razak Ali Artan. "The executor of the attack in the American state of Ohio is a soldier of the Islamic State and he carried out the operation in response to calls to target citizens of international coalition countries," the ISIS news agency said.

The Ohio State attack has spawned debate in the Buckeye legislature over whether campuses should permit concealed carry.
Donald Trump and Mitt Romney shared some garlic soup and frog legs in New York yesterday and the resulting photo evidence is beautiful. Romney did not say what the men discussed but told reporters the dinner had been "wonderful" and "enlightening and interesting and engaging."
Trump announced via Twitter Wednesday morning that he would be "leaving [his] great business in total in order to fully focus on running the country in order to MAKE AMERICA GREAT AGAIN!"
Hence, legal documents are being crafted which take me completely out of business operations. The Presidency is a far more important task!

— Donald J. Trump (@realDonaldTrump) November 30, 2016
Follow us on Facebook and Twitter, and don't forget to sign up for Reason's daily updates for more content.