Conservative Criminal Justice Groups Hope They Can Sway a Skeptical Trump Administration
"The very worst thing reform advocates can do is take their ball and go home."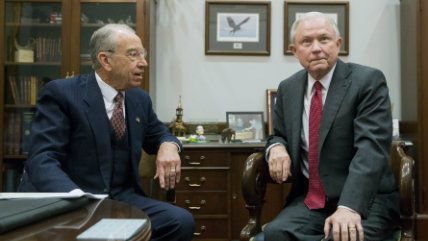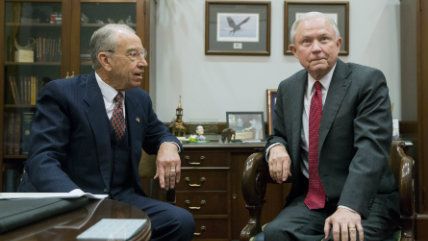 (MICHAEL REYNOLDS/EPA/Newscom)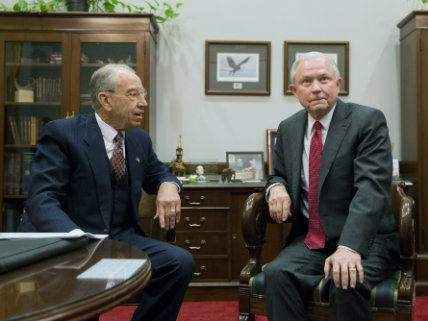 For criminal justice reform advocates, a year that started with high hopes for broad overhauls of federal sentencing laws is ending on a dismal note, and now conservative groups, who have worked for years to build clout among "law and order" skeptics in their movement, must take on their biggest challenge yet: a Donald Trump presidency.
Leading conservative figures aligned with a bipartisan coaltion of criminal justice groups are pressing the incoming Trump administration to make the issue a priority, arguing that reducing the prison population and increasing access to treatment programs don't conflict with Trump's much-touted law enforcement goals. Liberal groups within the coalition, who have benefited from friendly ears and willing allies within the Obama administration, now must hope the relationships like-minded conservatives have cultivated can pay off in a similar manner.
"The very makeup of our coalition ensures that, no matter who wins, we have a voice that can speak to the powers that be," says Holly Harris, the executive director of the U.S. Justice Action Network, a network of several conservative and liberal groups working on criminal justice issues. "Much as the nation was divided after the election, our coalition had divergent reactions. Some member were deeply disappointed, while others were happy. That said, our goals remain the same and our work will continue unabated."
It won't be an easy sell. The election of Trump, and his subsequent decision to nominate Sen. Jeff Sessions for U.S. Attorney General, appears to have killed what little momentum remained for bipartisan sentencing bills that was expected to reach the floor of both chambers of Congress this year. As Reason's Jacob Sullum noted, Sessions is a "drug war dinosaur"—a longtime proponent of harsh drug laws, a champion of civil asset forfeiture, and a leading opponent of bipartisan efforts in the Senate to roll back mandatory minimum sentencing laws.
Sen. Chuck Grassley, the chairman of the powerful Senate Judiciary Committee, met with Sessions Tuesday in a closed-door meeting to discuss Sessions' nomination, but as National Journal reporter Ben Geman tweeted, Grassley and Sessions are still at loggerheads over sentencing reform.
John Malcolm, the director of the Heritage Foundation's center for legal and judicial studies, says Sessions' antipathy toward sentencing reform, as well as the pressing task of finding a huge number of political appointees to staff the incoming administration, means there is likely little attention span in the Trump transition team for the issue.
"I don't think they're thinking one nanosecond about criminal justice reform," he says.
The challenge now for the bipartisan constellation of criminal justice groups, which includes liberal organizations like the Center for American Progress, is to force the Trump administration think about it. To that end, the U.S. Justice Action Network released a letter last week—signed by a number of influential conservative figures such as Grover Norquist, head of Americans for Tax Reform; Adam Brandon, the president and CEO of FreedomWorks; and Tim Head, Executive Director of the evangelical Faith & Freedom Coalition—urging the Trump administration to adopt criminal justice reform as one of its top priorities.
"We share your goal of enhancing public safety and encourage you to consider that, just as with energy policy, it requires an all-of-the-above strategy," the letter reads. "That is, just as we recognize those who pose a danger to society must be behind bars, for many others such as addicts and those with mental illness public safety can be best be advanced through treatment-based approaches."
The letter also called on Trump to consider expanding employment opportunities for felons, who often face huge difficulties in finding jobs after their release from prison.
"Recent data demonstrating that some 1 in 6 American men are out of the workforce or behind bars represents a reality you saw all too much as your campaign resonated with so many struggling families and we look forward to working with your administration so that more Americans can go from prison to paycheck," the letter reads. "Given that 60 million Americans have a criminal record, we must ensure that those who do their time can also punch the clock," it says.
The Faith & Freedom Coalition has held several meetings with both the Trump campaign and now the Trump transition team on criminal justice issues. Lance Lemmonds, the communications director of the Faith & Freedom Coalition, says that even if the broader sentencing bill is dead in the water, there is still hope for more modest reforms to the federal Bureau of Prisons system.
"To a lot of on the left, criminal justice reform means sentencing," Lemmonds says. "Sentencing is important, but at the same time I think back-end prison reform is the shape this narrative goes in January."
There is already legislative groundwork for those efforts. Republican Sen. John Cornyn and Democrat Sen. Sheldon Whitehouse introduced legislation in 2014 that would, among other things, expand risk-assessment and reentry programs at the Bureau of Prisons.
The overcrowded federal Bureau of Prisons currently sucks up about a quarter of the Justice Department's annual budget. Reducing that population—and the huge costs it incurs—has broader support within the Senate, and conservative criminal justice groups argue it has already proven successful in many states with Republican governors.
"Our selling point for the administration, honestly, is that the reforms have come from conservative states and finally made their way to D.C.," Lemmonds says. "It's good public policy, and the politics are good as well. [Vice president elect Mike] Pence has seen it in the states working with his fellow governors."
Malcolm says he also thinks there could be modest expansions of so-called "safety valve" provisions, which give judges more flexibility in sentencing in some circumstances where mandatory minimums would usually apply. There is also better prospects for mens rea reform, which would add provisions to federal laws and regulations to require proof of intent for a conviction. The idea has been championed by conservative groups, who say it would keep innocent people from running afoul of the mountain of federal laws, but progressives despised the proposal, saying it would let white collar criminals off the hook.
Meanwhile, criminal justice advocates still have several key allies in Congress, first and foremost Speaker Paul Ryan, whom Lemmonds calls "the most important champion we have."
"There's a lot of voices that will be speaking directly to Trump that were aggressively supportive of reform," Harris says. "The very worst thing reform advocates can do is take their ball and go home."
The Trump transition team did not respond to requests for comment.